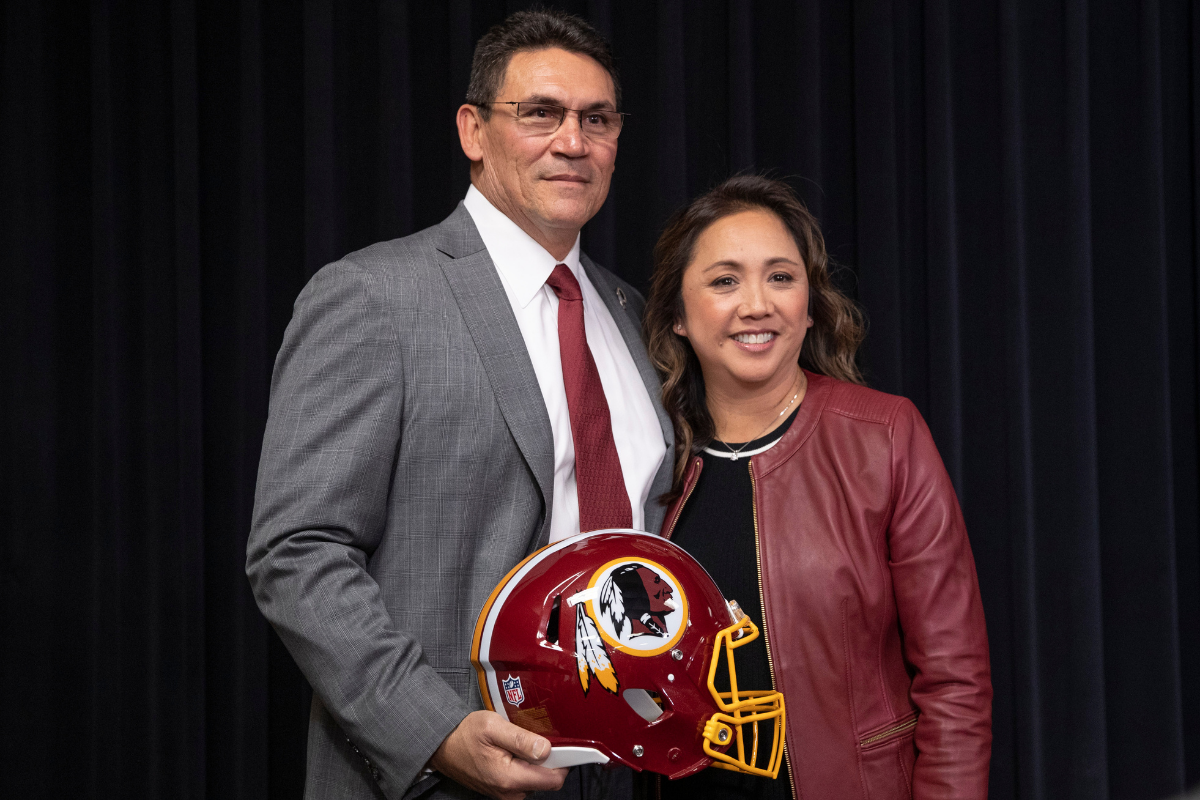 AP Photo/Alex Brandon
Washington Football Team head coach Ron Rivera managed to squeeze into the playoffs via an NFC East Division title, despite having a sub-.500 record in his first year in charge in 2020. He and his team are back in 2021 and are hoping for back-to-back playoff berths with budding stars like Chase Young wreaking havoc in D.C.
While Rivera is one of the most recognized coaches in the NFL, he's not the only member of his family with professional coaching experience.
His wife, Stephanie Rivera, was a former WNBA assistant coach.
Ron Rivera's Wife Stephanie Rivera
RELATED: Who is Mike Vrabel's Wife?
Ron Rivera met his wife Stephanie Tamayo while attending the University of California. Ron was an All-American linebacker for the Cal Golden Bears college football team while Stephanie was the starting point guard on the women's basketball team.
The couple got engaged in 1983 and married shortly after, at which point Rivera was selected by the Chicago Bears in the 1984 NFL Draft and began his NFL career. He was on the team that won Super Bowl XX.
Together, Ron and Stephanie have two children, Christopher and Courtney. Courtney Rivera played on the UCLA softball team and now works as a social media producer for the Washington Football Team. I wonder how she got that job…
After an injury to her knee ended Stephanie's playing career in basketball, she used her competitive spirit to get into coaching, and eventually became the assistant coach of the WNBA's Washington Mystics. She stepped down from the role in order to spend more time with her family and began coaching at the AAU level.
Ron Rivera Coaching Career
Following his career with the Chicago Bears, Rivera became an assistant coach for the Philadelphia Eagles. Rivera re-joined the Bears as its defensive coordinator in 2004, a position he held for three years before taking the same position on the San Diego Chargers. While in San Diego, Stephanie coached Courtney's high school basketball team.
After three seasons in San Diego, Rivera took over as head coach of the Carolina Panthers in 2011, relocating his family to Charlotte. He ended up making Super Bowl 50 after a 15-1 season in 2015, but lost out to the Denver Broncos. Rivera also earned NFL Coach of the Year honors in 2013 after leading the Panthers to a 12-4 record.
Rivera stuck around in Carolina until the conclusion of the 2019 campaign. He then joined the Washington Football Team (then the Washington Redskins) in the offseason and took over as head coach for the 2020 campaign. He was tasked with beating out NFC East teams like the Dallas Cowboys, New York Giants and Philadelphia Eagles.
After a wild regular season in D.C., featuring the return of Alex Smith and the ousting of Dwayne Haskins, the Football Team geared up as a dark horse in the NFL playoffs.
The Rivera family's adaptation to Washington D.C. was delayed due to the COVID-19 outbreak and coronavirus pandemic, but the head coach has planned to get more familiar with the city in due time.
Ron's Battle With Cancer
In 2020, Rivera revealed via social media that he was enduring a battle with cancer, but planned to keep coaching. It was an especially concerning revelation considering one of his brothers, Mickey, passed away from pancreatic cancer.
Fortunately, Rivera's cancer was deemed to be easily treatable and curable. With the support of his family, Rivera has been able to stay on the field and help guide the Washington Football Team through an unusual season in the NFL and into 2021.
In January 2021, Courtney Rivera revealed that her father was cancer-free.
"Thank you all for the love and prayers just got off the phone with mom and dad leaving the hospital @RiverboatRonHC is officially cancer free!!!" she wrote on social media.
Ron Rivera is here to stay for a long time, and he has a supportive family by his side.