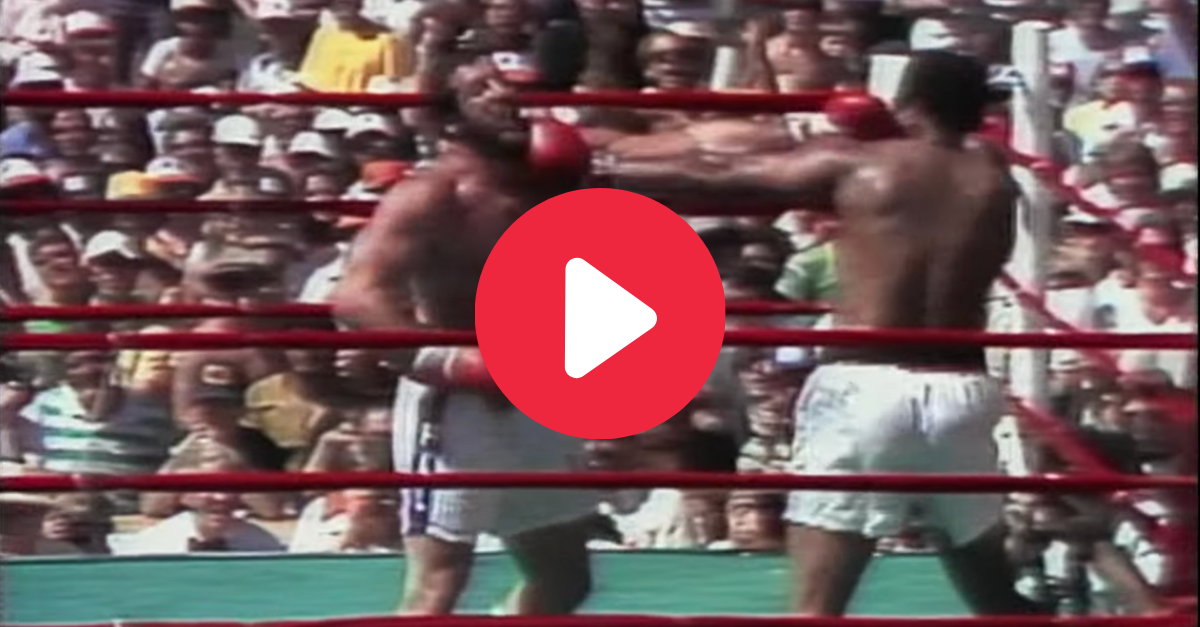 Screenshot from YouTube: NFL
Lyle Alzado was one of the meanest dudes who played in the NFL in the 1970s and 1980s. Before Myles Garrett, it was Alzado who ripped off the helmet of New York Jets offensive lineman Chris Ward and threw it at him, prompting the NFL to create a rule barring the vicious move.
The 6-foot-3, 255-pound defensive end racked up 112.5 sacks over his nearly two-decade career with the Denver Broncos, Cleveland Browns, Los Angeles Raiders. The highly feared defender who admitted to steroid abuse was also a three-time All-Pro and two-time Pro Bowl selection as well as winning Super Bowl XVIII with the Raiders.
Alzado had a thing for show business, too, He appeared in a series that starred Farrah Fawcett as well as episodes of MacGyver, Small Wonder and Learning The Ropes. Before his body fell apart and he lost a battle with brain cancer at the age of 43, he proved to the world just how tough he was.
Yes, this football player went toe to toe with The Greatest.
Alzado Mortgaged His House to Fight Muhammad Ali
RELATED: Mike Tyson vs. Roy Jones Jr. Confirmed for 8-Round Boxing Match
Muhammad Ali was long past his prime by the time he agreed to fight an NFL star in an eight-round exhibition match in the middle of Mile High Stadium's football field in Denver, Colorado, in July 1979.
The 37-year-old's last fight came against Leon Spinks more than a year before this one, and he was nowhere near the shape he was when he fought Joe Frazier or George Foreman.
According to the Denver Post's Terry Frei, Alzado wanted to step in the ring with The People's Champion because of a contract dispute with the Broncos. This was a way to say, "hey, I might walk away from football and become a boxer." The sport wasn't new to him. Alzado participated in an amateur boxing Golden Gloves tournament in college 10 years before this fight.
Alzado believed so much that the match would be a hit that he mortgaged his house. And so they began to sell the heck out of this fight. In pre-match interviews, Ali called Alzado a "crazy white boy" and said, "I won't try to hurt him, I just want to beat him up."
The football player put his hands on Ali in a pre-match "dust-up" and had set out his intentions for the fight as well.
"Probably the greatest heavyweight that ever lived and if you think I'm going to go in the ring and get embarrassed, I'm not gonna to have that happen," he said.

"I'm not bragging or saying i'm going to beat him, but I'm gonna hold my own."
He didn't lie.
Muhammad Ali vs. Lyle Alzado, 1979
What began as a fun exhibition match turned into some very real boxing, according to onlookers and teammates like former Broncos linebacker Tom Jackson.
Alzado held his own early on. He landed punches and taunted him. Then Ali, who broke out the Ali Shuffle, began to fight back. No knockouts took place and because the fight wasn't scored, no one officially won.
NBC bought the TV rights to the fight and the pair sold between 15,000 and 20,000 tickets, so Alzado probably still had a home to return to. Even better, he had one heck of a story to tell.
How many athletes can say they fought one of the most famous boxers to ever live?