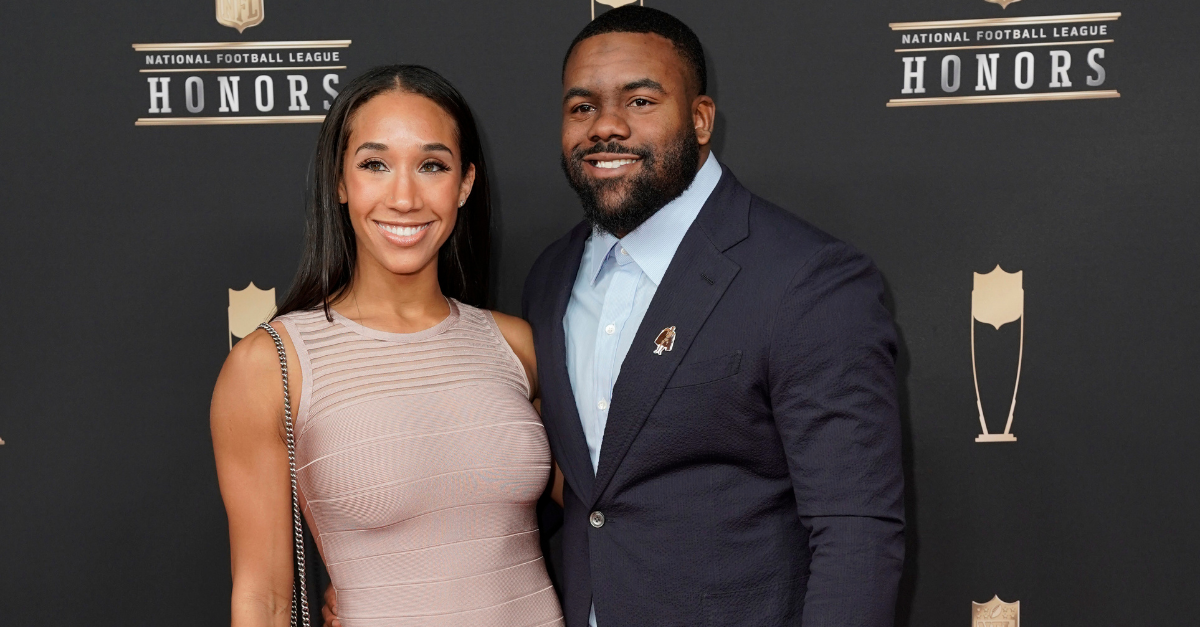 Photo by Paul Abell/Invision for NFL/AP Images
Baltimore Ravens running back Mark Ingram II has been a stud for years. Ever since his college football days with the Alabama Crimson Tide, fans have witnessed his greatness on the gridiron time and time again. He's also a pretty great husband and father, too.
Ingram, a first-round pick in the 2011 NFL Draft by the New Orleans Saints, is best known for punishing defenses and scoring touchdowns. Off the field, however, he is a dedicated family man.
When he's not taking handoffs from quarterback Lamar Jackson these days, he is spending time with his wife and four children.
Who is Mark Ingram's Wife Chelsea?
Mark Valentino Ingram is the son of former NFL wide receiver Mark Ingram Sr. He was born in New Jersey and played his high school football in Michigan before dominating at the University of Alabama, where won the 2009 Heisman Trophy and a national championship.
On the other side of the country, Chelsea Peltin-Brown was growing up in San Diego. She graduated from California State University with a broadcast journalism degree and is a former model as well.
The happy couple got married in April 2017. They also had a kick-ass honeymoon in the Maldives, which even included a waterslide outside of their hotel room.
Today, the American football player is still competing at the highest level, Chelsea is very active on social media, and they have a full house with four kids under four years old.
RB Mark Ingram's Kids
RELATED: Jameis Winston & His Wife Expecting "Another Young King" This Season
Mark and Chelsea Ingram have four kids together: Myla, Mila, Mark and Mayla. They are one big happy family and their dad's No. 1 fan.
The story of young Mayla's birth is pretty special, too.
The Alabama Surprise
After a great run with the Saints, Mark Ingram Jr. signed a three-year deal to play for the Baltimore Ravens in 2019. Playing for a new football team obviously meant the Pro Bowl running back would have to move his family, but they also welcomed their fourth child during the season.
The only hiccup is it happened sooner than expected.
During the Ravens' bye week before the AFC playoffs, Ingram and his family traveled to Tuscaloosa to celebrate the 10-year anniversary of Alabama's national championship team under head coach Nick Saban.
Although they planned to have their new baby girl in Baltimore, Mayla decided to make the trip to SEC country even more special.
"Almost a 1,000 miles away from where we were supposed to give birth, our little "Bama Belle" had a little celebration planned of her own as she entered the world in a city that is special in so many ways," Chelsea wrote on Instagram.
You better believe the NFL player's home was quite hectic during the coronavirus pandemic and COVID-19 outbreak, but the Ingrams wouldn't have it any other way.