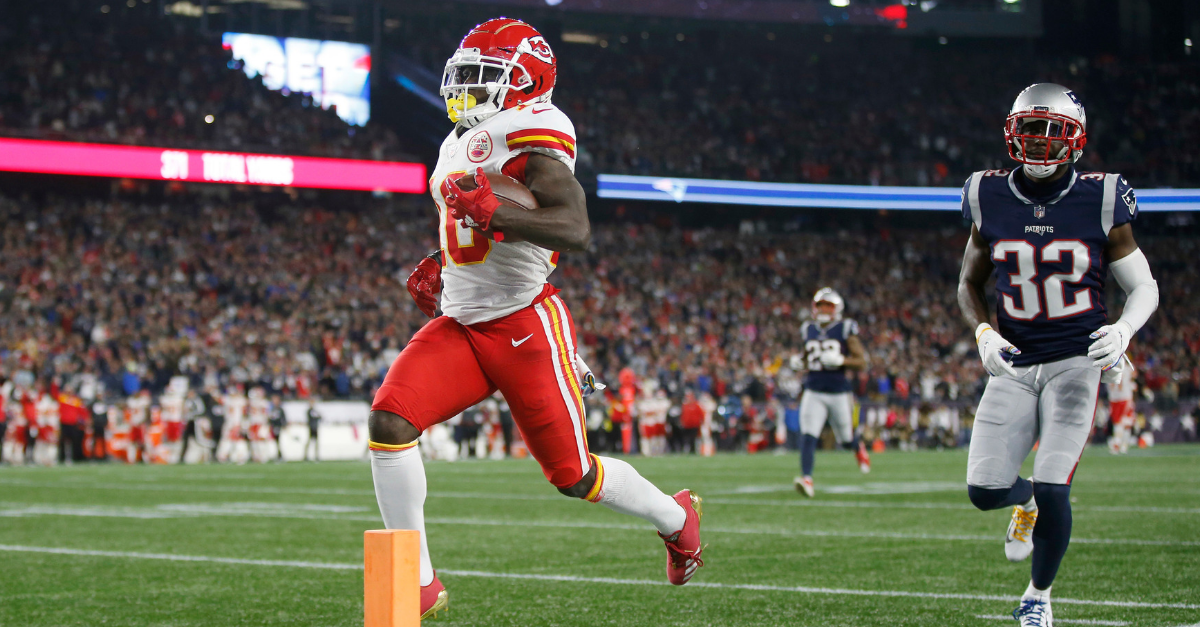 AP Photo/Michael Dwyer
AP Photo/Michael Dwyer
Fans interacting with players is one of the touchiest subjects in sports. When the home crowd storms the field after big wins, visiting coaches and players are in jeopardy of getting hurt. Something as simple as throwing a football back into the field of play is just good comedy, but that's pretty much all that's allowed.
During Sunday Night Football's game between the Kansas City Chiefs and New England Patriots, All-Pro wide receiver Tyreek Hill took a long pass from quarterback Patrick Mahomes and raced for a 75-yard touchdown. When he reached the end zone, Hill was greeted to middle fingers and one Patriots fan showering him with a beer. That fan is now being brought up on criminal charges with plans by the Chiefs wide receiver and his agent to sue the man even further.
Ladies and gentleman, welcome to #BeerGate.
The fan was removed from the game and is facing charges of disorderly conduct and throwing an object at a sporting event, according to the Foxborough Police Department in Massachusetts.
You can see the fan splash Hill, who torched the Patriots on the night to the tune of seven catches for 142 yards and three touchdowns. That fan has also been banned from Gillette Stadium for life.
RELATED: Odell Beckham Jr. Fights Another Inanimate Object on the Sideline
If that guy thought his $10 beer at Gillette Stadium was all he was losing, he'd better saddle up because he's not out of the woods yet.
According to Hill's agent, Drew Rosenhaus, the Chiefs wide receiver is seeking council from the NFL and NFL Players Association in the hopes of bringing legal action on the man.
"That type of behavior is unacceptable. Players have to be protected. We want that fan to be prosecuted." — Drew Rosenhaus, via Adam Schefter on Twitter
That guy lost his beer, and Kansas City lost the game after Patriots quarterback Tom Brady led yet another game-winning drive to give New England the victory by the final score 43-40.
It was a win for the Patriots, but a massive loss for the beer guy. He had prime seats to one of the NFL's most exciting games of the year, and he threw it all away for a quarter of a Bud Light to the face of the NFL's fastest man.