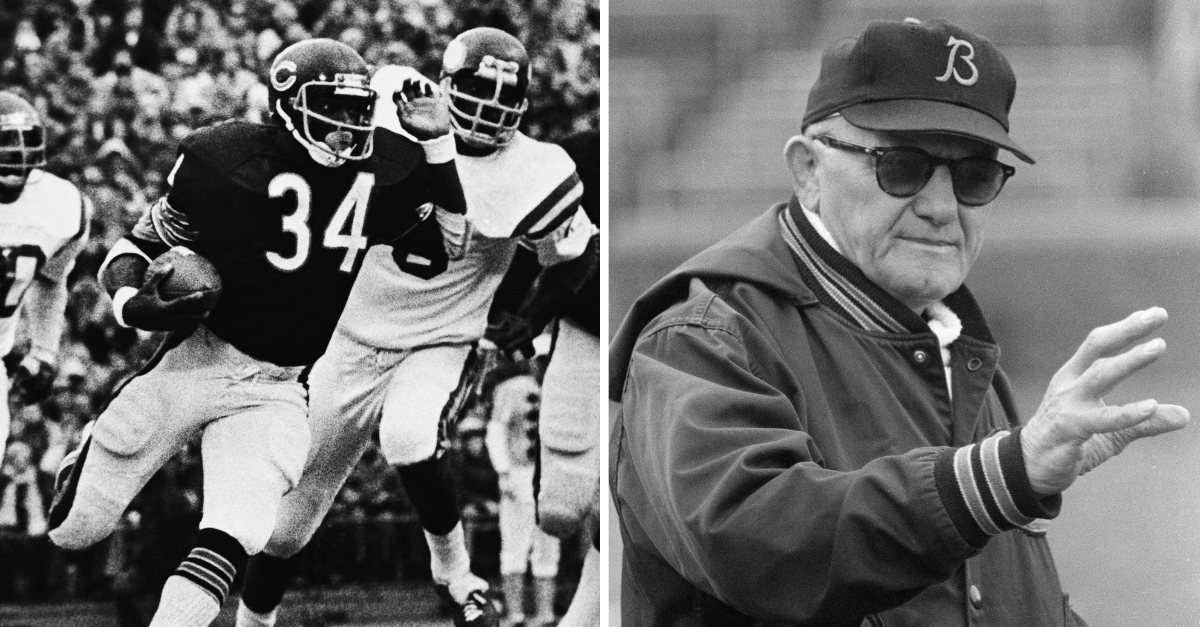 AP Photo/Fred Jewell/AP Photo
When you think of the Chicago Bears, who comes to mind? Is it head coach Mike Ditka and his vintage sweater vest? How about kicker Cody Parkey and his missed field goal in the playoffs last season? No matter what's happened with the franchise over the last three decades, perhaps no two people made more of an impact than running back Walter Payton and longtime coach George S. Halas.
Although it took way too long, the organization's greatest player and championship coach will finally have statues outside of Solider Field's Gate 0 forever. The Bears announced the two legendary Hall of Famers will be honored with an unveiling on September 3, two days before they host the Green Bay Packers to kick off the 2019 NFL season.
This will undoubtedly be a special moment.
RELATED: Titans Retiring Numbers of Eddie George, The Late Steve McNair
These aren't small statues, either. According to the Bears, they are 12-foot, 3,000-pound bronze statues that were sculpted by Fisher Sculptures. The orientation, location and scaling were designed by the company Populous.
It's been a long time coming for many Bears fans, but "Sweetness" and "Papa Bear" will finally get the statue they absolutely deserve.
"It is only appropriate that the father of professional football and the greatest player in the history of the game are being honored in this way, and perhaps no better time for the unveiling than as we kick off our centennial season. Thank you to the Chicago Park District, Soldier Field and SMG for their support throughout the process, and to sculptor Chad Fisher for his artistry in bringing his subjects to life."

— Chicago Bears Chairman George H. McCaskey
A first round pick (No. 4 overall) in the 1975 NFL Draft by the Bears, Payton played his entire 13-year career with the franchise and ran his way into NFL history. He rushed for over 16,000 yards and 100 touchdowns, made nine Pro Bowls, won the 1977 NFL MVP, and helped the Bears capture the Super Bowl XX title in 1985.
There was nobody quite like No. 34 and never will be. Payton passed in 1999 at the age of 45.
"I know Walter would be humbled to have this honor bestowed upon him, just as Jarrett, Brittney and our entire family are," Connie Payton, Walter's wife, said. "To say that I am enthusiastic about unveiling this statue to the city of Chicago is an understatement. What a proud moment for all of us and the city of Chicago. We're not just Chicago Bears fans, we're family."
Speaking of family, nobody epitomized that more in Chicago than George Halas. After all, the Windy City native is one of the co-founders of the National Football League and is an original member of the Pro Football Hall of Fame.
Halas coached for 40 years, including a decade where he was also the star player, and was the ultimate asset. He even handled ticket sales and ran the team's business, earning the nickname "Mr. Everything."
Oh, and he also helped the Chicago Bears win six championships. He is the namesake of George Halas Drive in Canton, Ohio, the NFC Championship Trophy is named after him, and the Bears' headquarters is named Halas Hall.
Halas passed away in 1983 and the age of 88.
A Walter Payton statue is deserved outside of Solider Field. So is a George Halas statue. The Bears wouldn't be the Bears without these people extraordinary men.
Needless to say, it's about damn time.