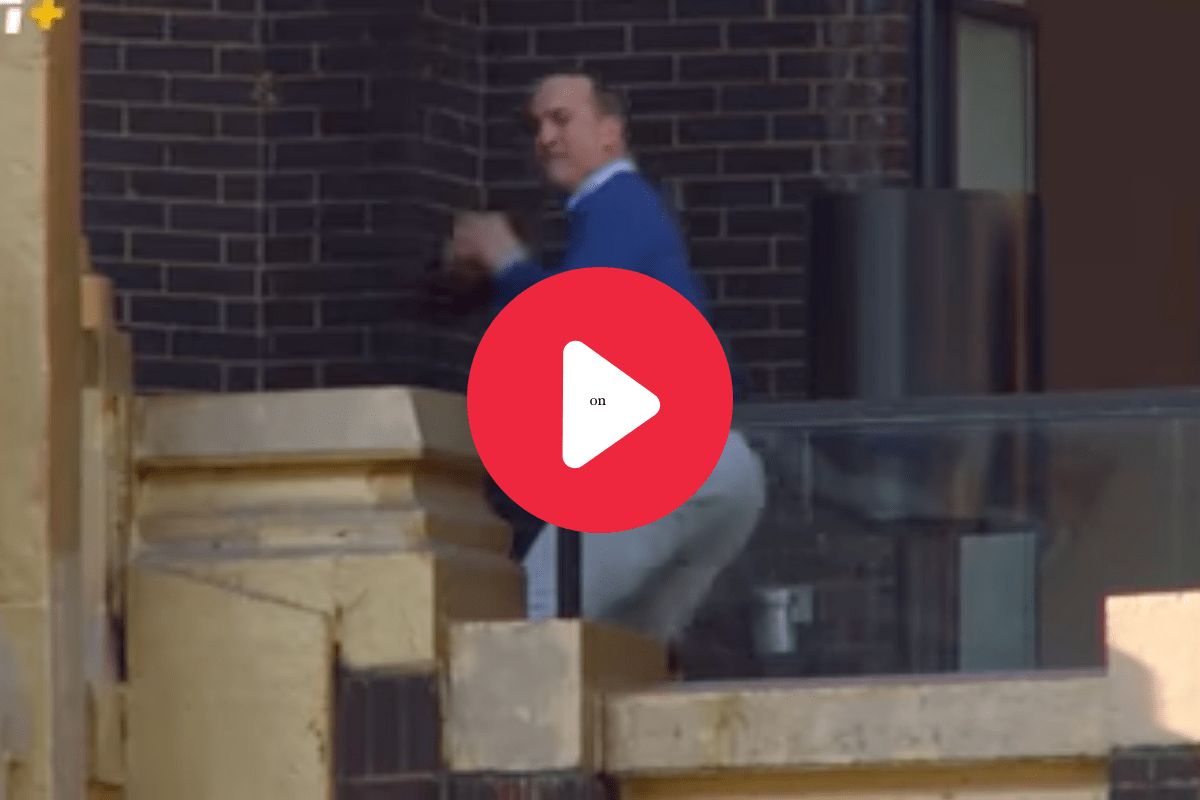 Screenshot from Facebook: ESPN
Peyton Manning could throw the football to any spot on the field during the prime of his career. Maybe that had something to do with the former Indianapolis Colts and Denver Broncos quarterback winning two Super Bowls, five MVP awards and ranking third on the NFL's all-time passing yards and passing touchdowns leaderboard.
Whether it was to wide receivers Marvin Harrison, Reggie Wayne or Demaryius Thomas, he made a lot of pass-catchers a pretty penny for his pinpoint throws. He threw open 49 receivers for scores over the course of his 17-year professional career, to be exact.
One legend he never threw a pass to was wide receiver Cris Carter. But in 2019, the Pro Football Hall of Fame players attempted linking up in a bizarre way.
Peyton Manning's Skyscraper Pass to Cris Carter
RELATED: Peyton Manning?s ?Priceless? Mastercard Commercials Will Always Be Funny
Manning let his first pass fly. It sunk through Carter's breadbasket and what looked to be his, um, groin.
"I think that reversed my little surgery I had," Carter joked.
The next throw, Peyton fired yet another strike. Carter couldn't come up with that one either.
"My hands is on fire," he said. "This is way more difficult than I anticipated."
Why were they doing this? Peyton was recreating an old stunt the New York Giants pulled off back in 1926. Giants player Lynn Bomar threw a ball from 23 stories up (or 324 feet) at the O'Keeffe Radiator Building in Manhattan, and teammate Hinkey Haines caught it.
As part of Peyton Manning's job as the host and executive producer of "Peyton's Places" for NFL Films and ESPN+, one of his duties was to "tell the story of the past 100 years" of the NFL.
So naturally, he took his buddy Cris Carter out to New York City, climbed to the top of a building and heaved a football hundreds of feet below to Carter.
?Back in the ?20s, the forward pass was like a circus act,? Manning told the Associated Press. ?When you were in the red zone and threw a pass into the end zone and it was incomplete, the other team got the ball; that was news to me. Clearly, teams didn?t want to throw it.

?But to get some buzz and interest with the team not drawing well, the Giants did this publicity stunt and had (Bomar) throw a pass off the building. So I threw a pass down to Cris Carter at the same spot and he caught it. It was pretty neat.?
Carter must have caught one after the film crew left.
All I have to say is I think this settles the debate about who the best wide receive in NFL history is. No way Randy Moss drops those.