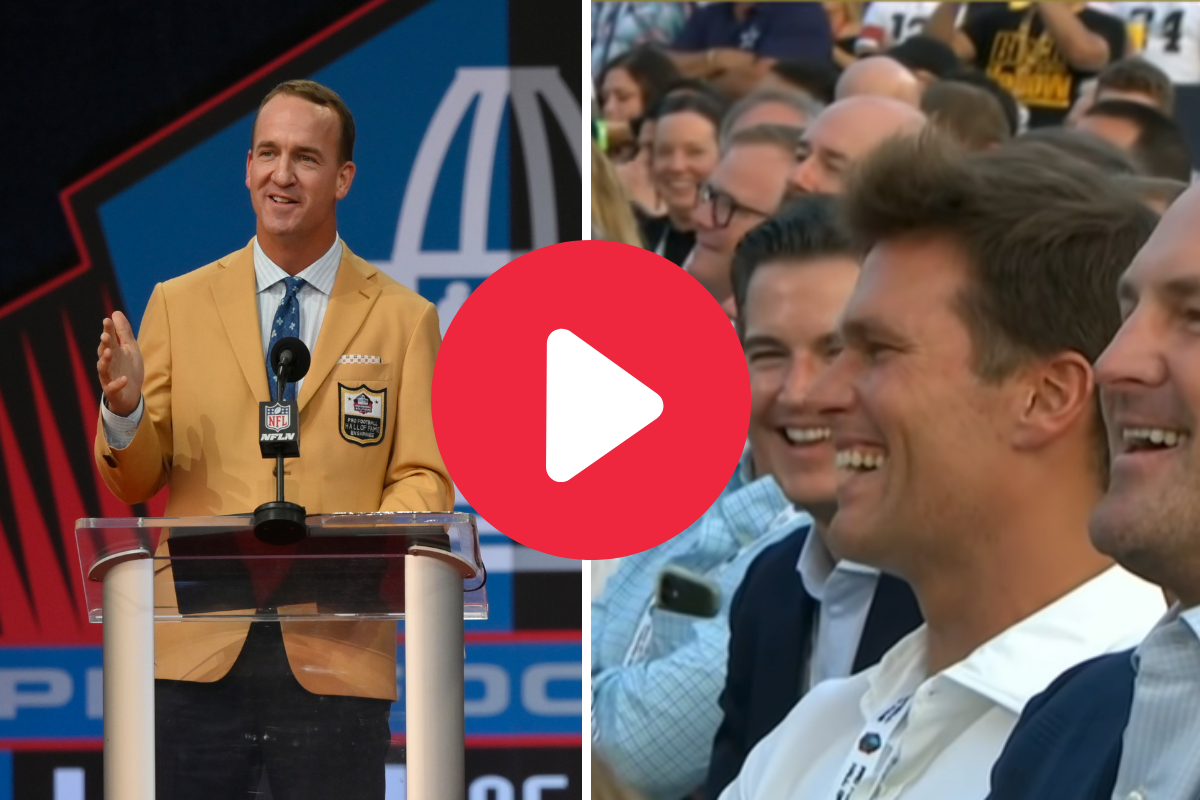 AP Photo/David Richard (left), Screenshot from YouTube (right)
Peyton Manning is officially in the Pro Football Hall of Fame.
His ascension into football immortality was inevitable ever since he retired after an illustrious career with the Indianapolis Colts and Denver Broncos. Legend has it "The Sheriff" was even born with the golden jacket on.
Peyton's off-field persona is about as famous as his on-field accomplishments these days. So, it was no surprise expectations were high for his enshrinement speech.
The iconic quarterback delivered and then some, even sparking some talk of him taking over as NFL Commissioner some day. Look out, Roger Goodell.
Manning would be remiss not to bring up his longtime rival and friend Tom Brady in the speech. After all, it seemed there were Super Bowl implications every time the two squared off.
Manning's competitive days under center are over, but his competitive spirit of busting the Tampa Bay Buccaneers quarterback's chops were on full display.
Peyton Manning's Tom Brady Joke in HOF Speech
RELATED: Peyton Manning?s Wife is a Successful Businesswoman & Mother of 2
Some Hall of Fame speeches in the past have gone on long enough that the "get off the stage" music could've played at least 10 times before the speaker gets the message.
Heck, Tony Gonzalez's speech went nearly 40 minutes in 2019.
To spare audience members from a nearly two TV episodes, the Hall limited inductees to a six-minute time limit.
How does a legend such as Peyton Manning consolidate his entire football career into six minutes? Well, he made us laugh first and foremost.
"The 2021 induction class wants to thank those previous inductees who gave long-winded acceptance speeches," Manning said. "Forcing us to have a whopping six minutes to recap our football careers. I want to give a special thanks to my old rival Ray Lewis for being here tonight. Ray just finished giving his speech that he started in 2018."
Manning wasn't finished jabbing his old rivals. This time, it was Brady's turn.
"By the time Tom Brady is inducted in his first year of eligibility ? in the year 2035 ? he'll only have time to post his acceptance speech on his Instagram account," Manning said.
He's still got it.
The rest of the speech in Canton, Ohio, was one only Peyton could pull off. Like any leader, he included everybody and talked with such confidence you couldn't look away.
Maybe he'll perform a stand-up set sometime to poke fun at the rest of his rivals. Six minutes wasn't nearly enough of Peyton Manning.
Related Videos