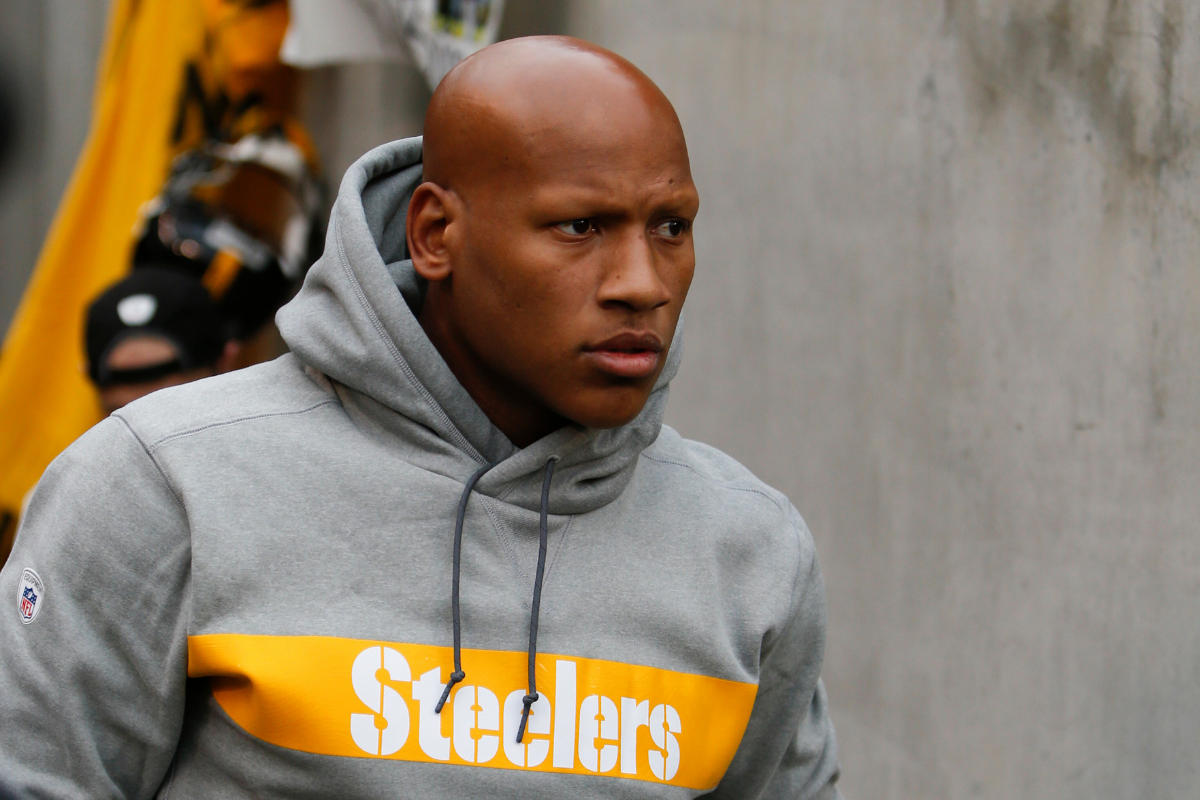 AP Photo/Frank Victores
American football linebacker Ryan Shazier is a walking contradiction. He officially retired a Pittsburgh Steeler in 2020, but he hadn't played since 2017. He was known as one of the biggest hitters in the game, but he struggles to tackle his adolescent son.
That Shazier is a contradiction should come as a surprise to no one. But the fact that he's walking is nothing short of amazing.
Shazier played an all-too-short NFL career with the Pittsburgh Steelers. He has solo tackles and deflections against greats like Tom Brady, Aaron Rodgers and Colin Kaepernick. Ironically, it was one of his tackles that ended his career.
When a spinal contusion nearly cost him his mobility, medical experts cautioned Shazier might never walk again. But in 2021, Shazier stands tall on his own two feet. How has Ryan Shazier come so far, and how has it affected his bank account?
Ryan Shazier NFL Career
View this post on Instagram
Ryan Dean Shazier is a retired American professional football player. He is known for having alopecia, playing for the Pittsburgh Steelers and suffering a career-ending spinal injury. Amazingly, Shazier still works towards playing football again today. Before his injury, Shazier was a terrific tackler.
Shazier was born in Lauderdale Lakes, Florida, fifteen minutes northwest of Fort Lauderdale. He played high school ball at Plantation High School. He graduated to college football as a four-star outside linebacker. Shazier grew up a Gator and wanted to play for Urban Meyer at the University of Florida.
When Meyer abruptly resigned, Shazier rescinded his commitment to the Florida Gators. He re-committed to Jim Tressel and the Ohio State University Buckeyes, but Tressel too retired a few months later. The Ohio State Buckeyes (eventually) hired Urban Meyer, and all was right in the world of Shazier.
In two seasons under Meyer, Shazier and the Buckeyes went 24-2. Their only losses were the 2013 Big Ten Championship Game to Michigan State and the following Orange Bowl to the Clemson Tigers. The Associated Press, ESPN and Sports Illustrated named Shazier a first-team All-American in 2013, all but solidifying Shazier's choice to forego his senior season and declare for the 2014 NFL Draft.
With the 15th overall pick of the first round of the NFL Draft, the Pittsburgh Steelers selected Ryan Shazier. His class includes future studs like Khalil Mack, Aaron Donald and Odell Beckham Jr. Even amongst those stars, Shazier was one of the brightest.
He played less than 10 games during his rookie season and became a full-time starter at left inside linebacker by 2015. Shazier made his first Pro Bowl by 2016. By 2017, Shazier was rolling. But by 2018, his professional career was over.
Shazier's Career-Ending Injury
RELATED: Doctors Tell Ryan Shazier: ?You Might Be Able To Play Again?
Shazier was in the middle of his second Pro Bowl year in a row on December 4, 2017. The Steelers were on their way to a 13-3 record. In 12 games, Shazier had snagged three interceptions and forced two fumbles. He was on pace to set several personal bests when he faced the Cincinnati Bengals in Cincy.
It would be Shazier's last football game.
On a remarkably unremarkable tackle early during the Monday Night Football matchup, Shazier went and stayed down, holding his back. Something immediately seemed wrong. He turned on his back and frantically grasped at nothing as if checking to make sure his fingers still work. Officials saw the potential danger and called for medical staff.
His chest heaved, but the rest of his body was motionless. Minutes later, Shazier left the field on a stretcher, clearly in physical distress. Anyone who's seen the video knows they've witnessed something terrible.
Doctors diagnosed Shazier with a spinal contusion, recommending spinal stabilization surgery if Shazier hoped to walk again. The potential risks of doing nothing far outweighed the hazards of spinal surgery, which Shazier had three days after the injury.
Given little chance to even walk again, Shazier tackled his rehabilitation like an opposing running back.
Even Cleveland Browns' fans were relieved to see Shazier walk across the 2018 NFL Draft stage. He introduced the Steeler's first-round pick, Terrell Edmunds of Virginia Tech. Shazier has continued to make NFL fans 'Shalieve' ever since.
Shazier's recovery continues today. He remained on the Steelers roster till 2019, registered under physically unable to play (PUP). His roster inclusion allowed the rehabilitating linebacker to keep his NFL base salary, medical insurance and access to team doctors.
Say what you will about the Rooney family, but Art has a heart.
Shazier formally retired from the NFL in September 2020. He also announced his next venture, hosting "The Ringer NFL Show." Shazier still contributes to the Bill Simmons-founded sports site in 2021.
Whether the story of Shazier's NFL career is one of inspiration or a tale of caution, one thing is for sure: he was a millionaire before the spinal injury, and he still is today.
Ryan Shazier Net Worth
View this post on Instagram
Ryan Shazier has been in the gym since his injury, working to regain total health. His progress so far is incredible. His ability to walk, jump and even run is a testament to Shazier's character. It's also a testament to his family.
Shazier married his longtime girlfriend, Michelle Rodriguez, in 2019. No, not that Michelle Rodriguez. And yes, he did dance at the wedding.
Former teammates, coaches and Shazier's son from a previous relationship, Ryan Jr., attended the wedding. Michelle and Shazier had a son of their own in 2019, Lyon Carter Shazier.
Shazier made over $18 million during his short-lived NFL career on contracts alone. In a rare gesture of humanity from the National Football League, the Steelers paid Shazier an $8.26 million signing bonus in 2018 after his four-year rookie deal was up.
It was the year after Shazier suffered his spinal injury, the least the Steelers could do for a man who nearly gave it all for Pittsburgh.
Ryan Shazier's estimated net worth is $4 million, according to Celebrity Net Worth. The recovering linebacker has been an inspiration to so many people and continues to inspire off the field today. Shazier shows off his family on social media regularly, not missing the NFL at all.
In June 2021, Shazier appeared on fellow Pittsburghian Aaron Donald's popular Youtube vlog as their families visited Kennywood in Pennsylvania. Shazier is in good spirits, moves well, and doesn't appear any worse for the ware.
In fact, his spine is stable enough to ride roller coasters, a strangely inspirational sight. Shazier's life-altering back injury changed the young athlete's life, but it didn't change who he is.