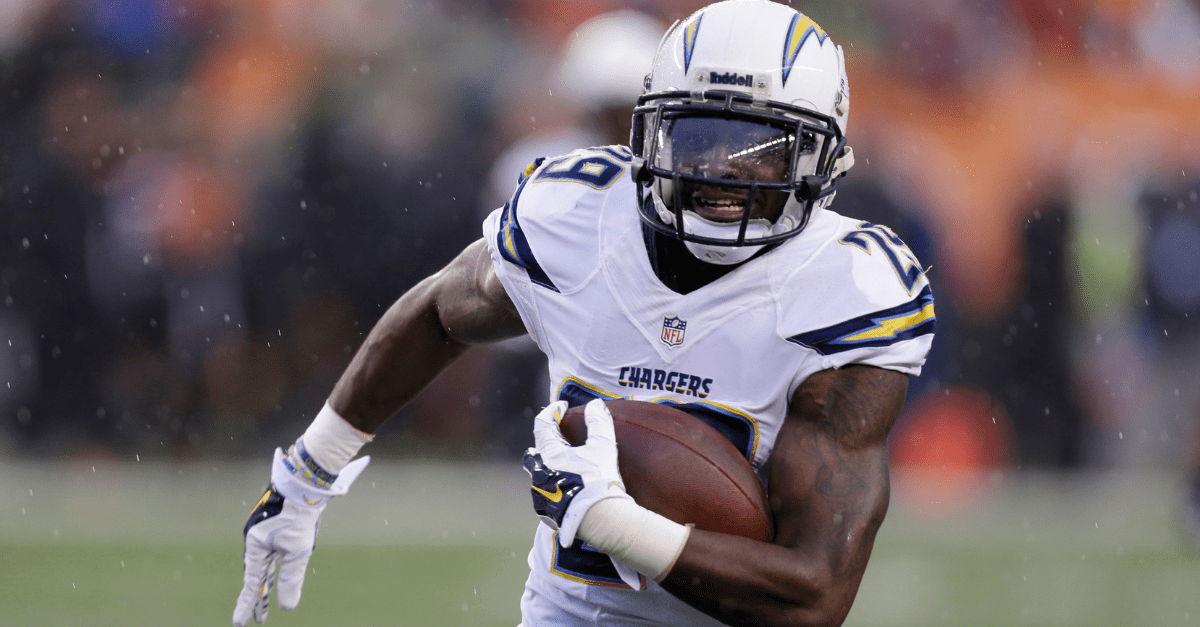 AP Photo/Al Behrman
Some athletes will go to the moon and back to achieve their dreams. They'll stop at nothing, no matter their circumstances, to earn scholarships and play professionally in the NFL, NBA and other professional sports leagues. J.J. Watt's story of perseverance is a prime example of that.
Former Jacksonville Jaguars wide receiver Jaydon Mickens used to sleep in his car in the EverBank Field parking lot while on the practice squad because he didn't know how long he'd be with the team. Former Texas Southern player Joe Anderson once stood outside of Houston Texans' NRG Stadium with a sign that read "Not homeless but starving for success" and "Will Run Routes 4 Food." Six weeks later, the New York Jets signed him.
Though he didn't sleep in his car or stand out on a curb, Buffalo Bills cornerback Shareece Wright went to great lengths to impress his new team when he signed a one-year contract with the Bills in 2017.
Those lengths? Paying more than $900 for an Uber ride to get to his first practice. He shared an image of his receipt in a Tweet.
Wright arrived at Chicago O'Hare International Airport late Sunday night before he had take the field at 7 a.m. the next morning for workouts in his new team colors. His flight from California arrived in Chicago later than expected, and he missed his connecting flight to New York.
Renting a car wasn't an option, because Wright had to sleep at least a little bit before his first day on the field with the Bills. He called up a former teammate living in Chicago, but he couldn't drive him either. So Wright turned to the popular ride-sharing app hoping someone would drive him the 550 miles from Chicago's O'Hare Airport all the way to Buffalo.
He was in luck. Uber driver Hadi Abdollahian saved the day.
"This guy accepted the ride and I called him right away and told him, 'Man, I need to go to Buffalo, N.Y. that's eight hours are you willing to take me there?' and he said, 'Yeah, man, I'll take you anywhere you need to go. I told him the situation. I told him I had to make it there by 7 a.m."
Abdollahian, Wright's 26-year-old driver, told the Washington Post he first thought he was driving the football player to Buffalo Wild Wings. But when Wright told him he meant Buffalo, New York, and that it was an emergency, Abdollahian didn't hesitate to accept.
"I'm a man of my words and if someone says it's an emergency he really means it," Uber driver Hadi Abdollahian told the Post.
What began as a story of grittiness on the Bills player's part blossomed into a story of two guys becoming friends and sharing their own life experiences during the nine-hour drive.
It turned out Abdollahian was an Iranian refugee who had fled Iran for Turkey in 2011 and moved to the United States in 2013. He had no family and little friends in Chicago, and he was recently laid off of his computer science job.
The man behind the wheel of the Nissan Altima's aspirations? He wants to become an astronaut, so he drives for Uber to pay for classes at Loyola University Chicago.
Wright's trip alone should have helped that cause. The trip's base cost was $632.08 plus a $300 tip from the cornerback, according to ESPN's Mike Rodak and Wright's agent, Tamerat Berhe.
The good news for Abdollahian's American dream didn't stop there.
According to a CNN story, Bills sponsor company Bluerock Energy sent a check to the NFL player to pay for the trip. Wright, however, shipped it to his new friend in the Windy City. He did, after all, get Wright to 1 Bills Drive in Orchard Park, New York, just minutes before his 7 a.m. voluntary practice deadline. Abdollahian said in return he'd root for the Bills in addition to his home team in the Bears.
Buffalo Bills head coach at the time, Sean McDermott, said he was impressed by his new defender's commitment to his team.
Since his costly but well-worth-it Uber trip, Mr. Wright has bounced around the league. He spent the 2018 season with the Raiders and Texans and played for the Baltimore Ravens and San Francisco 49ers after the Chargers drafted him in the third round of the 2011 NFL Draft.
Athletes and interesting Uber rides aren't uncommon. Mets outfielder Rajai Davis took a $243 Uber to Citi Field and then hit a pinch-hit home run in May of 2019. In January, Chargers star running back Melvin Gordon was bashed by his unaware Uber driver, which turned out to make for a pretty hilarious exchange.
Now, the 32-year-old Wright is currently a free agent. As for Abdollahian, he's already figuratively gone to the moon and back for someone. Maybe he'll do so literally one day as well.