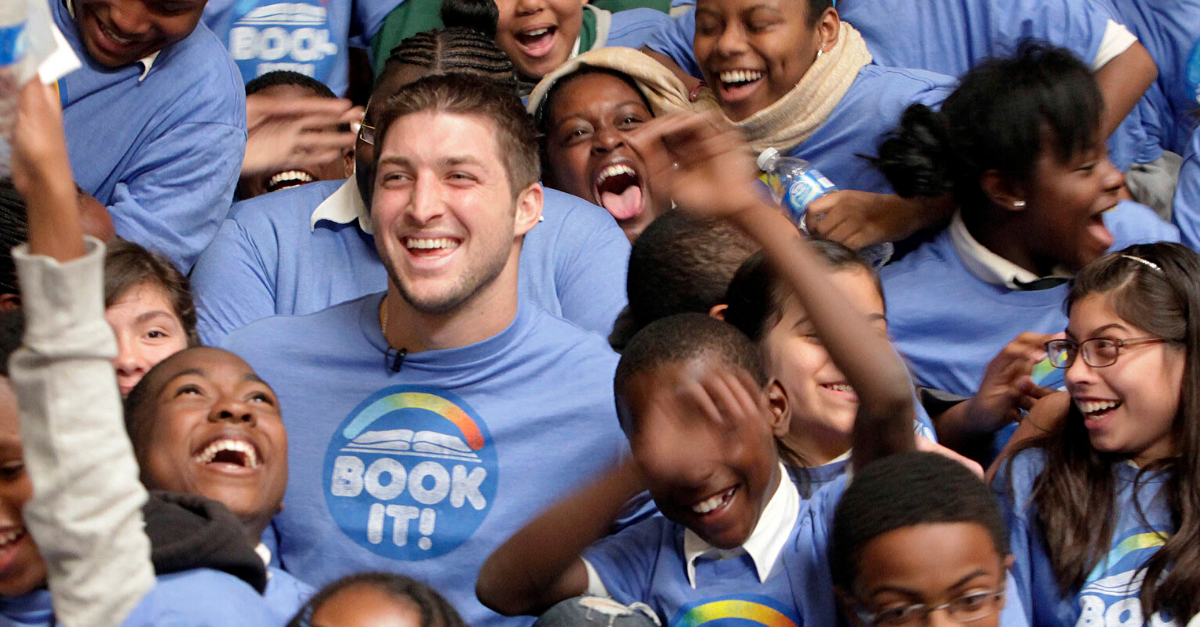 AP Photo/Nick Ut
Almost nothing Tim Tebow says or does isn't inspiring. He promised a BCS National Championship to Florida Gators fans, and he delivered. He visits prisons to encourage inmates, shares powerful messages about his faith and life's mission almost weekly, and balances a career as an ESPN college football analyst with the grind of playing minor league baseball.
Despite being a Heisman Trophy winner, his status as a first-round NFL Draft pick, and all the on-field accomplishments throughout his career, service to others is Tebow's primary goal in life.
Born in the Philippines, Tebow's mother, Pam Tebow, was told her fifth child would not survive the pregnancy. A doctor informed her and husband Robert that she suffered a placental abruption, which detaches the placenta and deprives a fetus of oxygen and nutrients. An abortion was suggested, but the couple chose to lean on their faith and hope for a miracle.
"I prayed for a preacher and got a quarterback," Robert Tebow, Tim's father, recalled.
Tebow's mission to serve God and protect families and unborn children brought him to the annual Valentine's Day banquet put on by Kansans for Life, a non-profit organization fighting to protect pro-life laws in Kansas. An on-going battle to pass "Value Them Both" ? an amendment pushing back on a Kansas Supreme Court ruling that could overturn pro-life laws in the state ? was the focal point of several keynote speakers.
Government officials like former Kansas Gov. Dr. Jeff Clyer and former U.S. Senator Rick Santorum spoke, as well as Kansans for Life leader Mary Kay Culp. Even Kansas City Chiefs co-owner Lamar Hunt Jr. was in attendance, fresh off a Super Bowl LIV victory, to support the cause.
Tim Tebow's Speech at Pro-Life Event
RELATED: Tim Tebow Marries Demi-Leigh Nel-Peters in Beautiful Ceremony
But Tebow's keynote was the most attention grabbing, not only because of his past, but for noted missions trips and service work he does around the world.
"It really does mean a lot more than winning the Super Bowl," Tebow said of the pro-life mission. "One day, when you look back and people are talking about you and they say 'Oh my gosh what are you going to be known for?' Are you going to say Super Bowl, or we saved a lot of babies?"
Tebow called Kansans for Life's project a "rescue mission," citing the urgency to save lives now.
"What you're doing here matters. You're fighting for life. You're fighting for people that can't fight for themselves. And my question to you is: Are you willing to stand up in the face of persecution, in the face of adversity, in the face of criticism, when other people are going to say it's not worth it, when other people won't stand beside you? Maybe not everybody is going to be with you. Will you stand up for what?s right?"

? Tim Tebow
Tebow didn't capture a Super Bowl during his playoff run with the Denver Broncos before fading into retirement. He'll likely never reach professional baseball's biggest stage with the New York Mets organization, either. But that doesn't matter to the 32-year-old former NFL quarterback. Tebow's mission is bigger than a sports legacy, which is all you really need to know about him.