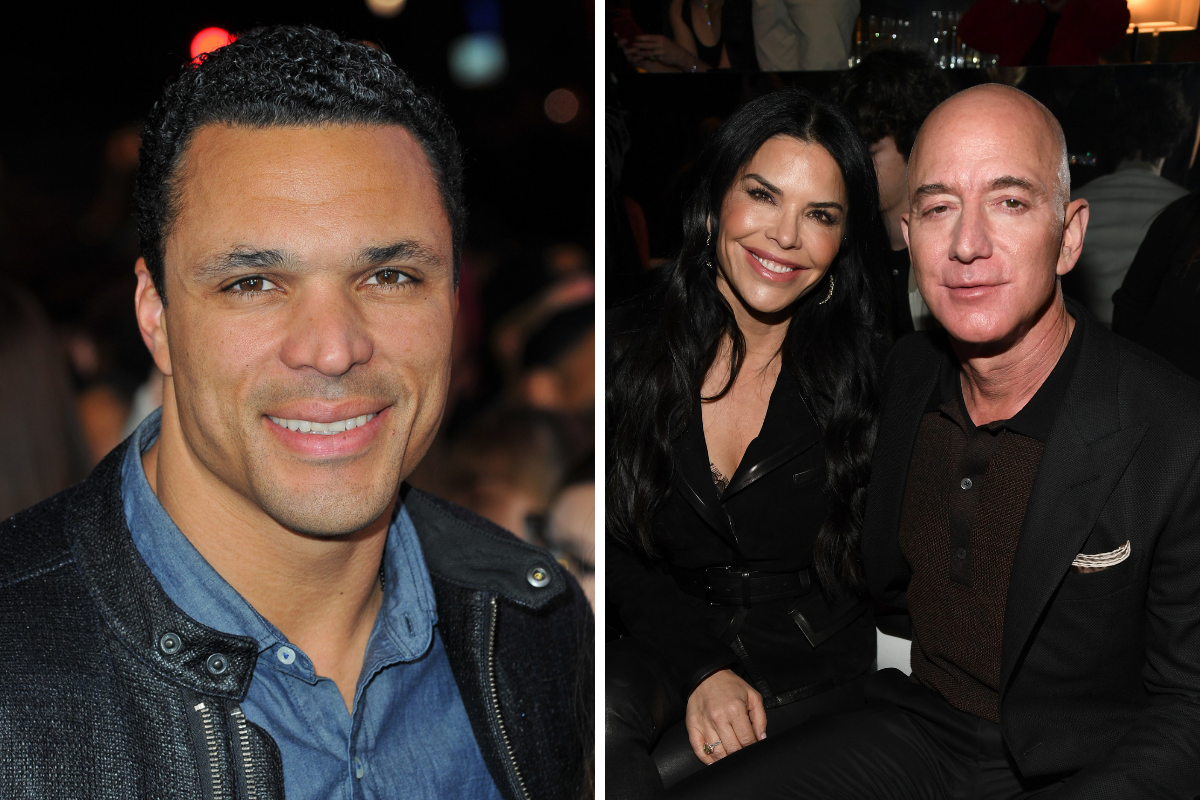 Photo by Allen Berezovsky/Getty Images for Fashion Media (left), Photo by Kevin Mazur/Getty Images (right)
Tony Gonzalez was one of the greatest tight ends and NFL players in history, setting various records throughout his decorated career as a member of the Kansas City Chiefs and Atlanta Falcons.
The 2019 Pro Football Hall of Fame inductee retired from football after the 2013 season and has since stayed close to the game through his work as a sports analyst for Fox Sports.
While Gonzalez was busy on the field (the guy missed a total of two games across his entire 17-year career!), he also managed to keep himself occupied off it.
During the prime of his career, Gonzalez fell in love and started a family.
Early Life and College Career
Anthony David Gonzalez was born in Torrance, California, and attended Huntington Beach High School where he starred in basketball and football.
Gonzalez chose to continue his education at the University of California, where he persisted in playing basketball and football. After three years at the university, Gonzalez decided to forgo his senior season and declare for the NFL Draft.
NFL Career
Gonzalez made the right choice in giving up basketball. The tight end was drafted in the first round by the Kansas City Chiefs in 1997.
He would play 17 seasons in the National Football League, 12 in Kansas City and five with the Atlanta Falcons. Throughout his career, Gonzalez earned six First-Team All Pro and 14 Pro Bowl selections. He caught a total of 1,325 receptions and 15,127 receiving yards, both of which are NFL records at the tight end position, and caught 111 touchdowns.
After retiring in 2014, Gonzalez started working for CBS as an analyst for "NFL Today." He then joined FOX as a member of the NFL pre-game show, where he still works.
Tony Gonzalez's Wife October Gonzalez
RELATED: Randy Moss Split from His High School Sweetheart, But Found Love Again
Tony Gonzalez met his wife October Gonzalez (October Calinda Vegas-Russell) for the first time in 2002 and the pair have been together ever since. While they are not officially married, they took part in a commitment ceremony in 2007 and consider themselves to be husband and wife. October was born and raised in Los Angeles, California, but moved to Florida to live with her uncle when she was in high school.
Much like Tony, October is a TV personality in her own right. She made her television debut in 2009 on the documentary TV series "E! True Hollywood Story: Football Wives." From 2014-15, October made appearances on TV shows including "The View" and "Entertainment Tonight." She also worked as a co-host on the talk show "Rachael Ray," as well as on the game show "Beat Shazam."
The American football player and his wife both have a strong social media following. Tony has over 230,000 followers on Instagram and 250,000 on Twitter, while October has over 37,000 Instagram followers.
Tony's Ex-Wife is Now Dating Jeff Bezos
Together, Tony and October have two children, daughters River and Malia Gonzalez. Tony also has another son, Nikko, from his previous relationship to ex-wife, entertainment reporter Lauren Sanchez, who is now dating Amazon billionaire Jeff Bezos. Talk about upgrading (at least, financially).
Bezos even flew to Canton, Ohio, to look on while Gonzalez got inducted into the Pro Football Hall of Fame.
Nikko lives with Tony and October in Huntington Beach, California.
According to Celebrity Net Worth, Tony Gonzalez is worth an estimated $50 million from his career as a footballer as well as his work as an analyst.
Tony and October have been happily together for 18 years and are enjoying life out in Huntington Beach as a family. The 45-year-old remains close to football in retirement, a well deserved rest after 17 years of nearly non-stop service on the gridiron.