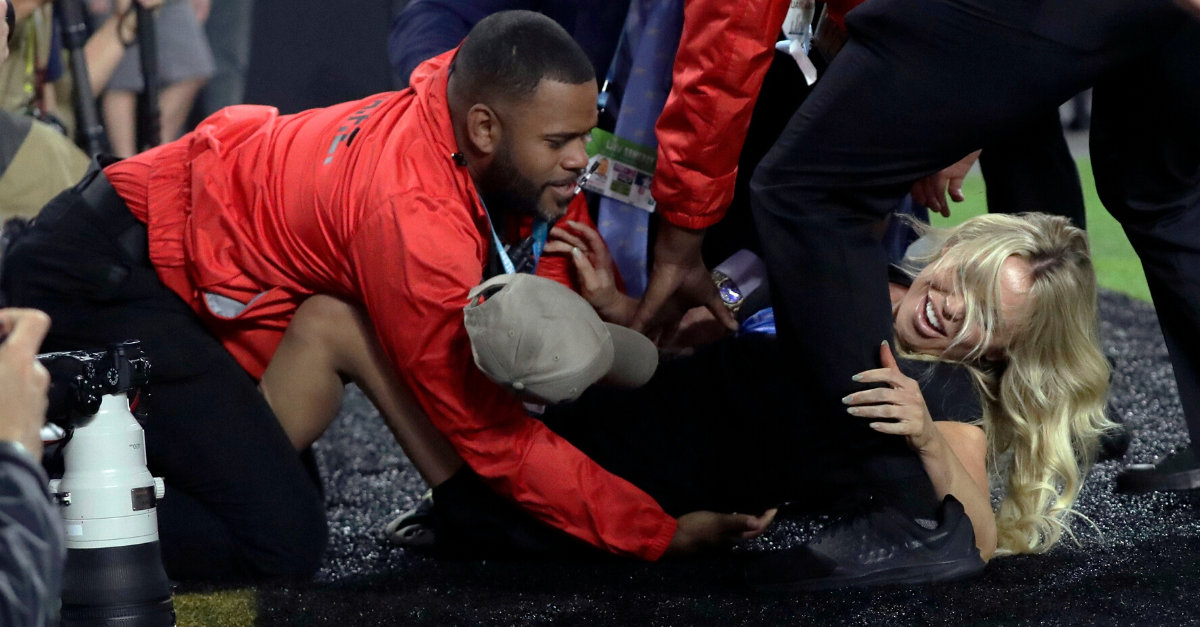 AP Photo/John Bazemore
Super Bowl LIV came and went without too much controversy. The game itself eventually became a thriller as the Kansas City Chiefs topped the San Francisco 49ers. The commercials were solid, and the halftime show featuring Shakira and Jennifer Lopez didn?t have a ton of drama. All of that is a win for the NFL, but it didn?t stop one woman from trying to get her shot at fame.
During the first quarter at Hard Rock Stadium, a woman tried to run on the field. However, security personnel were right there and tackled her before she ever made it to the playing surface.
The incident was caught on video and shared on social media. Images of the woman were also captured by The Associated Press photographer John Bazemore.
Super Bowl Security Tackles Woman
With The Big Game in Miami Gardens, Florida, there was always a chance for something crazy to happen. After all, South Beach is known for its parties. However, this one was stopped before it truly got started in the first half.
The Super Bowl has millions of viewers every year. So it?s somewhat understandable why someone would choose it to pull off the unthinkable. The plan completely backfired, though.
According to local10.com, 27-year-old Kelly Kay Green ? an Instagram model with over 282,000 followers ? was identified as the woman who tried to rush the field. She was reportedly arrested on a trespassing charge and taken to the Turner Guilford Knight Correctional Center.
She even gave the crowd a little flash before being escorted off the sideline.
https://www.instagram.com/p/B8FnUYAhZiR/
The trending failed attempt could be linked to other notable streakers and flashers, too. Kelly Kay Green?s friend, Colleen McGinness, shared the same video on Instagram and tagged Vitaly Uncensored. That?s the same website that got attention for the World Series flashers, according to the New York Post.
At the end of the day, the night belonged to Andy Reid, Patrick Mahomes and the Chiefs for getting their first Super Bowl win in 50 years. As for Kelly Kay Green, she will be remembered for spending thousands of dollars for a ticket and getting tackled by the security staff.