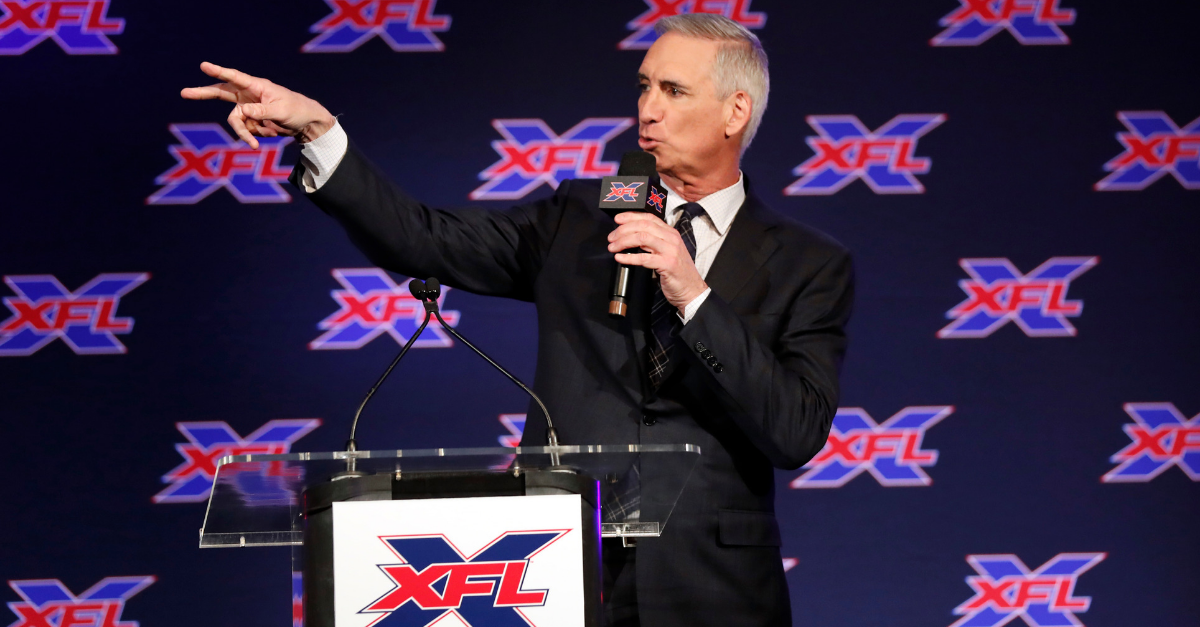 AP Photo/Tony Gutierrez
The AAF is dead. The brainchild of co-founders Charlie Ebersol and Bill Polian couldn't finish one season before majority owner Tom Dundon pulled the plug and ran. There's a football-sized hole in the hearts of every fan craving a spring football league, but don't expect it to remain empty for long. The XFL (yes, that XFL) is coming back.
Sadly, it won't be the same WWE-style football league that had its 15 seconds of fame back in 2001. This new league created by WWE Chairman Vince McMahon is focusing on quality, fan-focused football in efforts to change the game. Most importantly, the new XFL isn't jumping the gun in an attempt to win the race. Just look what happened to the Alliance of American Football…
To avoid another collapse, the XFL partnered with various teams and organizations to test its new rules before launching for the 2020 season. The most notable partnership was with The Spring League, a developmental league and scouting event for NFL teams consisting of four squads playing four games, which took place in Austin, Texas this year. Their biggest star to date is Johnny Manziel, who played in TSL 2018.
The XFL took over The Spring League in 2019 to test new scoring rules and a brand new overtime that will launch for the league's first regular season. On the PFT PM podcast, XFL Commissioner Oliver Luck explained that the XFL will have one-, two- and three-point conversion attempts after touchdowns that can be tried from the 2-yard, 5-yard and 10-yard lines, respectively.
"We literally have a nine-point touchdown. We think that's valuable because teams that historically are down by let's say three scores, well guess what, if it's a 16-point or a 17-point differential, you're really looking at a two-score game theoretically."

— XFL Commissioner Oliver Luck, h/t PFT PM Podcast
READ MORE: WWE Opens Tryouts to AAF Players After League Collapses
In addition, the XFL has introduced an overtime style that changes everything you're probably used to seeing in American football.
During overtime, BOTH offenses and defenses will be on the field at the same time. At one end of the field, "Offense A" gets one play from the 5-yard line against "Defense B." Both units can earn one point for its team when the offense scores or the defense forces a turnover. Then, "Offense B" faces "Defense A" at the other side of the field with the same stakes. Whichever team scores the most points after five plays wins the game.
Reminds you of a shootout in soccer, huh?
Senior Vice President of Football Operations Doug Whaley explains the new change at TSL 2019:
The XFL might not have a huge list of players yet (maybe the most important thing for success), but head coaches like Bob Stoops (Dallas), Pep Hamilton (Washington, D.C.), Jim Zorn (Seattle), and Marc Trestman (Tampa Bay) already have jobs among the XFL's eight teams. The other four teams located in Houston, Los Angeles, New York and St. Louis still need leaders, and some of them might come from the AAF.
The pieces are starting to come together, and the intrigue surrounding the XFL is beginning to build. New rule changes and a reimagining of scoring in professional football might be enough to launch the XFL into its own success, but only time will tell.