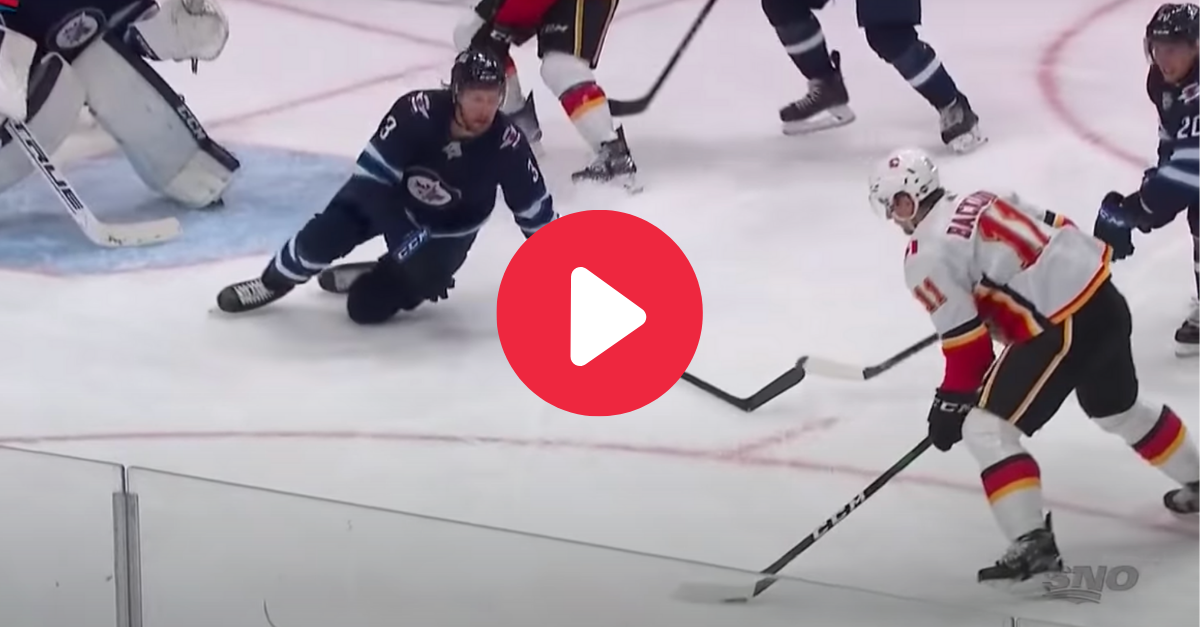 Screenshot from YouTube
Hockey players are tough. Anyone who tells you otherwise is a liar. It doesn't matter if it's the preseason, regular season, or NHL playoffs, players are always willing to risk it all, for whatever reason. Winnipeg Jets defenseman Tucker Poolman is the latest example.
The stakes are high right now, especially since the coronavirus pandemic and COVID-19 outbreak delayed the NHL season. Every team is fighting for their right to play for the Stanley Cup, and Poolman definitely proved he's willing to do whatever it takes for the Jets to get there on Tuesday night in Edmonton.
In the second period, with the Calgary Flames ending their power play, forward Mikael Backlund got the puck looking to score. He snapped a quick wrist shot, but Poolman was there to block it.
The only problem was the puck went under his visor and struck him right in the face.
Tucker Poolman Blocks Puck With His Face
RELATED: NHL Player Slashed By Skate to the Face in Scary Moment
In a sport filled with tough injuries, this has to be up there as one of the most painful. Tucker Poolman sacrificed his body to block Mikael Backlund's shot and absolutely paid the price.
Immediately after he was hit, a trail of blood on the ice followed him back to the dressing room, and it took six arena workers to shovel off the ice at Rogers Place, according to the Grand Forks Herald.
The replay, via Sportsnet, made it look even worse.
"Tucker was really lucky he didn't lose any teeth," Winnipeg Jets coach Paul Maurice said. "He's got some sutures there. He's got a giant-sized. . . five golf balls. He's got a huge welt on the side of his face."
For most people, that would end their night, maybe even their season. Not Poolman. He actually returned from the locker room to skate in the third period, this time with a full cage on.
The Jets have had multiple injuries since the NHL restart. They played the last two games without forwards Mark Scheifele, Patrik Laine and Mason Appleton. They also lost forward Mathieu Perreault in Tuesday's game, which saw the Flames take a 2-1 series lead.
Jets goalie Connor Hellebuyck needs Poolman healthy to get out of the qualifying series because the Flames aren't going to go down quietly. Let's just hope it doesn't take another trending shot to the face to make it happen.