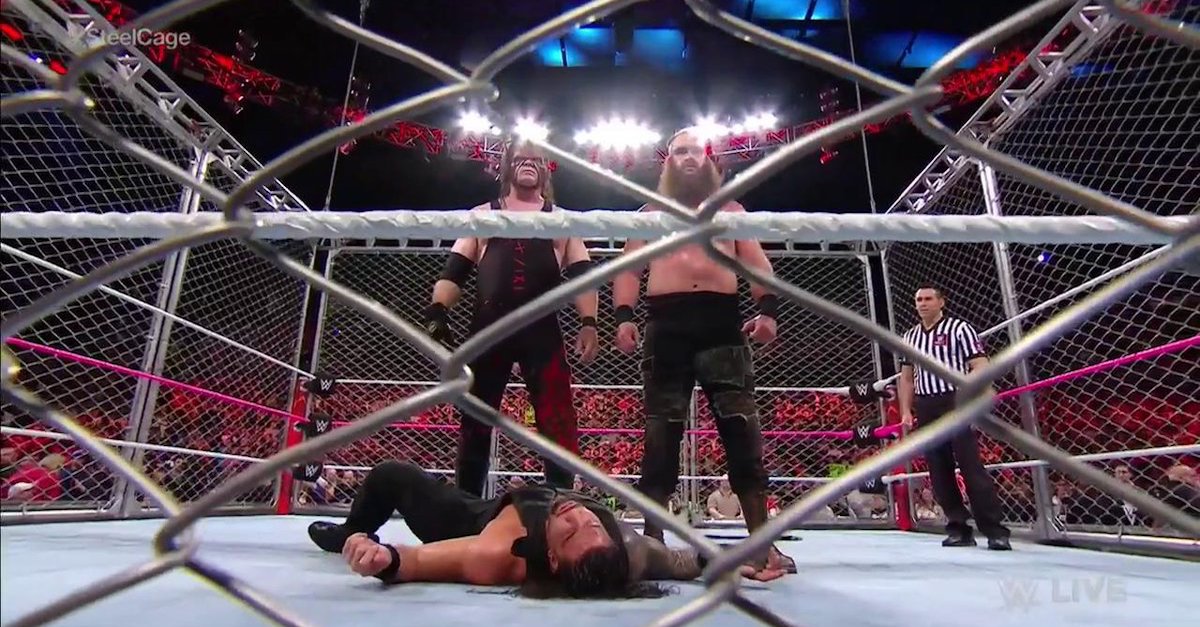 @WWE/Twitter
WWE Monday Night Raw broadcast live from Portland, Oregon on the USA Network at 8 PM ET.
WWE Monday Night Raw Results 10/16/17
Raw kicks off with Kurt Angle (YOU SUCK!!!) coming out and giving a preview of TLC. The Shield come though the audience (cool) and they are wearing the old school shield vests (OK, super cool!!)
After cutting a promo on The Miz, The Bar and Braun Strowman they end up calling out their opponents for TLC. Angle tells each team to not fight and then Michael Cole goes to break previewing the big events?
Braun Strowman a guest on Miz TV
Tag Team title match: The Bar vs. Ambrose and Rollins
Strowman vs. Reigns in a cage match
Braun Strowman hits the…"talk show" circuit
Miz TV has had many guests over the years from Kevin Owens to Naomi to Lavar Ball so it's always a mixed bag of fun. However flanked by The Bar and Curtis Axel, The Miz welcomes his guest for the night Braun Strowman.
Braun comes out and is still upset about being put through a table as he vows to destroy The Shield one by one (something I think some people actually want to see). As Miz announces that it will be a 3 vs. 5 match at TLC, Kurt Angle comes out and says Miz is taking things too far. Miz wants The Shield to prove that they can take on anybody and so Kurt Angle puts a stipulation on the Strowman-Reigns cage match.
Strowman wins=5 vs. 3 at TLC
Reigns wins=3 vs. 3 at TLC and Strowman doesn't get to be in the match
Before the cage match, Curtis Axel went to confront The Shield but was beat up and WWE's Renee Young asked The Miz what would happen since Axel is out. Turns out, Miz hadn't picked Axel as the 5th Man.
Interesting….
Main Event: Braun Strowman def. Roman Reigns (via pinfall)
One of the best feuds of the year gets it's cage match as Braun Strowman vs. Roman Reigns. Before break, Strowman was on the offensive and coming back from break it was more of the same. However, when Reigns tried escaping Braun throws Reigns against the cage. Ouch. Big time.
As Roman tries to escape, The Bar comes out to push Roman back in the cage, right on cue it's The Shield to help out Reigns. It's a complete clusterf*ck, which is perfect. The tag teams fight backstage and while at commentary, The Miz leaves the table for a strange reason and closes the door on backstage brawl between the tag teams…We still have a cage match going on.
Roman and Braun both attempt to leave the cage but are stopped. After some superman punches, Braun gets another superman punch after attempting to powerbomb Reigns. Just as Roman is going for the spear to end it all, he returns…..
No, not The Undertaker, IT'S KAAAAAANNNNEEEEEE!
After multiple chokeslams and a tombstone piledriver, Strowman gets the 1-2-3 for the victory. So at TLC it's going to be…
The Shield vs. The Miz, The Bar, Braun Strowman and Kane.
Ok then, Ohhhhk.
Dean Ambrose and Seth Rollins def. The Bar (via pinfall)
In their first tag team match as members of The Shield again, Ambrose and Rollins have a fun back and fourth with Cesaro and Sheamus before The Bar take over. While it wasn't the classic they put on at No Mercy but it was still a good match. My only issue is that Michael Cole kept mentioning Roman Reigns taking away the drama from a match and pushing towards TLC on Sunday.
Cedric Alexander def. Jack Gallagher (via pinfall)
Hey, a cruiserweight match without Enzo Amore? Wait, is that actually legal?
Well, it's happening. Jack Gallagher is joined by THE Brian Kendrick at ringside and Cedric seems to be in a 2-on-1 situation until Rich Swann comes out shortly before the match begins.
One the match starts, Gallagher's aggressive style puts him out front early in the match. Alexander gets some offense in but is stopped by Kendrick until Swann flies in with a DDT to stop the Kendrick interference outside of the ring. Alexander takes out Gallagher with a lumbar check to pick up the victory.
Best of the rest
Apollo Crews, Titus O?Neil and Jason Jordan def. Karl Anderson, Luke Gallows and Elias (via pinfall)

Mickie James and Bayley def. Alexa Bliss and Emma (via pinfall)
Sasha Banks def. Alicia Fox (via submission)
After the match, Alicia Fox attacked Banks backstage and shoved WWE official Darrick Moore after the match and was…"fined"
It was probably in Monopoly money to be honest.
Enzo and friends (yes, he has friends) beat up Kalisto and Mustafa Ali.
Finn Balor announced he's bringing the demon out against Sister Abigail who in no way is Bray Wyatt in Drag.
Luke Gallows, the songbird of our generation. Actually, the songbird of a few generations.
WWE Monday Night Raw results leading up to TLC
FanBuzz, your source for the latest WWE news.