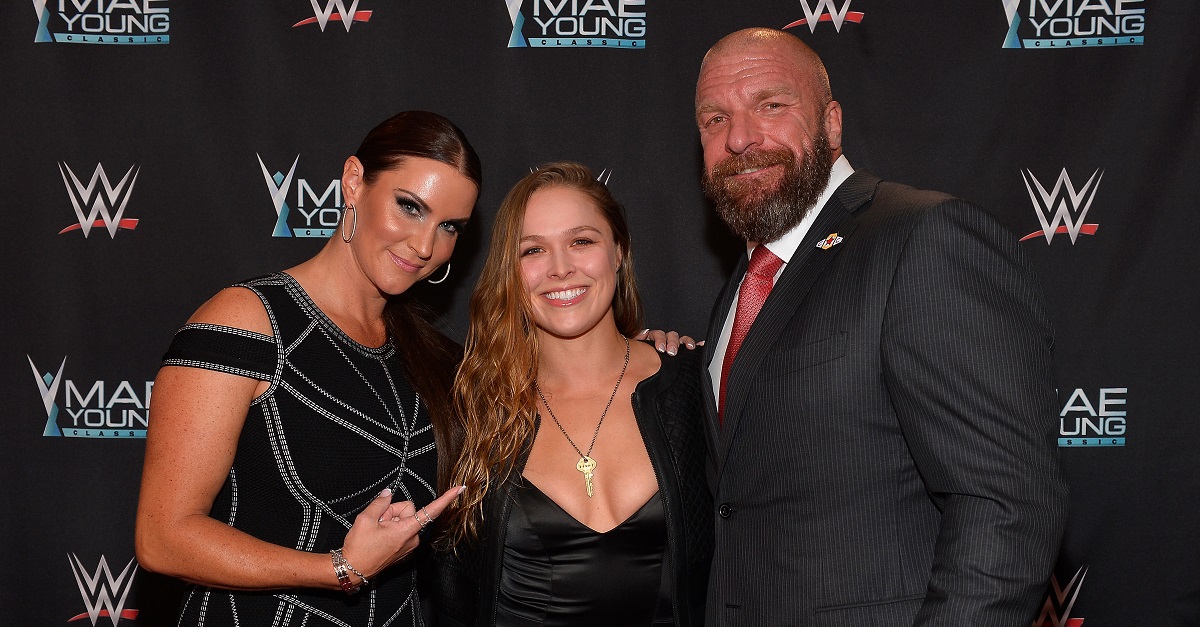 Bryan Steffy/Getty Images for WWE
LAS VEGAS, NV - SEPTEMBER 12: (L-R) WWE Chief Brand Officer Stephanie McMahon, MMA fighter Ronda Rousey and WWE Executive Vice President of Talent, Live Events and Creative Paul "Triple H" Levesque appear on the red carpet of the WWE Mae Young Classic on September 12, 2017 in Las Vegas, Nevada. (Photo by Bryan Steffy/Getty Images for WWE)
With Ronda Rousey joining the WWE, everyone has their own opinion on the matter. For current superstar Nia Jax, she instead has some advice.
As a guest on Busted Open Radio to promote her match against Asuka at this Sunday's WWE Elimination Chamber, Jax did give Rousey a raving review about how she aided in changing how people consume women's sports.
She also said the former UFC star needs to enter the pro wrestling culture knowing the respect that needs to be had in the locker room.
"Respect is number one in this business. You definitely have to walk into the door with a lot of respect: a lot of eye contact, a lot of handshakes, introducing yourself. We are a very tight-knit family at WWE. We are very protective of our family. When an outsider comes in, you want to make sure the outsider is worthy to step into the family. When Sasha Banks says she had nothing nice to say, it's not necessarily that she wants to go out and be mean, but rather making sure that this outsider is worthy to step into her family."
The entire episode is good. You should listen to it.
Some WWE talent have already voiced their frustrations over Rousey receiving plenty of national attention despite the former UFC champion claiming to be in this for the long haul.
Rousey will be back in a WWE ring for the first time since the Royal Rumble at Monday Night Raw's exclusive Elimination Chamber pay-per-view.
As for Jax, she will be fighting Asuka at Elimination Chamber for a chance to enter the WrestleMania title picture.
Before making the jump, Rousey was the pioneer of the women's UFC division, rattling off 12 consecutive wins before two KO/TKO losses to likely end her career.
For those interested, here are WWE's reported backstage plans for Rousey at WrestleMania 34.