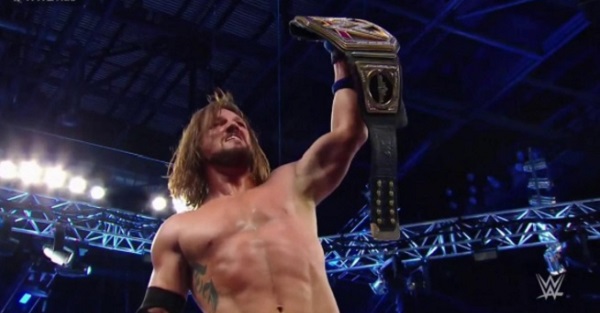 WWE/Twitter
WWE SmackDown Live was taped in the Manchester Arena in Manchester, England on November 11, 2017.
SmackDown Live main event: AJ Styles def. (pin) Jinder Mahal (c) to win the WWE Championship
Even before the match, the Singh brothers decide to mock Paul Heyman using his intro and as Jinder comes out there is no reaction, it was flat. It's clear, Jinder has been hindered.
The sourness continues with a "You can't wrestle" chant at Jinder Mahal. Oh my goodness, this is rough. After the break, we see Jinder tied up by the challenger and AJ breaks free to create some offense. Just as soon as he tries, we see Jinder catch AJ Styles outside of the ring and slams him on the table.
Jinder is in firm control but we see the second instance of offense from AJ, forearms hammering away at the champion and finally takes Mahal down. Styles uses the calf crusher on Mahal but it is broken up. This is actually not a bad match, which is a shame because a lot of what Jinder has done has been pretty scripted.
As Jinder eats a 450 splash, the Singh brothers pull Jinder out of the ring as Lil Natich is flabbergasted. AJ Styles has had enough of the brothers so he tackes one and then hits a flying forearm to another. AJ fights off one last rally from Mahal and hits a phenomenal forearm to get the pin…1-2-3, we've got a NEEEWWWWWWW WWE CHAMPION, AJ STYLES!!! HOLY CRAP.
So that means at Survivor Series, we're gonna have AJ Styles vs. Brock Lesnar. Yes please. Yes indeed.
Kofi Kingston def. (pin) Sami Zayn
This match opened the show after a looooonggg promo featuring Shane McMahon, The New Day, Kevin Owens and Sami Zayn. Shane had been praising The New Day for their initiative in invading Monday Night RAW again on Monday when Owens and Zayn interrupted, mostly to insult Shane's dancing abilities.
The match actually went on for a solid 10-plus minutes, with Kofi showing that he's still one of the most unique high-flyers in WWE. Kofi actually got the win with a twisting crossbody — haven't seen that move get a pin in FOREVER — before Owens attacked after the victory. Owens and Zayn ran off before Big E and Xavier could interfere from ringside.
Randy Orton def. (pin) Rusev
This was not a very good celebration for Rusev Day.
Rusev actually controlled most of the match, but as JBL used to say, it only takes one RKO for Orton to win. With the loss, Rusev lost his chance to be on the SmackDown Survivor Series team with the loss, but he did win a place in my heart with the way he died after the RKO.
Becky Lynch def. (Sub) James Ellsworth
So, this is really happening. The rare intergender match that involves the captain of the SD Live women's team Becky Lynch against Carmella's…pet? James Ellsworth. The match was actually entertaining, great spots including watching Ellsworth do some pre-tie up work and even an airplane spin.
Before the match, Ellsworth had said he'd just let Carmella wrestle but undermined her abilities int he ring. As Becky picked up the win with disarm(him?). Becky celebrated in the ring as Carmella looked to enter and as the two ladies were about to fight, we got us a swerve! Carmella kicked James Ellsworth in the face much to the delight of the SD Live ladies who were ringside.
Now Ellsworth loses to a woman and lost the lady he was in love with. London has not been good to Mr. Ellsworth.
Gable and Benjamin def. (count-out) The Usos
In somewhat quick match, the duo of Chad Gable and Shelton Benjamin defeated the USO's in a count-out victory. Jey Uso suffered a nasty knee injury that was clearly not scripted. It will be fascianting to see who they will get to replace the Usos with if Jey Uso is not ready to go for Survivor Series.
(NSFW language)
Best of the rest of WWE SmackDown Live
The Bludgeon Brothers are apparently still on their way… hopefully they get here at some point.
Before his match with Becky Lynch, James Ellsworth really said that they were in "Manchester, not Womanchester". I'm still laughing.
We got a "Becky's gonna kill you chant" at the beginning of the James Ellsworth match.
Shane McMahon announces Charlotte Flair vs. Natalya next week on SD Live.
Luke Harper will appear on the USA series "Damnnation" in an upcoming episode. Guess what day it is, it's the day we give Luke Harper the Emmy.
Two other matches announced for next week…
SmackDown Live leading up to WWE Survivor Series
Fanbuzz, your source for the latest WWE news.