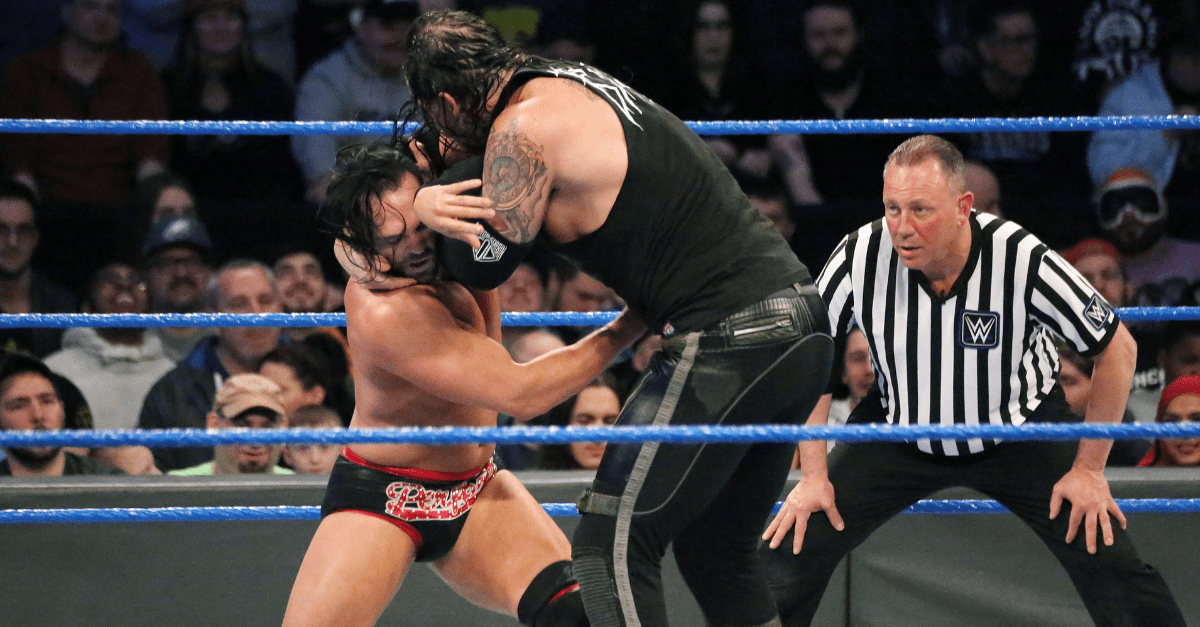 Star Shooter/MediaPunch/IPX
The wave of WWE talent wanting to leave the company continues, as Tye Dillinger has officially asked for his release. Although his "Perfect 10" gimmick has been very popular with the fans, WWE has grossly underutilized Dillinger, which has resulted in a lackluster win-loss record and seldom appearances on the SmackDown Live brand.
While in NXT, Dillinger used his gimmick to win over the crowd, as the faithfuls from Full Sail University chanted "10! 10!" along with him. This momentum even led Dillinger to become the 10th entrant in the 2017 Royal Rumble match.
RELATED: Booker T Sues Popular Video Game Company for Copyright Infringement
Despite this momentum, Dillinger would be soon called up to the main roster. However, the frequency of his television appearances on the brand has been very minimal.
Due to Dillinger's frustration, he posted a tweet confirming rumors of asking for his WWE release. In the tweet under the name Ronnie Arneill, Dillinger expresses that it was a difficult decision, but he felt that is was best for his future.
"Before rumors begin to spread, let me set things straight ahead of time.

"This evening, I requested my release from WWE. In the past 5 and a half years with them, I have seen and done some wonderful things. Things that I am very proud of and will never forget. I have met and have worked with unquestionably, some of the greatest talent on this earth and the pleasure has been all mine.

"I feel at this time this decision, as extremely difficult as it was, is what is best for myself and WWE. I wish to continue to grow as a performer and offer those paying hard earned money to watch a show I'm performing on, a little more of myself.

"To the male and female locker rooms, coaches and producers, to the production/ring crew, all the way up to the very top of WWE and most of all the fans… I wish you all the very best and thank you from the bottom of my heart for everything."

— Tye Dillinger, the Perfect 10
Although the Perfect 10 has been competing on WWE Live events, most recently losing to EC3 in Lake Charles, Louisiana on February 18, has latest appearance on SmackDown Live has to trace back five months. Dillinger's match against Shinsuke Nakamura led to a no contest, causing Nakamura to retain the United States Championship.
Dillinger used his momentum from NXT and his Royal Rumble appearance to join the SmackDown Live brand. In the beginning of his call-up, Dillinger had a mild push, defeating Aiden English. However, he would soon fall to the names of Rusev, Baron Corbin, and Jinder Mahal, and never regained any momentum.