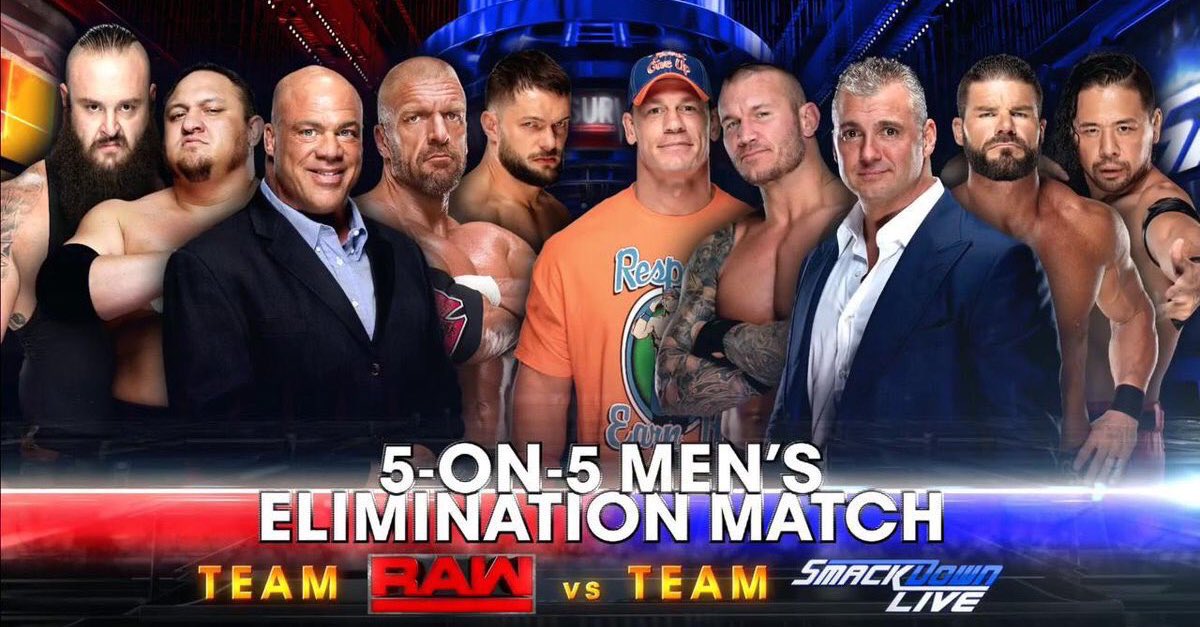 @WWE/Twitter
@WWE/Twitter
WWE Monday Night Raw broadcast live from Atlanta, GA on USA Network at 8 PM ET.
WWE Monday Night Raw Main Event: Braun Strowman and Kane go through the ring
As the go home Raw for a "big four pay-per-view" I must say, this was rather disappointing. It was going to be what most matches are like with these two, it's going to be a hoss-off. We're gonna see a lot of power moves (which we saw) and then a big spot to end the match, well we got that spot…
Kane and Braun go through the ring and just like that the show is over. A really weak finish and hopefully we can get some more RAW vs. SmackDown Live storylines when the SD Live crew hits the ring tomorrow.
The Shield vs. The Bar and The Miz
First of all, we get Shield vs. New Day at Survivor Series….YAY!!!
At the start of the last hour of the show, we see the big six-man tag between the group of men who've been the true stars of the RAW brand in the last few months. It was a pretty fun match but got sloppy near the end. While in the middle of the match, a cornered Miz saw both members of The Bar down, The Miz decided to make a run for the exit, it wasn't so successful.
Coming back from commercial break, we see Miz fight his way back into the match but with both Cesaro and Sheamus out and struggling, it was just too much for The Miz to overcome. A triple powerbomb and a pin later, The Shield would walk out victorious.
Brock Lesnar responds to AJ Styles winning WWE title
Paul Heyman cutting a promo on someone who just got engaged might be something I thought I never needed.
It was actually refreshing to see Heyman build up the Styles-Lesnar match, I was excited to see these two get after it on Sunday. Hearing Heyman's excitement in wanting to see Brock Lesnar face off against AJ Styles much more than Jinder Mahal. I can't wait for the Styles response on Sunday.
Bayley def. (pinfall) Mickie James and Dana Brooke
The Raw women's roster has four members and needs a fifth so we've got a nice triple threat to settle the last spot. Three actually good working together and a somewhat boring match gets real as Asuka attempts to help Dana Brooke up but Brooke pushes Asuka away, well as you would predict we see a pissed off Asuka chase Dana Brook to the other side of the ring and while those two go at it, we see Mickie James and Bayley trade two-count pinfalls but Bayley eventually comes out as the victor.
So, your Raw Women's Team is…
Alicia Fox, Sasha Banks, Nia Jax, Asuka and Bayley.
Jason Jordan def. (pinfall) Bray Wyatt
In a match that would lead to something much more, Jason Jordan gets a lucky roll up pin for the victory over Wyatt in his return to the ring. Then we see a post-match beatdown that would leave Jason Jordan bruised and unable to compete in Sunday's Survivor Series match.
Kurt Angle names Jason Jordan's replacement, or rather the replacement announces it himself.
As a limping, hurting and stressed out Jason Jordan tries to make his appeal to his father Kurt Angle for a chance to compete at Survivor Series was not enough and after Steph came out to force his hand, just a Kurt was going to say something, Triple H comes out and he's looking for a fight. He announces that he will be replacing Jason Jordan and for good measure, gives Jordan a pedigree. So, Sunday should be pretty fun.
Best of the rest
Samoa Joe and Finn Balor def. (via pinfall) Gallows and Anderson
Enzo Amore and Drew Gulak def. (via pinfall) Kalisto and Tozawa in a cruiserweight tag match
Stephanie McMahon hates the Jason Jordan storyline like all of us! Yay!
Steph asks Roman Reigns, and I quote.."Where the hell have you been??"
Big E responds to The Shield's challenge with an entertaining tweet
WWE Monday NIght Raw results leading up to Survivor Series