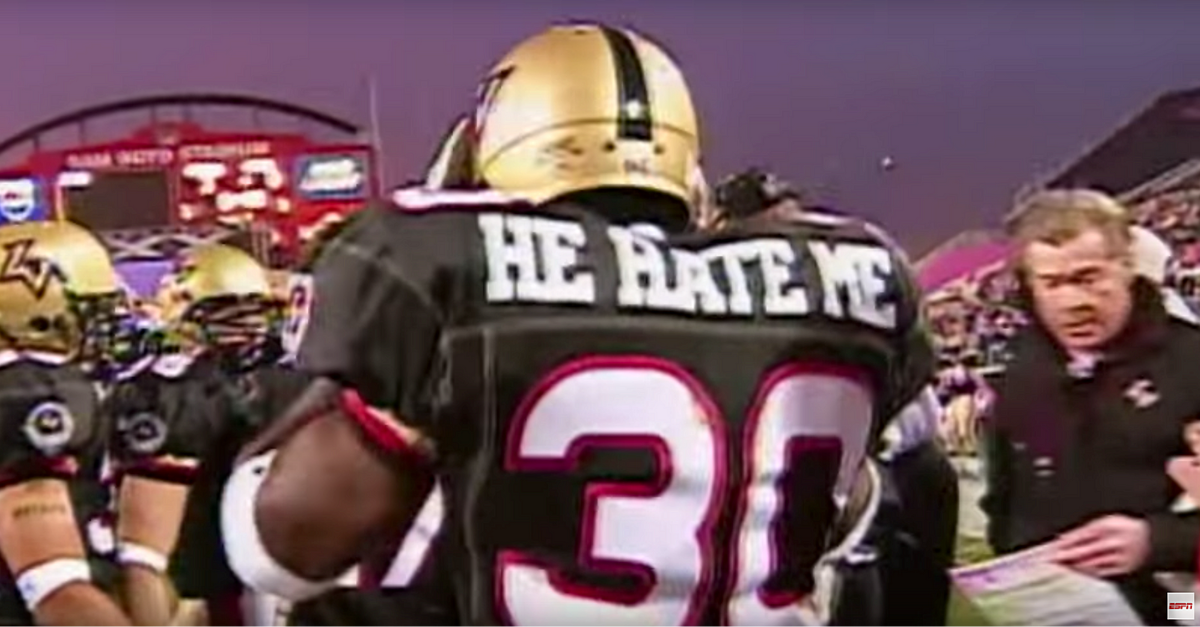 YouTube: ESPN
The XFL was the short-lived brainchild of WWE Chairman Vince McMahon. In its only season in existence, the upstart football league brought new rules, a flashy style, and actually produced some quality talent that went on to respectable NFL careers. (League MVP Tommy Maddox was named 2002 NFL Comeback Player of the Year and won Super Bowl XL with the Pittsburgh Steelers.)
Still, if you remember the XFL like I do, there's only one player that truly matters: Las Vegas Outlaws running back Rod Smart, better known as "He Hate Me."
After playing college football for the Western Kentucky Hilltoppers, Smart, whose given named is Torrold DeShaun Smart, shined in the XFL with the Outlaws. Smart was one of the most-liked player among fans for his outgoing, boisterous attitude, and he backed it up on the field. "He Hate Me" finished that season ranked second in the league with 555 rushing yards and added 245 receiving yards to his tally.
The former XFL running back played with "He Hate Me" on the back of his jersey because, well, "when I'm running by [a defender], he hate me."
Smart went on to play five NFL seasons ? one with the Philadelphia Eagles and four with the Carolina Panthers ? primarily as a special teams player. Smart returned four punts for 74 yards in Super Bowl XXXVIII against the New England Patriots.
But according to the Lancaster County Sherriff's Office, Smart is missing and hasn't been seen since Wednesday, June 12. He is officially listed as a "missing endangered person" by police.
RELATED: AAF Files for Bankruptcy with $48.3 Million in Debts
The 42-year-old Smart was last seen driving a silver 2016 Nissan Maxima in Indian Land, South Carolina. According to Lancaster County court records obtained by HeraldOnline.com, Smart previously owned a home there, but is not believed to be a resident of the county anymore.
"Family and deputies have concerns about his well-being and safety," Doug Barfield, a spokesman for the Lancaster County Sheriff?s Office said. "We are conducting an active search for Mr. Smart. This is a missing person. There is nothing nefarious about this."
It's been nearly a week since Smart was last seen, and police are asking that anyone with information contact authorities.
We can only hope the former NFL, Canadian Football League, and XFL legend is found soon. The world was made better by "He Hate Me," and it would sure be better with him at opening weekend when XFL football returns to action in 2020.
UPDATE: According to ESPN, police reported that Smart was found safely on June 18.