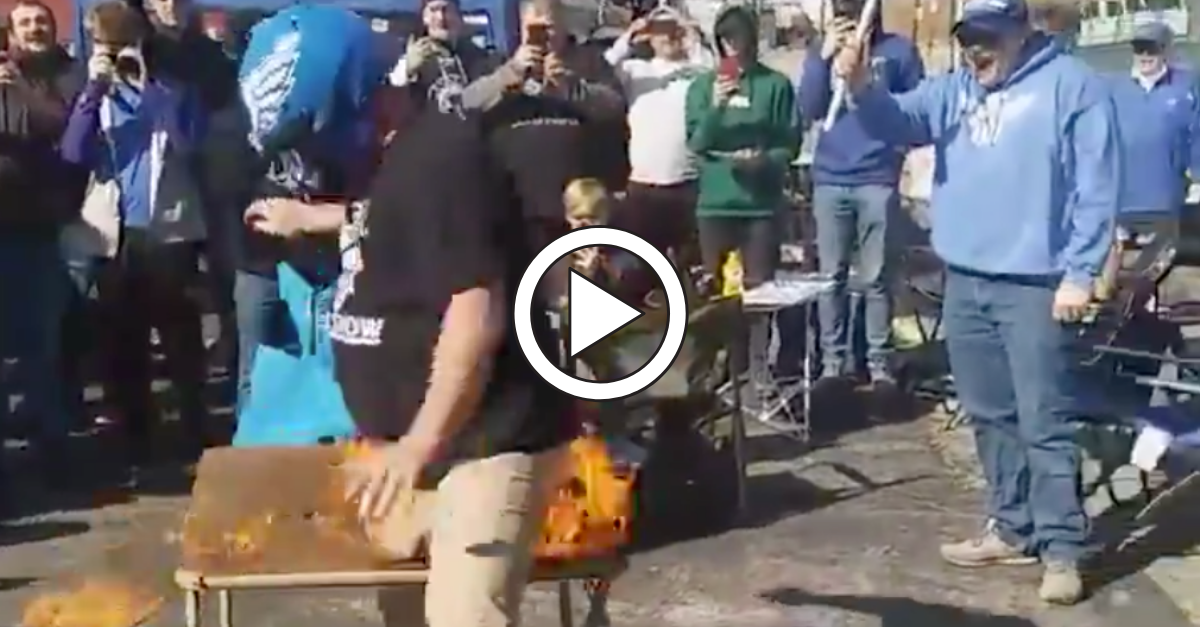 Screenshot from Twitter
Whether it?s the NFL or the new XFL season, football fans are football fans. It doesn?t matter if it?s the preseason or the Super Bowl. People are going to go crazy. That?s especially true during tailgates and one guy certainly proved the reboot football league is worth it.
Before the St. Louis BattleHawks matchup with the New York Guardians, talk show host Jason Spurgeon took it to the extreme. He told fans he would do it. So he put on a helmet and attempted to jump through a burning table.
It just didn?t end very well.
WARNING: This video includes NSFW content.
XFL Fan and The Burning Table
RELATED: DC's Cardale Jones Throws Wild Trick Play TD
Watching XFL games on FOX, ESPN and ABC are one thing. Jumping through a burning table and posting it on social media is a completely different story.
This BattleHawks fan definitely proved who his favorite XFL team was, but it absolutely came with a price. Not only did he fail to truly jump through the table, his terrible effort also set his groin on fire in the process.
XFL 2020 home games are truly one of a kind, and it?s something the AAF failed to capitalize on last year. You don?t have to score a touchdown in a playoff game to get wild. All you need is some liquid courage and a flaming table.
It appears this was a long-standing bet by the talk show host, but the details don?t matter. Trying to jump through the table was the result and it definitely deserves a standing ovation.
Needless to say, Bills Mafia would be very, very proud.
XFL Scores Week 3
Houston Roughnecks 34, Tampa Bay Vipers 27
Dallas Renegades 24, Seattle Dragons 12
St. Louis BattleHawks 29, New York Guardians 9
Los Angeles Wildcats 39, D.C. Defenders 3