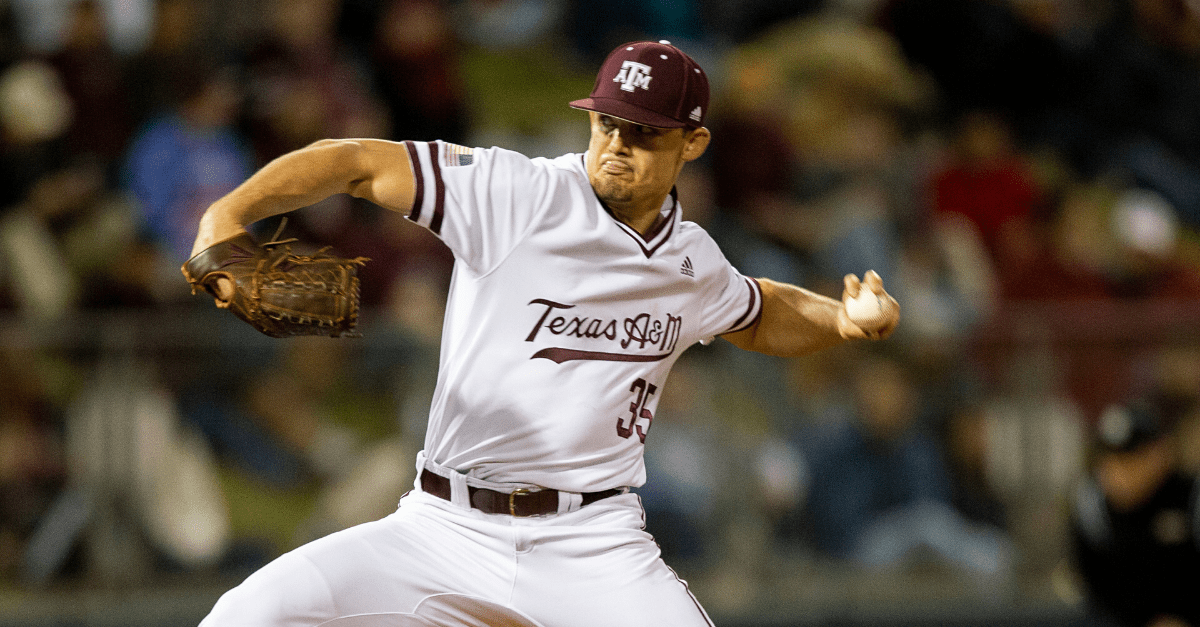 AP Photo/Sam Craft
Every year, the SEC proves to be the top conference in college baseball. No other conference in the NCAA dominates the weekly rankings and produces top-tier MLB Draft picks like the one that served up Alex Bregman, Walker Buehler, Aaron Nola, Jackie Bradley Jr. and plenty of other all-stars.
This year, Georgia flame-throwing ace Emerson Hancock was the talk of the collegiate baseball world. In a conference so deep with pitching and hitting prospects, sometimes it's easy to forget the guy Texas A&M University would be rolling out every Friday night.
Asa Lacy. Go ahead and say it again. Asa Lacy. They call him "Ace" for a reason.
The 6-foot-4 left-handed pitcher can whip his fastball into the mid-90s and features some wicked off-speed pitches in a curveball, slider and changeup. Lacy is expected to be a top-10 draft pick and could be the Aggies' highest first round pick since Jeff Granger (fifth overall, 1993).
In 2019, Lacy was named a Golden Spikes Award semifinalist after going 8-4 with a 2.13 ERA and striking out 130 batters over just 88.2 innings. His .162 opponent batting average was good for third in the country.
Despite the Aggies not making it past Duke in the NCAA Regional round, Lacy put the SEC and baseball world on notice with the way the top prospect pitched during the season.
So, just who the heck is this Asa Lacy kid anyway?
Who is Texas A&M's Asa Lacy?
Lacy has Texas A&M athletics in his DNA. His grandfather is Dan Davison, a former halfback for the Aggies and one of five relatives who attended TAMU. His father, Phillip, played tennis at Sam Houston State.
Born in Bryan, Texas, Asa Edward Lacy went to Tivy High School in Kerrville, Texas. As a senior, he set a school record with 13 wins and posted a 0.93 ERA along with 128 strikeouts in 97.1 innings.
MLB teams wanted him in the 2017 draft but wouldn't pay the $1 million signing bonus he wanted, so he slid to the Cleveland Indians in the 31st round, which meant he was headed to College Station.
Texas A&M scored a good one.
After a solid freshman campaign in 2018 in which he maintained a 2.75 ERA in 39.1 innings out of the bullpen, he shot up prospect boards in 2019. Check out some of his individual game numbers to get an idea how dominating he can be:
Feb. 16: 5 innings, 1 run, 11 strikeouts vs. Fordham
Feb. 23: 6 innings, 0 runs, 10 strikeouts vs. UIC
Mar. 23: 6 innings, 1 run , 13 strikeouts at Kentucky
Mar. 30: 7.2 innings, 0 runs, 12 strikeouts vs. Missouri
Apr. 6: 6 innings, 0 runs, 11 strikeouts vs. LSU
May 4: 7 innings, 0 runs, 8 strikeouts vs. Mississippi State
Lacy is also a passionate pitcher. He served a four-game suspension from the Texas A&M baseball team after he was ejected from a game against Alabama. SEC Network cameras caught him telling the home plate umpire his calls were "terrible."
At the conclusion of the 2019 season, Lacy was deemed a Perfect Game/Rawlings College Honorable Mention All-American. He also played for the USA Baseball Collegiate National Team over the summer and (surprise, surprise) dominated there as well.
It's no wonder Lacy was tabbed a 2020 preseason All-American by nearly every major baseball publication including Baseball America and Perfect Game. TAMU head coach Rob Childress has one of the best starting pitchers in college baseball on his team.
Asa Lacy Scouting Report
RELATED: Josh Donaldson: Auburn?s Star Catcher Became an MVP in MLB
As mentioned before, Lacy plays to his strengths well. A 95-mph fastball on a downhill plane is never fun for hitters, and that's obvious when watching them face Lacy.
That Lacy has three other off-speed pitches he can strike hitters out with makes him all the more tantalizing for MLB teams selecting high in the draft. I see a mix of Cincinnati Reds' Alex Wood and Los Angeles Dodgers' Clayton Kershaw, both 6-foot-4 southpaws as well.
Some scouts think the hard-throwing lefty still needs to polish his command. Still, Lacy's pure stuff is good enough that he doesn't always have to be accurate. Here's what the experts are saying about Asa Lacy.
From MLB.com:
Lacy has boosted his fastball from 87-91 mph in high school to 92-97 these days, using his 6-foot-4 frame to create downhill plane, and hitters just don't seem to get good swings against it. He employs two distinct breaking balls, a downer curveball and a harder slider in the low 80s, though they tend to blend together and the curve is the superior offering. His changeup fades and sinks and grades as a well above-average pitch at its best, and it should become more consistently plus as he uses it more often.
From Perfect Game:
Asa Lacy and fellow lefthander John Doxakis formed quite the pair in Texas A&M?s weekend rotation last year, and with Doxakis beginning his professional career Lacy has the opportunity to really shine in 2020 as the Aggies? Friday ace. He has an electric arm, reflected by 130 strikeouts in over 88 innings of work. He also proved to be stingy in the base hit department, allowing just 49 in that time. At 6-foot-4, 214-pounds, Lacy has good size with a tall, angular stature. He throws from a crossfire delivery from the left side, which creates some added deception, delivering low- to mid-90s fastballs that he maintains well deep into starts, usually touching 96 early in games while settling into the 92-95 mph range. His upper-70s curveball gives him another power pitch and he also throws a promising low- to mid-80s changeup. With his size, three-pitch mix and ability to miss bats, Lacy is expected to be taken in the first round of this year?s draft.
Asa Lacy 2020 MLB Draft
Lacy is in good position to be selected in the upper half of the first round in the upcoming MLB draft. MLB.com ranks him the fifth-best prospect in the draft and second-best pitcher behind Georgia ace Emerson Hancock.
Jeff Granger is still the highest-drafted Aggie of all time, going fifth overall to the Kansas City Royals in 1993. Lacy will undoubtedly challenge that and should be drafted higher than recent Aggies like Michael Wacha (19th overall, 2012) and Tyler Naquin (15th overall, 2012).
When his name is inevitably called, Asa Lacy should make some MLB team very happy.
This article was originally published February 6, 2020.
---
UPDATE (June 3, 2020): Despite the 2020 college baseball season being cut short, Lacy only helped his case among the elite pitching prospects in Major League Baseball's draft.
Lacy started four games for the Aggies, throwing 24.0 innings and striking out (wait for it) 46 batters. He scattered nine hits and allowed two earned runs in that span, including throwing seven shutout innings in his final start against New Mexico State on March 6.
Alongside Arizona State's Spencer Torkleson and Vanderbilt's Austin Martin, Lacy is expected to be one of the first players off the board when the 2020 MLB Draft begins on June 10.