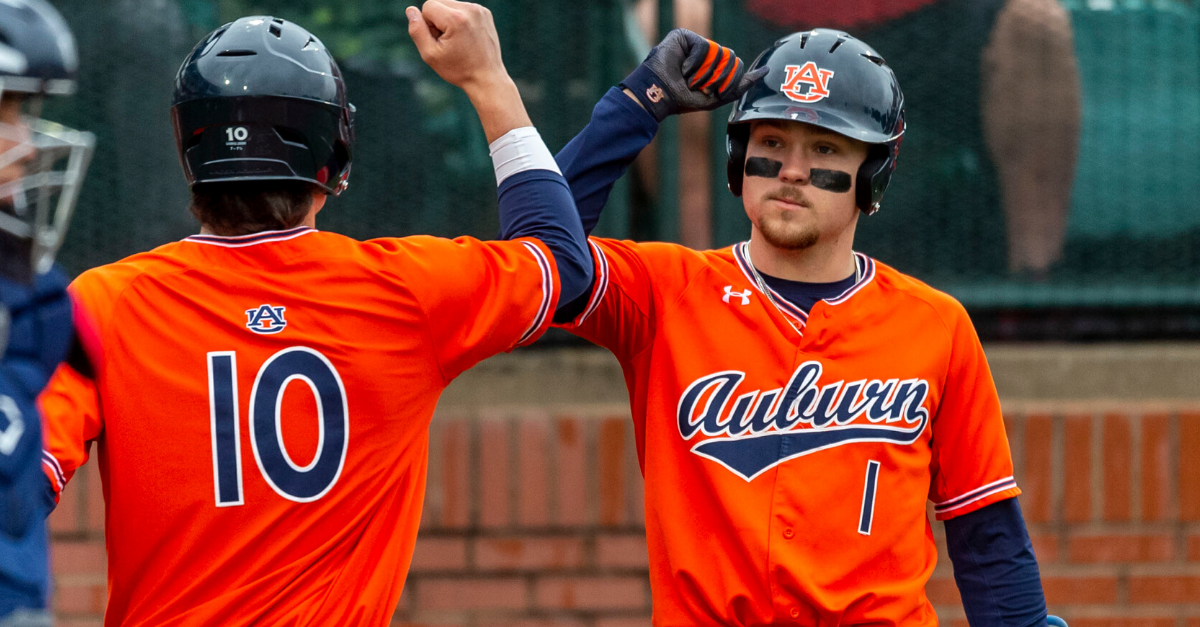 AP Photo/Vasha Hunt
In a league full of so many dynamic college baseball arms, it can be hard to stand out. Georgia's Emerson Hancock and Texas A&M's Asa Lacy are just a couple of the many SEC pitchers pumping mid-90s fastballs and generating buzz in the upcoming MLB draft. Outside of someone like LSU's Daniel Cabrera, you don't really hear about the position players that have to face these pro-bound arms every weekend.
Considering No. 8 Auburn baseball got off to a 4-0 start and looks like it has a real shot at returning to the College World Series since exploding for a 13-run first inning last year that propelled them to Omaha, I had to ask: Who is Auburn's star position player? Who's the guy Tigers fans should want up with the game on the line?
So I looked back at that Chapel Hill Super Regional-clinching inning against North Carolina and found him.
Before this season, I noted a few players who were going to have to anchor this Auburn Tigers offense. One of them was junior outfielder Judd Ward, who hit .272 and did a little bit of everything at the plate.
If he breaks out in 2020, consider it anchored.
Auburn' Judd Ward Hits for Cycle
It took all but two games for Judd Ward to make his presence known in the lineup this season. In Auburn's 18-1 rout of Illinois-Chicago, the outfielder hit for the cycle. With an eighth-inning double down the right-field line, he became the first Auburn University player to hit for the cycle since Clete Thomas in 2005.
Here's how it looked inning by inning:
1st inning: Triple
4th inning: Single
6th inning: Home Run
8th inning: Double
Ward finished the game 4-for-6 with two RBIs and is hitting .353 (6-for-17) with a home run, three doubles and a triple after the team's first weekend of play.
"I was just seeing the ball well," Ward said in a release. "Just tried to have a calm approach, and turned out that I put good swings on them. It was definitely something special looking around and seeing the whole crowd get up. When I hit it down the line, I knew that I was stopping at second no matter what."
Auburn head coach Butch Thompson seemed very pleased with not only Ward's cycle but his baseball team's offense as a whole.
"I asked our older guys just to lead us today," head coach Butch Thompson said. "I just thought we did an amazing job. That top (of the lineup) for two days, Judd Ward and Ryan Bliss, they've been fun to watch. That doesn't mean that Rankin (Woley) and Steven Williams and them haven't been doing much. Those guys just had exceptional at-bats. Top to bottom, I thought everybody linked up even with basically a whole new ball club in there. They just kept fighting for their at-bats. I think we focused at a high level for the vast majority of the day."
Ward Poised For Breakout 2020
Ward was a key contributor for Auburn's less-than-spectacular offense last season. After losing power threats Edouard Julien and Will Holland, it's up to Ward, Ryan Bliss, Conor Davis, Rankin Woley and Steven Williams to push across runs for a pitching staff led by Tanner Burns and Cody Greenhill.
It's easy to see why Ward could take a step forward this season.
As a sophomore in 2019, Ward started 65 of the Tigers' 66 games. He posted a respectable .272 batting average, five homers, 34 RBIs and reached base at a .377 clip. The Russellville, Alabama native was key on defense, too. His nine outfield assists led the SEC and were the most by an Auburn player since 2005.
He produced plenty of times in his second year. The clutch three-run home run in the Super Regional round of the NCAA Tournament. Five hits and a homer in three games at the SEC Tournament. Seven hits in a series against the pitching-loaded Vanderbilt Commodores. It's no wonder he hit .287 in SEC play despite playing some tough conference teams like Tennessee, Mississippi State, Texas A&M, Arkansas, Ole Miss, Georgia and LSU.
Even as a freshman Ward wasn't afraid of the spotlight. Despite ample playing time, he came off the bench at Georgia Tech and delivered two hits and two RBIs. But his shining moment that year came in the form of a game-saving diving catch in the Gainesville Super Regional decisive third game against Florida.
Ward has the pedigree to become one of the better hitters in the SEC. His dad, David, and his brother, Jake, both played baseball at North Alabama.
But it was Judd who turned heads at Russellville High School, where he hit .468 with 11 home runs, 114 RBIs, 189 runs and 81 stolen bases in 144 career games. He helped the team win three state championships and was a MaxPreps All-American.
If Auburn wants to finish its season in Omaha like it did last season, it may need a breakout season from Ward. Luckily for the Tigers, he's showing signs of that.