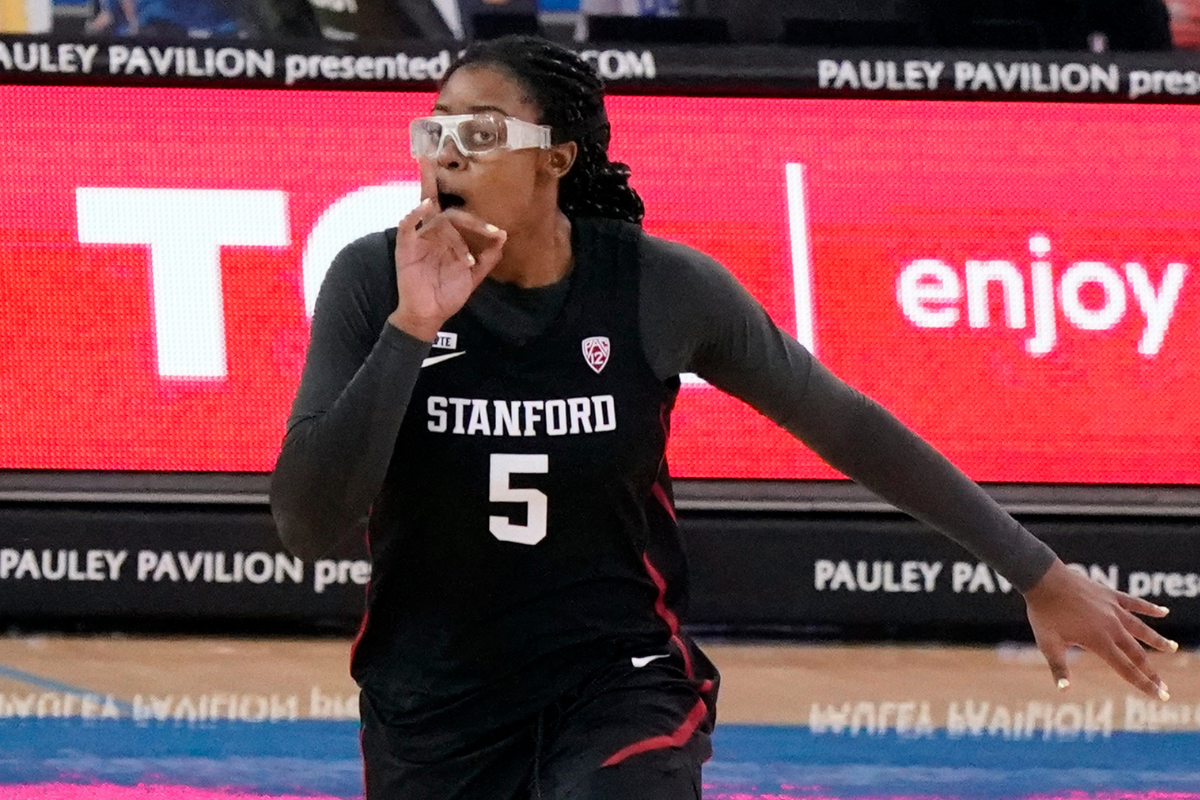 AP Photo/Marcio Jose Sanchez
Dunking in women's basketball is framed as monumental. It's a rare occurrence that only a select few can do in a game environment.
Fran Belibi is changing that narrative.
Francesca Belibi started playing basketball as a freshman at Regis Jesuit High School in Aurora, Colorado, a suburb of Denver. She wasn't too familiar with the game but had jumping ability. To separate herself, Belibi began dunking.
This caught the attention of head coach Carl Mattei.
She kept improving and expanding her dunk arsenal. Casual slams turned into reverses and alley-oops. Her skill set skyrocketed to catch the attention of Stanford head coach Tara VanDerveer early in her high school career. Hardly months after picking up the sport she made the USA Basketball team, where she's won multiple FIBA World Cup gold-medals.
As Fran took off, so did her fame. She became the most recognizable high school girls basketball player in the country. Fans packed the stands and eagerly waited for a dunk. After games, Belibi had a long line of admirers hoping to snap a picture and snag an autograph.
The high school standout was invited to the 2019 McDonald's All-American game. Naturally, fans were expecting a show in the Powerade Jam Fest.
Against the likes of Cole Anthony and James Wiseman, Belibi took home the dunk contest crown in her first appearance on the national stage. She is the second woman to win the competition after Candace Parker did it in 2004.
Belibi, who was born in Kansas City, Kansas, chose to play college basketball for VanDerveer at Stanford. She picked the Cardinal for their excellent basketball program and academics.
In an ESPN feature from 2019, Belibi stated she's wanted to be a doctor for as long as she can remember.
The stethoscope may have to take a backseat to her hoops career.
Fran Belibi Dunks Against Cal

RELATED: Lisa Leslie?s First WNBA Dunk Changed Women?s Basketball Forever
Belibi is dribbling on a breakaway. She gathers the ball in the middle of the lane and rises off one foot.
The snap fills the empty air of Cal's Haas Pavillion as the ball spikes through the net. The rim ricochets back into place.
The Standford Cardinal forward just dunked for the first time in her college career.
Cheers roar from the Stanford bench. She meets her teammate in the air with a celebratory jump.
With the slam, Belibi became the eighth player to dunk in a women's college basketball game. She joins West Virginia's Georgeann Wells, North Carolina's Charlotte Smith, Tennessee's Parker and Michelle Snow, Houston's Sancho Lyttle, LSU's Sylvia Fowles, and Baylor's Brittany Griner.
Belibi Dunks Against UCLA
Belibi wasn't done yet. Against UCLA on December 21, 2020, she turned an intercepted pass into a dunk. She shushed the faux Los Angeles crowd.
The Stanford sophomore is more than just a dunker. She's a double-double threat night in and night out and is a vital part of the team's success.
Last year, the Cardinal's NCAA championship hopes were crushed due to the coronavirus pandemic and COVID-19 outbreak. The squad has a great shot at accomplishing their goal this season as one of the premier teams in the sport.
From Cal and UCLA to Oregon and Utah, Pac-12 opponents beware: Fran Belibi is loading up to dunk on you.