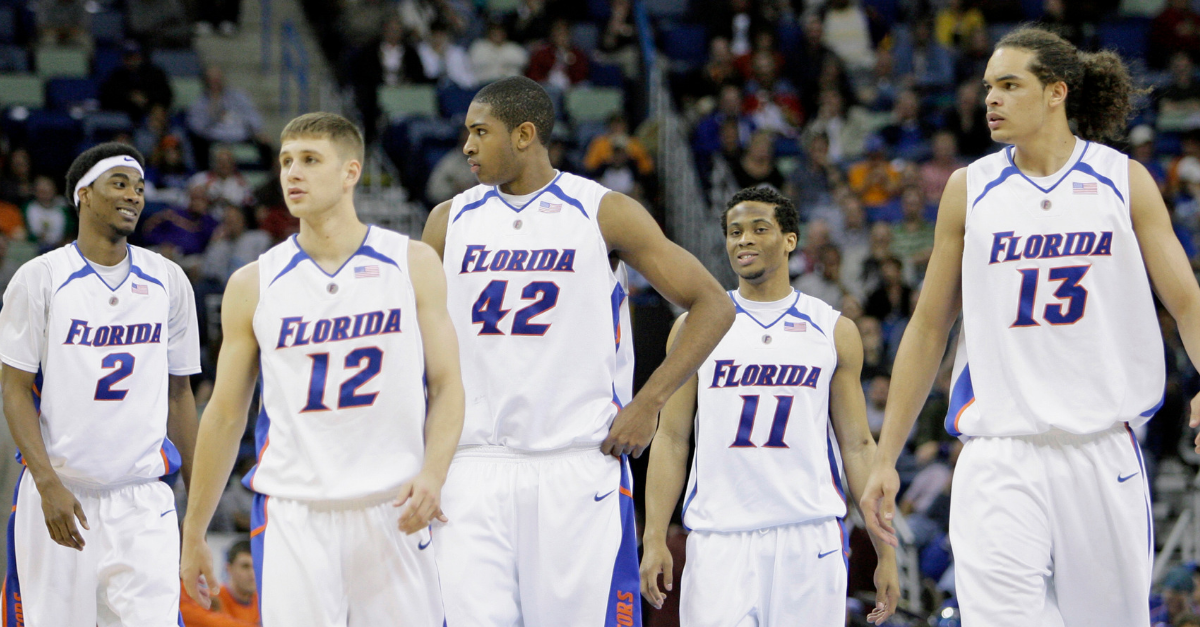 AP Photo/Alex Brandon
When you think of the greatest college basketball programs, a handful stand out. North Carolina, Kentucky and Duke are among them. UCLA, Kansas and Indiana are up there, too. These are also the schools with the most first-round NBA Draft picks.
The UNC Tar Heels lead the way with 48 first-rounders, followed by Kentucky?s 47 and Duke?s 42. But the best single draft class from one school may just be the Florida Gators in 2007. Following back-to-back national championships under Billy Donovan, three Gators ? Al Horford, Corey Brewer and Joakim Noah ? became top-10 picks in the ensuing draft.
To this day, it?s the only year in NBA Draft history that a single team had three top-10 picks. That?s pretty impressive considering Florida has had just 10 total first-round picks since the first NBA Draft in 1947.
But as the Duke Blue Devils progress through the NCAA Tournament and the spotlight shines on their three budding stars in Zion Williamson, RJ Barrett and Cam Reddish, it looks like Duke could join Florida in that distinction.
RELATED: Ranking the 64 Greatest Player Names in This Year?s NCAA Tournament
That should hardly be a surprise to those that follow high school basketball recruiting. Head coach Mike Krzyzewski hauled in all three of those guys despite them making up the top three 2018 recruits in the nation, according to ESPN?s rankings.
Mock drafts from all over ? including ESPN, CBS Sports, Yahoo Sports, Bleacher Report and NBADraft.net ? have Williamson, Barrett and Reddish all being selected in the top-10. A couple of them have Reddish slipping to seventh or eighth overall, but it seems almost certain they?ll all be taken before pick No. 11.
In an age where the elite programs have a stronghold on the biggest and best recruits, it?s odd that Florida has stood alone in this department for so long.
John Calipari?s Kentucky team was close in 2015, when Karl-Anthony Towns and Willie Cauley Stein both went top 10. Trey Lyles and Devin Booker fell not far behind at No. 12 and No. 13. Kansas, too, had a great one in 2014 with Joel Embiid and Andrew Wiggins. And you can?t forget about Indiana?s duo of Victor Oladipo and Cody Zeller in 2013.
One could even argue that UF?s was the best overall draft class from a school in a single year? ever. And it?s not like those Gators didn?t produce. Horford, Brewer and Noah have each played 12 years in the league and have scored nearly 24,000 points between them. Then consider two more Gators were drafted in the second round that year ? Chris Richard and Taurean Green ? and we have a pretty strong case.
Besides bragging rights and school pride, though, none of this really matters.
What does matter is rings, and it sure looks like Horford, Brewer, Noah or anyone else at UF in '06 and '07 will end up with more than any of Duke?s guys.