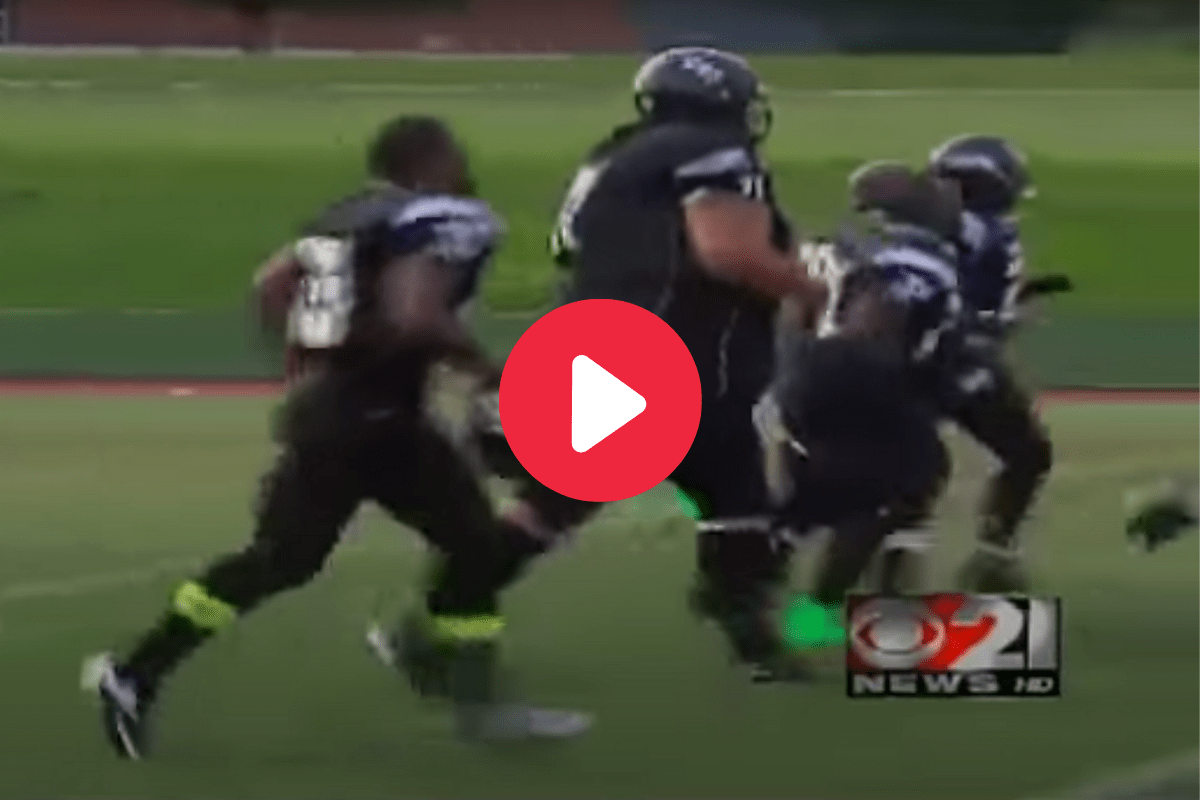 Screenshot from YouTube
Football is a sport full of massive people. Everywhere you look, there are linemen who squat 1,000 pounds and running backs who bowl through linebackers.
The heaviest NFL players of all time tip the scales over 400 pounds. Aaron Gibson is officially the largest of all time at 410 pounds. Not even William "The Refrigerator" Perry's 382 pounds stack up to such a beefy boy.
In high school, we've seen some monster-sized players, too. This 440-pound offensive lineman towered over everyone and a 400-pound running back went on to play in college.
I had never seen anything more than 450 pounds before I came across John Taylor, the 6-foot-11, 500-pound player teammates simply called "House."
500-Pound Football Player: John Taylor
RELATED: The Heaviest NFL Players of All Time Break Every Scale
John Taylor and his massive frame played defensive line for the Central Penn Piranha back in 2012. For those unfamiliar with that team, it's a Gridiron Developmental Football League squad in Enola, Pennsylvania.
He went viral not for anything he did on the football field but merely for the fact that someone of his size actually stepped on a football field.
House wore a 6X jersey, size 60 jeans and size 19 shoes. No one on the field could ever see over him — not the quarterback, running back or anyone on his team for that matter.
Don't let his size fool you, though. House (I feel like we should be calling him Mansion) isn't some dominating defender. He spent most of his time on the bench except for one situation.
"'House' has a simple job on defense — take up space. An offense can't block, what an offense can't see. 'If they can't see the linebackers, they don't where they coming from, the offensive linemen,' said Ron Kerr, the owner and head coach of the Piranha. 'He has to be double-teamed. He's too big not to be.'

In fact, he spends most games on the sidelines, waiting for his number to be called; the Piranha primarily uses Taylor in short-yardage situations, when the other teams needs to pick up only a few, tough yards." — WHP-TV, per Deadspin.
Basically, Taylor is put in the middle of the line when his team expects a run up the middle. All he has to do is occupy that area, and that's no problem considering his size.
John Taylor may be well in his 40s now, so football is over with. The Chase Cats YouTube channel was able to figure out that Taylor is still doing well as of 2020.
You've heard of "The Refrigerator." Nate Newton was 401 pounds and was nicknamed "The Kitchen." Now, you've met "House."
This article was originally published on January 12, 2021.
Related Videos