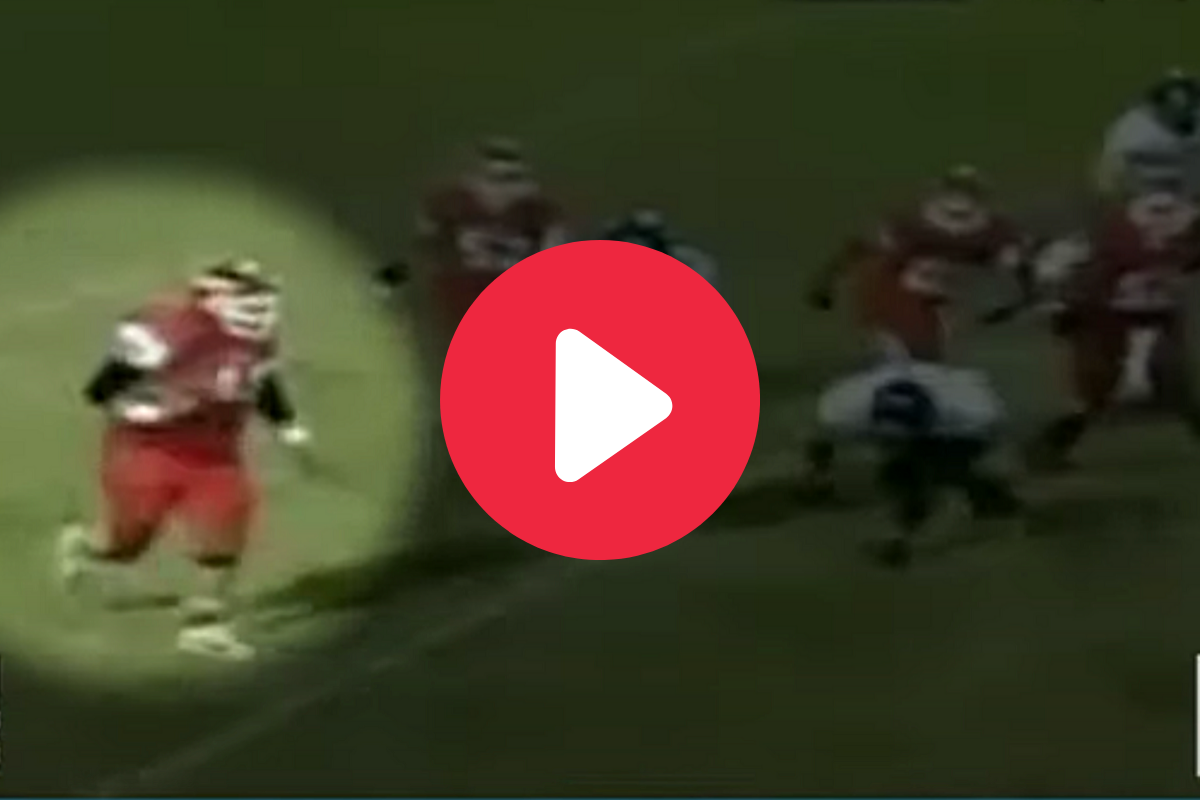 Screenshot from YouTube: CNN
Running backs are generally small and fast. Unless your name is Derrick Henry, most ball-carriers use their smaller stature to burst through holes in the line and make defenders miss tackles.
There?s a reason you won?t find many oversized running backs. Guys like Jerome ?The Bus? Bettis and Eddie Lacy tip the scales at around 250 pounds and don?t possess the breakaway speed that NFL teams are looking for when their quarterback hands them the ball. Imagine if William Perry?s permanent position were halfback.
Anything goes in high school football, though. Wacky trick plays, 7-foot quarterbacks and 440-pound players aren?t uncommon.
This 400-pound high school running back is a perfect example of that.
Tony Picard: The 400-Pound RB
RELATED: Meet the 285-Pound QB Taking the Internet By Storm
Picard was a senior at White Swan High School in Yakima, Washington, when his highlight reel went viral. He was interviewed by CNN, Good Morning America and local news channels. Why? Because not many other varsity football teams can say their running back stands 6-foot-4 and weighs 400 pounds.
Here?s the thing about ?Big Tone?: this was no gimmick. He was the team?s star back and he bulldozed over opponents left and right.
According to Bleacher Report, the big man racked up more than 700 rushing yards and 15 touchdowns in one season alone. White Swan?s coach Andrew Bush told Indian Country Today Media Network?s Jack McNeel that defenses had to put multiple guys on Picard.
?Most teams will sacrifice five guys to stop him: four linemen and a middle linebacker. That leaves three guys on each side to stop the rest of our team,? Bush said. ?Everything else opens up: our outside running, our play action and our entire passing game. We average about 450 yards as a team offensively.?
The strategy is honestly brilliant if you have a kid the size of a sumo wrestler at your high school.
One might think that major NCAA programs like Alabama, LSU, Florida, Ohio State and Clemson would be lining up to sign this kid. It turns out that wasn?t the case.
Where Is Picard Now?
Picard signed a letter of intent to play at Everett Junior College but never actually played there. He then moved in with his uncle and attended Lewis-Clark State College in Lewiston, Idaho.
He originally wasn?t going to play football there but was convinced to try out as a defensive tackle for the LC Loggers, according to a YouTube video posted by Karsten the Oracle, who reached out to him via Instagram. His LC Loggers bio says he played as recently as 2019.
"I'm loving it," Picard told KLEWTV.com. "You know, like I said, in high school I was playing both sides of the ball and it's a little challenging because not only you gotta focus on offense but you gotta focus on what your assignment is on defense. Now that I'm here I can focus on what I need to do on defense."
There?s no doubt Tony Picard should?ve been devoting more of his focus to the defensive line. He could've easily developed into a formidable nose tackle.
Still, imagine a kid of this size running the ball in the SEC.