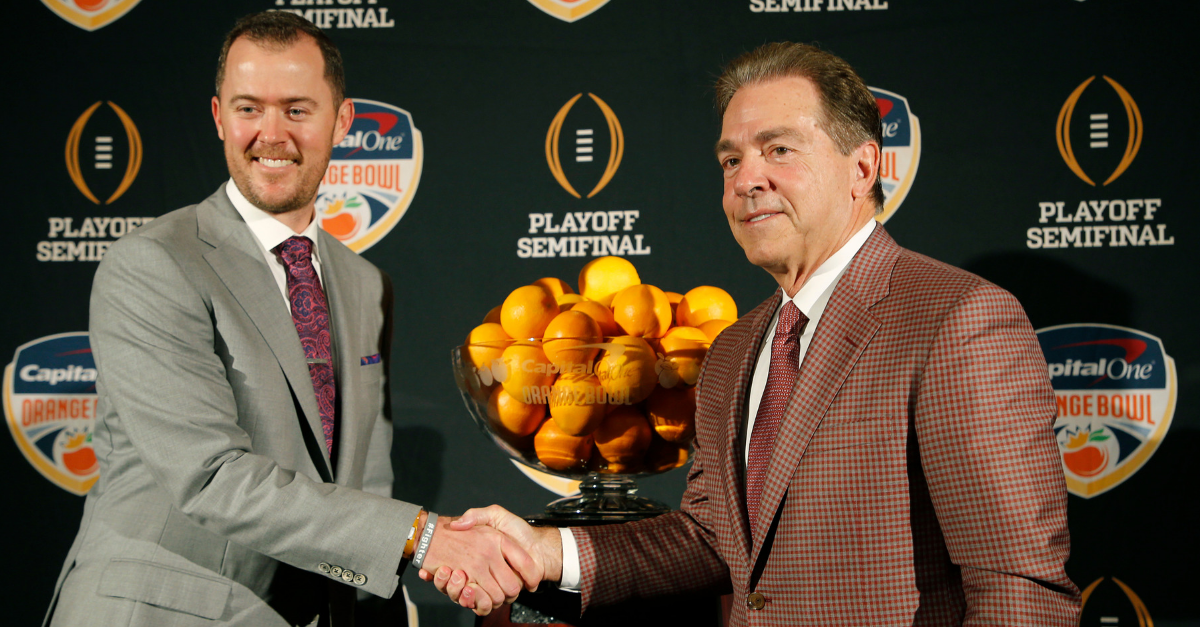 AP Photo/Joe Skipper
For those who think the Alabama Crimson Tide usually have a cupcake non-conference schedule and only play weak opponents outside of the SEC, here is some news that will completely rock your world and squash your argument. The football powerhouse has agreed to a blockbuster home-and-home series with the Oklahoma Sooners of the Big 12 Conference.
That?s right, the two teams which faced off in the College Football Playoff semifinal this past season in the Capital One Orange Bowl in Miami, Florida ? a game Alabama won 45-34 ? are now set to play each other during the regular season and give college football fans everywhere a game to circle on the calendar for years.
"We've worked diligently at adding high-caliber home-and-home series to our future football non-conference schedules, and we are excited to announce this one with Oklahoma for the 2032 and 2033 seasons," Alabama director of athletics Greg Byrne said in a statement. "Alabama and Oklahoma are two of the most storied programs in college football history, and this certainly will give both teams and fan bases a tremendous opportunity during the regular season."
On September 11, 2032, Oklahoma will host Alabama at The Gaylord Family Oklahoma Memorial Stadium in Norman, Oklahoma. The following year, on September 10, 2033, the Crimson Tide will host the Sooners at Bryant-Denny Stadium in Tuscaloosa, Alabama.
RELATED: After 60 Years, Florida State and Georgia Will Play a Big-Time Football Series
In order to reach the CFP these days, you need quality wins. And no matter what changes are made to the playoff format in the next decade, this game will certainly make waves all across the country.
"The dates of these two games are down the road, but working ahead to schedule marquee opponents has become a necessity in today's college football world," OU Athletics Director and Vice President Joe Castiglione said in a statement. "My thanks to Greg Byrne in working to renew this home-and-home series between two of the most storied programs in the sport's history. Our last on-campus series with Alabama in 2002 and 2003 reflected the great mutual respect befitting of two iconic programs and fan bases, and we're happy that a new generation of supporters will also get to experience the best that college football has to offer in Norman and Tuscaloosa."
For as incredible as both teams have been in their respective histories, it?s amazing Bama and OU have only played six times. The Sooners hold a 3-2-1 advantage in those games.
Alabama and the legendary Paul ?Bear? Bryant won the first showdown over OU?s Bud Wilkinson, 17-0, at the Orange Bowl in 1963 before the two teams tied 24-24 at the 1970 Bluebonnet Bowl in Houston when Chuck Fairbanks coached the Sooners.
Oklahoma then won the next three contests in the series under head coach Bob Stoops, including the home-and-home series earlier this century and the Sugar Bowl, before Nick Saban?s Tide beat Lincoln Riley?s Sooners and Heisman Trophy winner Kyler Murray in the 2018 CFP semifinals to advance to the national championship game.
"Alabama and Oklahoma are two of the most tradition-rich programs in college football history, and we are pleased to be able to add a home-and-home series with them to our schedule in 2032 and 2033. We played an exciting game with OU this past season in the Orange Bowl and matchups like this are so important to college football. It is not only great for the fans, but our team always enjoys challenges like these outside of SEC play.?

? Alabama head coach Nick Saban, via Alabama Football
The way the NCAA college football landscape looks today, there?s a good chance the Crimson Tide and Sooners play each other in a bowl game before the home-and-home football series. But if not, we all have something to look forward to down the road.