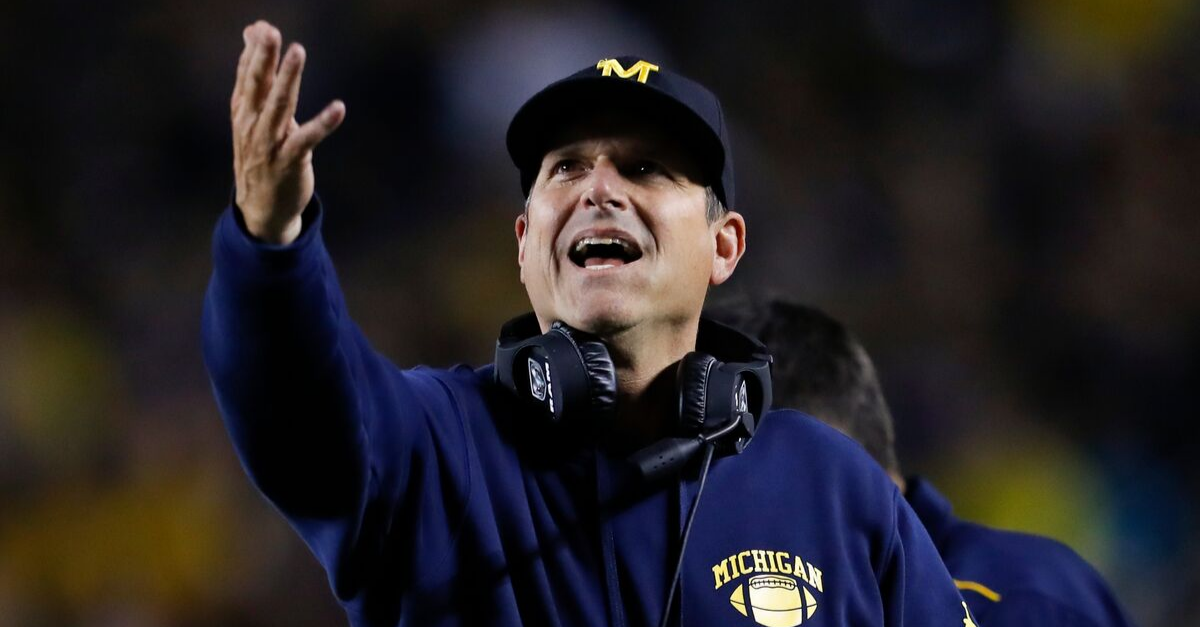 AP Photo/Paul Sancya
Hall-of-Fame coach Bo Schembechler is famously quoted as saying "a Michigan man is going to coach a Michigan team." While few college football programs are built on tradition quite like the Wolverines of Ann Arbor, this tradition is one that, quite frankly, needs to die.
Look no further than "Michigan Man" Jim Harbaugh. As the Michigan Wolverines quarterback, Harbaugh finished third in the 1986 Heisman Trophy voting before jumping to the NFL. Taking over at his alma mater for the 2015 college football season was supposed to be the Maize and Blue's return to glory. (The Athletic's Stewart Mandel described Harbaugh's hire as something that "could be that program's equivalent to [Nick] Saban to Alabama or Urban Meyer to Ohio State.")
Boy, were we wrong.
I hopped aboard the hype train, too, thinking Jim Harbaugh's head coaching tenure would make Michigan one of those untouchable programs. I mean, he'd re-built Stanford from a 1-11 team to a 12-1 powerhouse in just four years. After that, his San Francisco 49ers went 44-19-1 in four seasons, including three-straight NFC Championship game appearances and a berth in Super Bowl XLVII.
Michigan football was supposed to be a perennial contender. Jim Harbaugh was supposed to bring the program a College Football Playoff national championship or two. At the very least, Michigan should have MADE the playoff by now.
What in the hell happened?
You probably saw Harbaugh's big game record against ranked opponents (8-11) after UM's blowout loss to the Wisconsin Badgers early in the 2019 season. His record in bowl games (1-3) isn't ideal, either. Worst of all, Harbaugh's record against Top-10 teams is a putrid 1-9.
Performance alone should be enough to warrant the program moving on, but the problem is that Jim Harbaugh's contract pays $7.5 million this year and his buyout, should Michigan fire him after this year, is a whopping $15 million. After the 2020 season, that number drops to $10 million. Does Michigan need to break the bank and move on from Harbaugh?
Here's a better question: Do they really have a choice?
Michigan fans are turning. Fast. The hashtag #FireHarbaugh blew up social media after the Wisconsin loss. Michigan wide receiver Nico Collins even liked one of those tweets, and quarterback Shea Patterson's brother blew up on newly-hired offensive coordinator Josh Gattis via Instagram.
Fire Jim Harbaugh
RELATED: AP Poll Sees Wisconsin Rise, Michigan Fall and the SEC Reign Supreme
Harbaugh's reputation as a manic workaholic is catching up with him. His divorce from San Francisco wasn't pretty, and even caused the head football coach to infamously say, "I didn't leave the 49ers, I felt like the 49er hierarchy left me."
Do I smell a pattern?
At some point, the University of Michigan needs to realize this marriage isn't working. Harbaugh is one heck of a head coach, even if his reputation as a "quarterback guru" is slipping away faster than Michigan's Big Ten Championship hopes. His coaching career already has its own book filled with stories about Harbaugh's legacy, but his Michigan tenure is going to need its own novel.

The Wolverines still have to play the 14th-ranked Iowa Hawkeyes, travel to face Penn State, then host Notre Dame, Michigan State and, Harbaugh's kryptonite, the red-hot Ohio State Buckeyes to close the season.
Guys like Boise State's Bronco Mendenhall and Syracuse's Dino Babers are ready to jump into the saddle and lead a major NCAA college football program, and their teams could even finish ahead of Michigan when the 2019 season is all said and done.
At some point, UM should realize the "Michigan Man" theory is nothing but a myth. If Michigan fails to win the Big Ten, Harbaugh needs to go. No more excuses. No more "maybe next year" talk.
The clock is ticking.