AP Photo/Michael Conroy, File
Cardale Jones made waves back in 2014 when he won the Ohio State Buckeyes a national championship. The man who was originally third on the depth chart stepped up when J.T. Barrett got injured against Michigan and rolled through the Big Ten Championship Game and the College Football Playoff.
Jones became well known for more than taking down the Alabama Crimson Tide and Marcus Mariota's Oregon Ducks during his college football career. He gained criticism for tweeting that athletes shouldn't have to go to classes because they were "pointless."
TheFanBuzz.CollegeFootball/"
Six years after capturing OSU's eighth national championship under Urban Meyer, where is the former Buckeye today? He's bounced around professional football and has even been a sheriff.
Cardale Jones Pro Career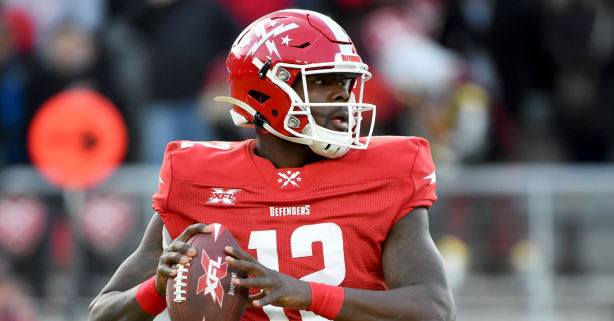 RELATED: Marvin Harrison?s Son Bringing All-American Talent to Ohio State
After Jones scored two touchdowns and threw for 242 yards in the national title game, he returned to Ohio State in 2015 and parlayed that season into the Buffalo Bills selecting him in the fourth round of the 2016 NFL Draft.
The 6-foot-5 passer had stints with the Bills, Los Angeles Chargers and Seattle Seahawks from 2016-19 and threw zero touchdowns and one interception.
When the XFL began in 2019, he served as the starting quarterback of the DC Defenders. While he didn't find a ton of success in the XFL, he pulled off a pretty cool trick play.
Jones' received a tryout with the Las Vegas Raiders in August 2020, but has been out of football since the XFL.
Cardale Jones Now
Cardale Jones in 2018 was named an honorary deputy sheriff by the Ottawa County Sheriff?s Office. According to the Port Clinton News Herald, he was fitted for a police uniform but wouldn't necessarily be chasing down bad guys.
?Cardale will be helping us to make sure we have the bond with our young people,? Ottawa sheriff Steve Levorchick told the News Herald. ?They don?t want to hear from a 55-year-old sheriff, but they?ll listen to Cardale.?
In 2020, Cardale appears to still be working out in hopes of another pro football shot. It appears the former Cleveland Glenville High School star hasn't given up his football dreams.
Jones also works with companies as an ambassador on Instagram. He's posted to his 271,000 follower about watches, masks and clothing. He also teamed up with Braxton Miller and J.T. Barrett to deliver Chipotle to people.
Former Ohio State quarterback Cardale Jones only made about $1.5 million in the NFL, which isn't a whole lot for a national championship quarterback. But it appears he's found a way to make a living six years after starring in Columbus.