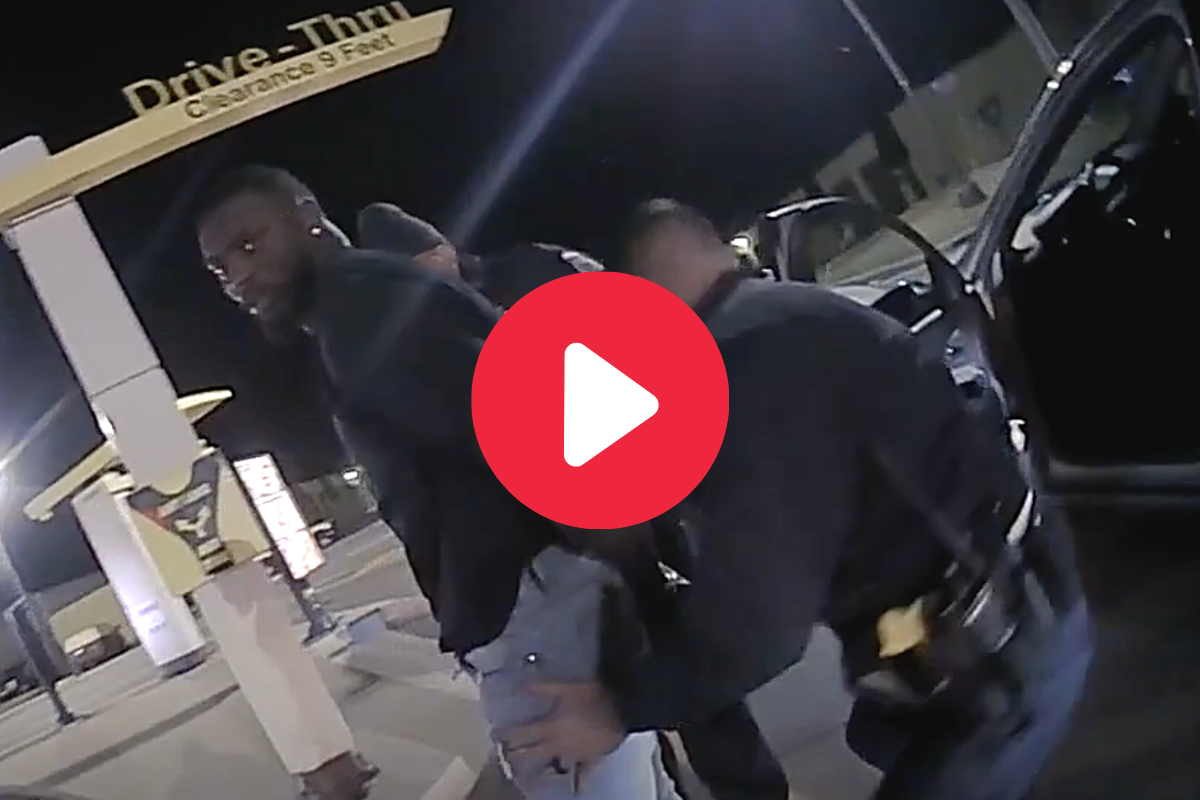 Screenshot from YouTube: NBC4 Columbus
Ohio State safety Marcus Hooker may be the younger brother of a former OSU All-American, but he's failed to live up to his name in Columbus so far.
Hooker's play on the gridiron is one thing, but now the defensive back is in some legal trouble off-the-field after a recent arrest led to his suspension from the team.
Police body cam footage from the night of his arrest earlier this month was released Tuesday, and it shows the Ohio State football athlete asleep at the wheel in a McDonald's parking lot.
This is not a great look for Ohio State and head coach Ryan Day.
Marcus Hooker Arrest Video
RELATED: Hall of Famer?s Son Taking 4-Star Talent to Ohio State Next Season
Columbus Police found Hooker slumped over in the driver's seat of a car in a McDonald's drive-thru near Grandview around 1:45 a.m on an early Saturday morning on March 13. He reportedly had hit foot on the brake while the vehicle was still in drive.
Officers tapped on the windows, shook the car and even blasted a police horn (which woke him briefly) before resorting to breaking one of his back windows. They then put the car in park and handcuffed Hooker.
Hooker reportedly underwent a field sobriety test but refused a breathalyzer. The 21-year-old Hooker was arrested for operating a vehicle while under the influence (OVI)
Ohio State head coach Ryan Day told media before spring practice began that he was disappointed.
"Yeah, we're very disappointed and take what happened very seriously,? Day told reporters, via 247Sports. ?We're going to let the process play out. He is suspended right now indefinitely and we'll kind of see as things move forward, we'll make the decisions as we go. But we wanted to get all the information first before we did anything."
Citing court records, Eleven Warriors noted that Hooker was arraigned on a misdemeanor OVI charge on March 19.
This isn't Hooker's first run-in with the law. According to WBNS, the New Castle, Pennsylvania native was charged in 2018 with "driving under the influence, disregarding traffic lanes, careless driving, no rear lights and the purchase of an alcoholic beverage by a minor" in Pennsylvania.
He was suspended by the Buckeyes football team for their season-opener that year following the DUI.
Marcus Hooker at Ohio State
Hooker is the younger brother of Malik Hooker, the former Ohio State Consensus All-American and First-Team Big Ten safety who won the College Football Playoff National Championship Game in 2014 and was selected in the first round (15th overall) of the 2017 NFL Draft by the Indianapolis Colts.
Marcus played in all seven games for the Buckeyes last season, logging 15 tackles, one interception and one fumble recovery. As a starting safety, the junior recorded that interception and two pass breakups in OSU's win over Penn State. He played in 14 games during the 2019 season.
Marcus came to Ohio State as a three-star recruit from New Castle High School. He chose the Buckeyes over programs like Cincinnati, Pittsburgh and Rutgers.