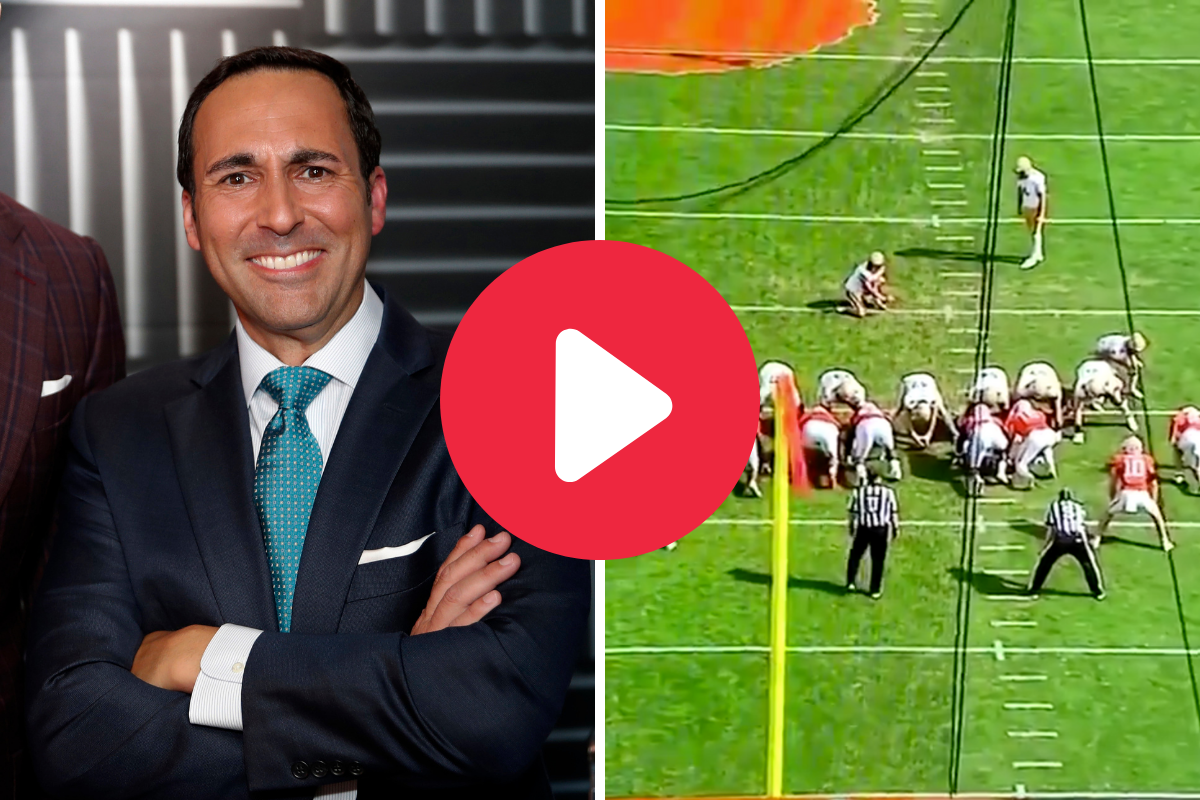 AP Photo/Alex Brandon, File (left), Screenshot from Twitter (right)
Father-son moments are why we love sports, and few instances in a broadcaster's career live up to when they call their own son's games, or even end up working alongside them.
Remember when College GameDay host Kirk Herbstreit was able to witness his twin sons debuting for the Clemson Tigers? He nearly shed a tear on live TV like the rest of us. Even NFL Sunday Night Football announcer Cris Collinsworth can proudly say his son works with him in the same business.
When the Clemson Tigers took on the Boston College Eagles over the weekend, ESPN's Joe Tessitore found himself in that same position.
Joe Tessitore Calls Son John's Trick Play
RELATED: Chicago Bears' Javon Wims Sucker Punches New Orleans Saints DB
ABC and ESPN play-by-play announcer Joe Tessitore was calling a college football game like he normally does on Saturday, only one team featured his offspring: John Tessitore.
Boston College took a 28-10 lead in the first half, and the younger Tessitore played a big part in that. John, who is listed as a kicker and punter on the team's roster, went out to hold what Clemson thought was a field goal on fourth down late in the second quarter.
John Tessitore then broke toward the line of scrimmage, where he faked a snap under center to draw Clemson offsides. It worked to perfection, and his father called the entire thing.
"John Tessitore came up and played quarterback at the last second, and they may get a first down out of this how about that on fourth and two? He played every position growing up," Joe Tessitore said, "and he did it here. He split out the tight end, went under center, played quarterback and drew Clemson offsides."
His partner for the game, Greg McElroy, added: "I know you had to really grind on the week of prep to find out all the detailed history of John Tessitore, your son. I know you're so proud of him."
Man, what a moment. John Tessitore, the son of Joe and Rebecca Tessitore, didn't see any action last year. But in what might be the biggest moment of the redshirt sophomore's career thus far, his father gets to call the play. Even better is that John plays for the school Joe attended back in the 1990s.
Joe Tessitore told The Athletic he didn't think it was a great call on his part, but it was definitely authentic.
?I think just everybody was touched by that sincere, authentic father-son sharing of a moment,? he said. ?The other thing I guess I?m proud of just as a broadcaster is that I referred to him as Tessitore. It took Greg McElroy to say, ?This is your son. That?s your son who just did that on national TV against the No. 1 team in the country.? You don?t think I didn?t want to go break down and cry and run down on that field and hug him??
Tessitore's fake field goal attempt trick play led to a monumental touchdown the next play that gave BC a 28-10 lead over the Tigers, who were playing without Trevor Lawrence after he tested positive for COVID-19.
Boston College surrendered a field goal before halftime and may have wound up losing the game, 34-28, but at least the Tessitores shared a moment with NCAA fans they'll never forget.