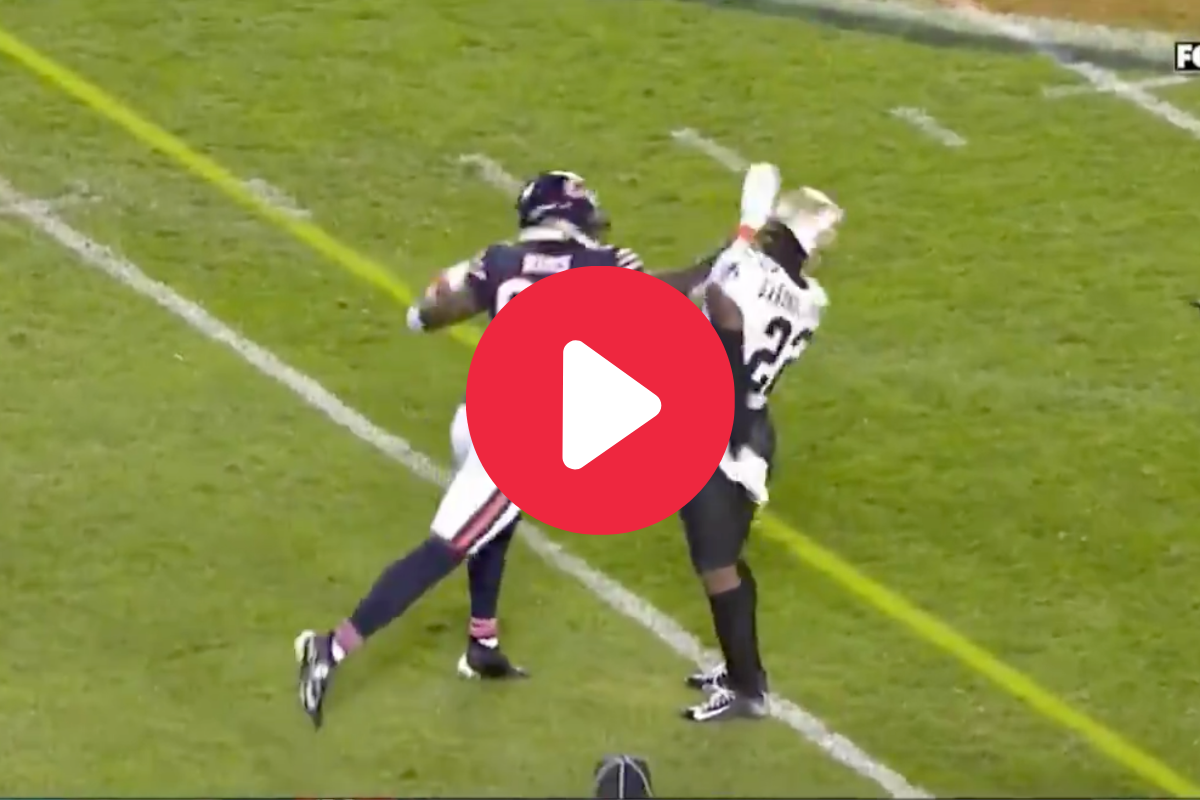 Screenshot from Twitter
The Chicago Bears and New Orleans Saints played in a heated battle on Sunday afternoon, a game that ended on Wil Lutz?s overtime field goal.
Fans likely won?t remember that or anything Bears quarterback Nick Foles and Saints quarterback Drew Brees did, however. It was an explosive fight between the two teams that began with Saints safety C.J. Gardner-Johnson and Bears wide receiver Javon Wims that the highlight reel will show.
A snatched chain, a sucker punch and an insult on social media after the game made this fight one of the crazier NFL fracases in recent history.
Bears-Saints Fight
RELATED: Andre Johnson Beating Up Cortland Finnegan Never Gets Old
The Saints player was minding his business after a third quarter pass play to Allen Robinson when Wims, the Bears receiver, blindsided him by snatching his chain and punching him in the helmet twice.
The punches, of course, set off a brawl on field and Wims was eventually ejected from the game, because you just can?t walk up to a dude and throw a haymaker to his face.
It sounds as if Wims? punches may have been a retaliation of sorts. Earlier in the second half, Gardner-Johnson clearly ripped out Wims? mouthpiece and allegedly spit on him. He didn?t have a chance to get back at him initially because he was on the bench.
That?s not surprising considering the Saints defensive back is known as an instigator and trash talker. In the same game he scuffled with Wims, Gardner-Johnson also appeared to poke Bears wide receiver Anthony Miller in the eye. Just over the past week, Gardner-Johnson also reportedly fought star teammate Michael Thomas in practice, which led to Thomas being suspended for Sunday's game.
What Led to the Fight?
"It ain't got nothing to do with me. If he's acting out, that's on him," Gardner-Johnson told ESPN of the spitting accusation. "It wasn't no incident. We won the game. I mean, everybody, it's a lot of he said, he said. Ain't nothing happened. Nobody got spit on."
Saints DB Janoris Jenkins helped break the scrum up, Wims wound up being the player sent to the locker room for his despicable retaliation, and Foles threw an interception to Saints cornerback Marshon Lattimore on the next play. I guess the brawl worked in New Orleans' favor at Soldier Field.
According to NFL Network?s Ian Rapoport, the league is considering suspending Wims for his actions. Bears head coach Matt Nagy called Wims' outburst and subsequent ejection "completely unacceptable."
After the Saints game, Gardner-Johnson posted to his Instagram story that Javon Wims' punching ability to his facemask didn't impress him much.
"That man punch like a female," he wrote.
Something tells me Chauncey Gardner-Johnson has never seen Ronda Rousey in the ring.
It was one heck of a Sunday in the NFL. The Pittsburgh Steelers stunned Lamar Jackson's Baltimore Ravens to improve to 7-0. The Miami Dolphins routed the Los Angeles Rams in Tua Tagovailoa's debut. The Detroit Lions won, while the New England Patriots lost. The Dallas Cowboys and Philadelphia Eagles played in an absolute snoozefest on Sunday Night Football.
It was this fight that became a trending topic on social media that stole the show, however.