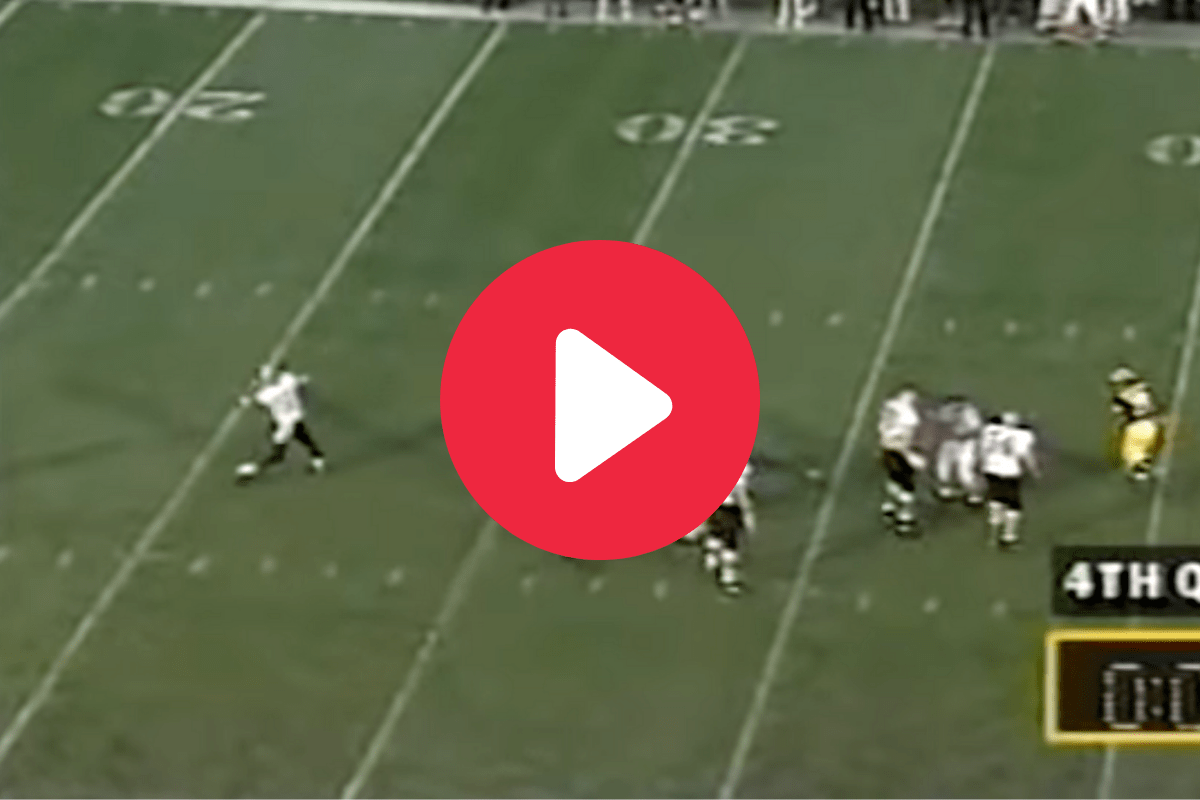 Screenshot from YouTube
The Hail Mary is a prayer. It's a pass that's not supposed to be caught. The chances of this play actually producing a touchdown is less than Harvard's acceptance rate, which should tell you just how difficult it really is to come down with the pass as the clock ticks down.
Most of college football's memorable Hail Mary passes are 50 or more yards. Doug Flutie's officially went down for 48 yards, though he threw it more like 65 yards. LSU's "Bluegrass Miracle" needed 74 yards of real estate, but Marcus Randall's pass only flew about 60 yards before some tip drill magic.
Not even Aaron Rodgers has thrown anything quite like what Kordell Stewart did when the Colorado Buffaloes traveled into Ann Arbor, Michigan, and took down the Michigan Wolverines in 1994.
Kordell Stewart's "Miracle at Michigan" Hail Mary
Colorado actually came into this game ranked No. 7 in the country, while Michigan entered as the No. 4 football team in the nation. Quarterback Kordell Stewart, who eventually played in the NFL for the Pittsburgh Steelers and garnered the nickname "Slash", manned an offense that included 1994 Heisman Trophy winner Rashaan Salaam.
Todd Collins' Wolverines found themselves leading 26-21 when Colorado took the field for the final play of the game with six seconds left in the fourth quarter. The Buffaloes needed 64 yards, so they turned to their quarterback's cannon arm and hoped for the best.
Colorado head coach Bill McCartney called for "rocket left," and Stewart let it fly about 75 yards in the air.
Here's a different camera angle:
RELATED: "The Gift Six" Left Michigan Fans Completely Speechless
Buffaloes' Blake Anderson deflected the ball into the air perfectly for wide receiver Michael Westbrook, who came down with the game-winning touchdown in the end zone.
"He's got three people down there…the ball is up in the air…CAUGHT! TOUCHDOWN! Caught by Westbrook for a touchdown! Incredible!" ABC play-by-play announcer Keith Jackson said.
"All you see are the stripes on the ball starting to slow," Westbrook told ESPN. "It felt like I was running forever, and I'm cramping up. … I'm about to jump as hard as high as I can jump, but I can't because (Michigan DB) Ty Law wraps his arms around my legs, so I don't get as high. I'm about to probably overshoot the ball, but someone's underneath. So many things had to happen for that play to work."
The play stunned all of Ann Arbor. Michigan Stadium, known as "The Big House," fell silent. Michigan players looked around in bewilderment. The 64-yard Hail Mary touchdown pass not only completed an epic comeback but also won an ESPY for Play of the Year.
Colorado finished that magical season at 11-1 (losing to national champion Nebraska) and No. 3 in the final poll. As for Michigan, the crushing loss was the first of four that season for the Wolverines.
The Miracle at Michigan was unbelievable when it took place and it still stands the test of time as one of the best last plays in college football history.
This post was originally published on July 13, 2020.