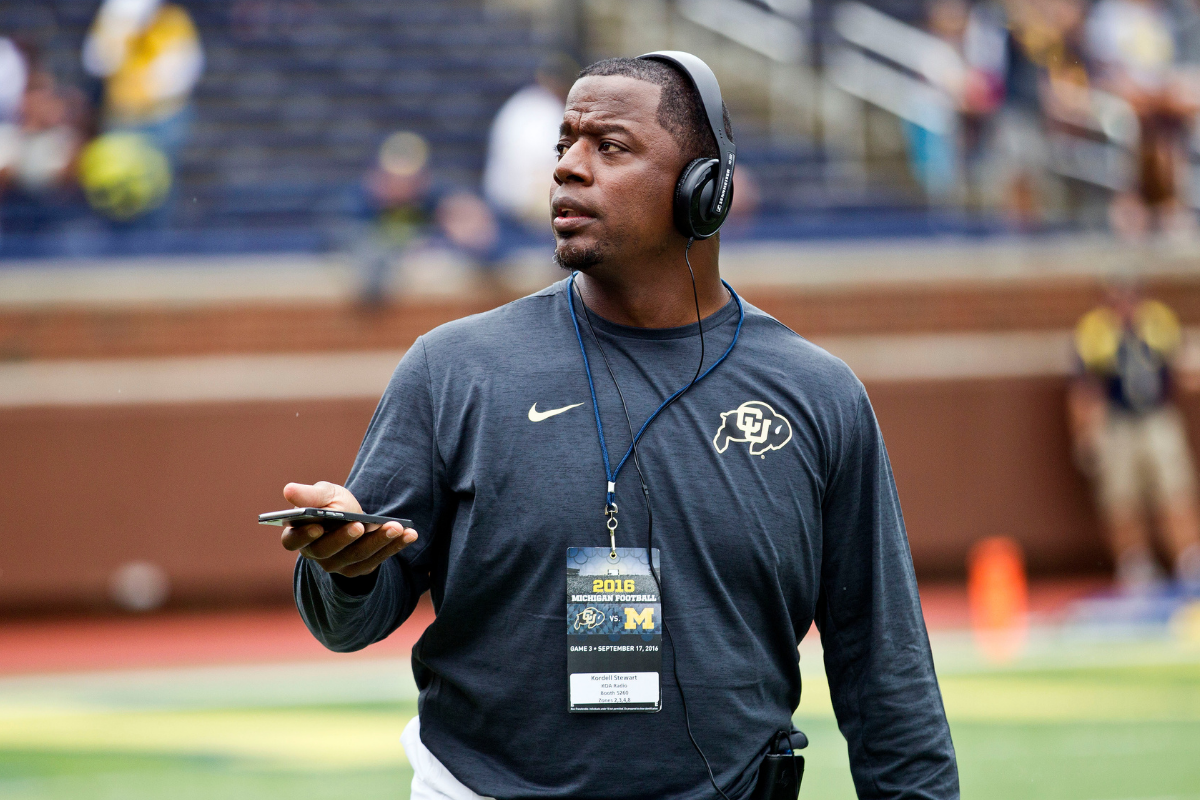 AP Photo/Tony Ding
Clearly, Mr. Heinlein wasn't talking about American football. The science-fiction novelist makes an interesting point, though. Humans should be able to do more than one thing well. It's part of what makes every human a living, breathing tapestry of talents. Some people's tapestries are more eclectic than others.
Kordell Stewart is one such person.
Kordell "Slash" Stewart took the NCAA, NFL, and Pittsburgh by storm in the late-1990s and early 2000s. His nickname isn't a reference to the fact that he rocks; it's a reference to the fact that he rocks so much, quantifiably speaking.
Stewart earned his nickname from being one of the National Football League's best wide receivers slash running backs slash kick returners slash quarterbacks. But if specialization is for insects, then Kordell Stewart caught the quarterback bug.
American football player Kordell Stewart always considered himself to a quarterback first, Slash second. The Pittsburgh Steelers felt just the opposite, setting the stage for high-stakes pigskin drama. Stewart's career fell apart as quickly as it came together, and it might be because he wanted to play quarterback.
The demolition of this Black quarterback began in 1998, ending in 2002. Slash played until 2005 and officially retired in 2012. By then, drama had embroiled Stewart that had nothing to do with the football field.
Where is the former Pittsburgh Steelers slash Chicago Bears slash Baltimore Ravens quarterback slash reality television star now?
Wherever Slash is, he wants you to know one thing: he definitely likes women.
Kordell Stewart's Early Life
Kordell Stewart was born on October 16, 1972, when Chuck Berry's hit song "My Ding-A-Ling" topped the American music charts.
(Author's note: I'm not kidding about the song title. It's not a double-entendre: the tune is explicitly about genitals. Simply incredible.)
Stewart proved to be simply incredible from a young age, just like his mother. Stewart and his siblings were raised in Marrero, Louisiana, by Florence and Robert Stewart. By the time Stewart became a teenager, his mother passed away from liver cancer. She battled with cancer for five years before her death, though doctors only gave her six months. Her memory remains one of Stewart's chief inspirations.
Stewart's father was rather incredible as well. He worked all sorts of odd jobs to keep the family afloat after Florence passed. He taught Kordell the values of hard work, ingenuity, and building your own life. Kordell often cites his father's love as what ultimately led him to the NFL.
As a high school quarterback, Kordell ruled Louisiana football. Though he was named the New Orleans Player of the Year his senior year, few major programs offered Stewart a scholarship. His combination of throwing accuracy, decision-making, and pure athleticism should have set him apart from the pack. But to most NCAA coaches, he was a Black quarterback, soon to be a receiver.
It's a tale as old as time in American football. But Stewart wouldn't repeat it.
Far, far away from the swamps of Louisiana, University of Colorado head coach Bill McCartney wanted a new story, too. McCartney saw an explosive, exciting, and game-changing quarterback. He offered Kordell Stewart a full ride to be a full-time quarterback, which Stewart gladly accepted.
Kordell Stewart in College
The "Miracle at Michigan" is the one college play for which Stewart is rightfully known. But like everything else in his career, Stewart had to prove himself for years before reaching the peak.
Stewart moved from the swamps to the Rockies and sat on the bench his freshman year. He secured his starting spot by his sophomore season. By his senior year, he'd secured so much more.
Aside from the above highlight, Stewart led the Colorado Buffalos to an Aloha Bowl, Fiesta Bowl, and No. 3 national ranking. Stewart set the standard for future Buffalo quarterbacks.
By the time the All-American left Boulder, he set the school records for most touchdowns, passing yards, and completions. And yet, still, NFL teams weren't convinced this Black QB wouldn't be better as a wide receiver.
In pre-draft meetings, Stewart remained adamant in his desire to be a quarterback first. As a result, Stewart's 1995 NFL Draft stock crashed harder than Black Tuesday.
Kordell Stewart's NFL Career
RELATED: Kordell Stewart?s Iconic Hail Mary Created The ?Miracle at Michigan?
With the 60th-overall pick of the 1995 NFL Draft, the Pittsburgh Steelers selected Kordell Stewart. How a miracle-performing quarterback could fall so low is a mystery unless you know the history of African-American quarterbacks in the NFL.
All-time great Warren Moon was allowed to leave for Canada rather than start as an African-American QB. Things weren't that bad for Stewart in 1995, but they weren't quite good, either.
Stewart, for his part, was quite good when he arrived in Pittsburgh. On and off the field, Stewart quickly immersed himself in Pittsburgh Steelers culture. Owners, coaches, and teammates couldn't get enough of the smiling speedster.
He spent his first two NFL seasons backing up quarterbacks and receivers while sometimes punting, receiving punts, and taking hand-offs. It was during those two seasons that Stewart became "Slash." In 1997, Slash became Pittsburgh's starting quarterback.
The 1997 season was Slash's breakout as a quarterback. He led the Steelers in passing yards, to an 11-5 record, and to the AFC Conference Championship. They took an L to the Denver Broncos that postseason, but Slash was on top of the world. He was doing well, too well. Anyone who has seen "Get Out" knows what's coming next.
The 1998 season should have continued Stewart's upward trajectory, but unfortunately, it marked another crash in his stock. With Slash at QB, the Steelers began the season 5-3. Not stellar, but not terrible, either. In November, an off-the-field rumor circulated Pittsburgh. By the time it reached Slash's ear, the scandal was too loud to silence.
No one has told the story better than Kordell Stewart himself. The premise of the rumor is ugly and hardly bears repeating. Silent accusers said Stewart went to jail for public lewd acts of homosexuality. It's a claim as ludicrous as it sounds.
Stewart still has to defend himself to this day against the baseless (& tasteless) rumors. When they started, he had to address the lies with team owner Dan Rooney, head coach Bill Cowher, and his teammates. Did Stewart do a respectful job of defending himself? Absolutely not. But it was the late 90s, Slash felt backed into a corner, and he had to do something. But it was too late.
The Pittsburgh fan base (who allegedly started the rumor) was tired of Slash only playing one position, and the roots of their disapproval were likely racist. Funny how racism and homophobia always seem to live in the same neighborhood.
The 1998 season ended 6-10 for the Steelers. When the 1999 season improved only slightly, Stewart grabbed some bench. He continued to play his Slash role and handle most of the quarterbacking responsibilities, but he was no longer the guaranteed starter.
He split starting time with Kent Graham during the 1999-2000 seasons. The Steelers returned to winning form in Y2K, and by Y2K1, Stewart returned with them.
The 2001 season marked Slash's only Pro Bowl. He started all 16 games for the Steelers and led the Black and Yellow to a 13-3 record. They lost the AFC Championship Game to a fledgling Tom Brady and the New England Patriots, and who can blame them for that? Kordell was back on top of the league.
Finally, Pittsburgh would embrace Slash as Slash in name only, but a QB in his profession. Wrong!
Stewart began the 2002 season poorly, leading the Steelers to a bad but salvageable 1-3. He was benched for Tommy Maddox and only played in seven games. Stewart was traded to Chicago the following season. In the Windy City, he continued to blow.
Da Bears slashed Slash da next season. He spent two years with the Baltimore Ravens doing God knows what (certainly not playing football) until they released him in 2005.
Slash never put on an NFL uniform again, but he didn't retire till 2012. By then, Stewart was more known for his appearances on reality television than football, anyway.
Post-Retirement & Now
In 2011, former NFL quarterback Kordell Stewart resurfaced on our television screens. He was a cast member on the now-defunct WE Network's reality television show, Platinum Weddings.
As the title implies, Stewart was in the program due to his lavish wedding ceremony with a castmate. Stewart married a woman (proof!) who some have called his "beard." Her name is Porsha Williams, and she is Slash's ex-wife.
Like anyone named after expensive cars, Porsha looks nice but seems empty inside — an ideal social media star. She did adopt Kordell's kid from a previous marriage, though, certainly a nice gesture. Porsha and Kordell divorced two years later, which I'm sure is helpful for the kid's psycho-development. But it was a nice gesture.
Porsha gained fame for being a famous ex-housewife on Bravo's The Real Housewives of Atlanta (RHOA). She fulfilled only one of the title's three qualifiers (she was born in Atlanta), but such is the nature of reality television.
Porsha at times has denied Stewart's homosexuality rumors, at other times fanned the flames. Kordell says he broke up with her because her breath got too stinky, whatever that is supposed to mean. The couple divorced in 2013.
With the reality star's ex-husband Kordell Stewart in the rearview, Porsha re-married Dennis McKinley years later. Stewart took Kanye's advice on the prenup, so he maintained most of his net worth.
The multi-millionaire has laid low since the divorce, only appearing as a guest analyst on sports channels like ESPN from time to time. Stewart speaks on the inequalities experienced by the Black quarterback in the NFL, a topic somehow just as relevant today as 1998.
Recently, the former NFL player has been in the news because of what happened in 1998. He published his side of the rumor story in The Players Tribune in February 2021.
His account offers an intriguing look inside NFL locker rooms in the 90s. He's been on a media tour since, speaking up to support current homosexual and LGBTQ+ NFL players.
Stewart has a lot of support to give and might even be a Hall of Famer if he had received more support during his trying times. It's impossible to prove but easy to say, just like nasty rumors.
"Stop spreading those rumors around… stop spreading the lies."