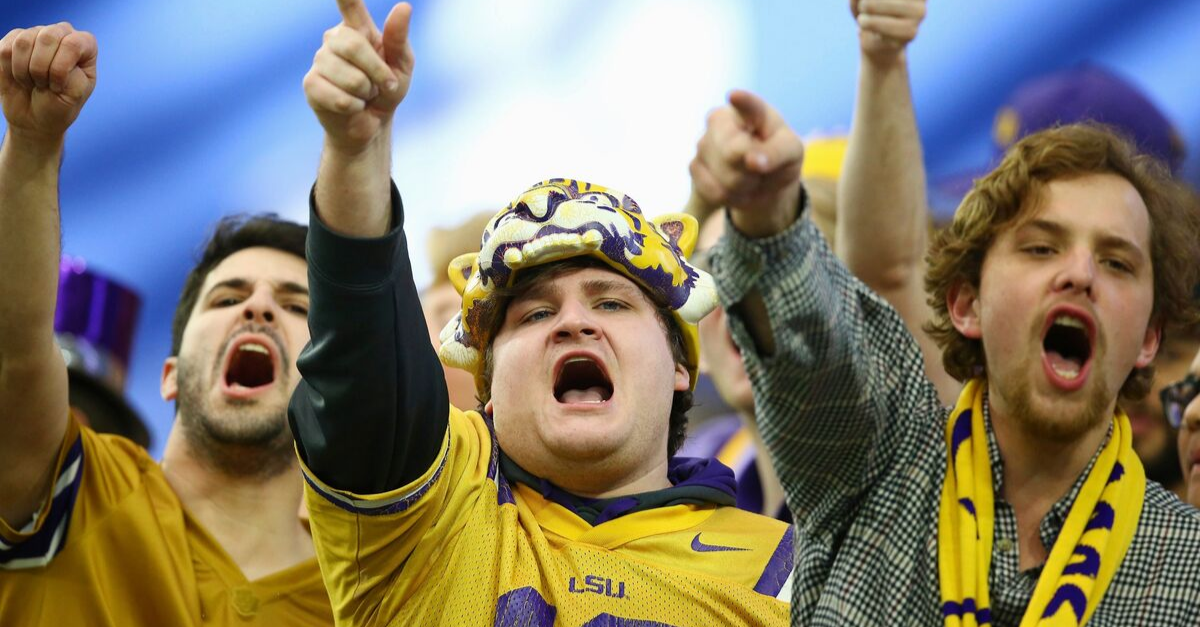 AP Photo/Ross D. Franklin
It was a Saturday night in early September. The sixth-ranked LSU Tigers faced a huge matchup against the No. 9 Texas Longhorns. Awaiting LSU head coach Ed Orgeron and one of college football's most experiencing lineups, was Texas coach Tom Herman, Heisman Trophy candidate Sam Ehlinger, and a prime time game with ESPN's College GameDay kicking off the festivities. The stakes couldn't have been higher, and Louisiana State University planted its flag (literally) in Austin, Texas.
LSU beat Texas, 45-38, on a career-day by quarterback Joe Burrow (471 passing yards, 4 touchdowns) and five sacks by LSU's defense. But in the lead up to this contest, and even the days that followed, another feud took place that paints these fan bases in a very disturbing light.
A two-year-old picture with phone numbers of many Texas staffers was posted on Instagram late Thursday. As you can imagine, members of the LSU fan base, as well as fan bases like Oklahoma and Texas A&M, got in on the action, according to Yahoo! Sports. Hundreds of prank calls and text messages flooded the staff, many of which were harmless. However, some went absolutely way too far.
UT strength coach Yancy McKnight received a call from a blocked number threatening to kill his family.
"You'll find your family hung in the kitchen with their throats slit," the voicemail said. It ended with a resounding, "F— you."
That death threat wasn't it, either. Far from it. Sam Ehlinger received more than 3,000 harassing texts from LSU fans, which forced him to switch phone numbers. (Who actually thought he was going to read them?) Tom Herman was flooded with threats, racial slurs and homophobic remarks, which continued to roll in after the college football game ended.
But it was Michelle Herman, his wife, who responded to the college football trolls beautifully.
Herman, who is Hispanic, answered several of her husband's phone calls and spoke only Spanish. As you can imagine, the pranksters were caught off guard and only came up with dumbass responses like, "This is America. Speak English."
"Hi y'all! I was put in twitter jail last night after I posted a video displaying the number of some racist punk. Twitter wants to protect the privacy of the racist, so they asked me remove the tweet that showed one of the numbers. Before the game, someone from LSU's side leaked our coaches & players' numbers and we were harassed all weekend. Our coaches have since changed their numbers. My family and I (sis, bro & SIL) thought it would be funny to answer Tom's call in Spanish to throw them off. I'm Hispanic and so is my entire family. We recorded a few calls and they responded as we should have expected "this is America, speak English" "stupid beaner." I posted the videos after some LSU fans didn't like my tweets joking about all their complaining/blaming and that BS no AC story. Anyway, I'm free now! It's been fun and as I said in my tweet, hasta el año que viene LSU!"

? Michelle Herman, via Twitter
The rivalry bashing is nuts. LSU accused Texas of turning off the air conditioning in its locker room. Texas fans threw drinks on LSU players. LSU players waved goodbye to the Texas football faithful, which set everyone off. Texas made the LSU band sit in nosebleed seats. Next year, LSU is making the Texas band do the same.
I know that Texas and LSU have only played 18 times in their history ? just twice since 1964 ? but this is getting out of control. Next year's game in Baton Rouge is going to be one for ages, and not just because it will have College Football Playoff implications once again. I need both fan bases to strap up and play another game off to the side, just to finally settle the score.
Hell, I'd buy tickets.