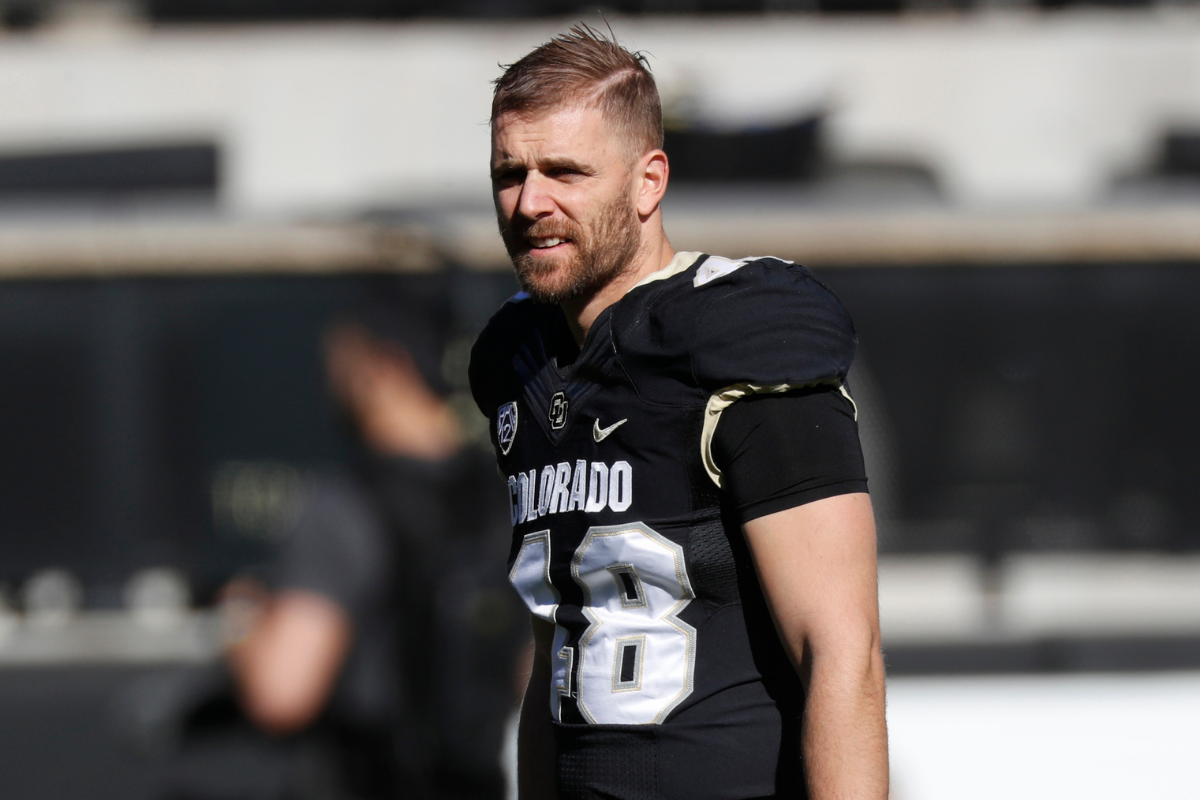 AP Photo/David Zalubowski
College football players come in all shapes and sizes. Some are big and strong. Others are smaller and fast. Most of them are around the same age, but there are a few exceptions. Colorado Buffaloes kicker James Stefanou is one of them.
Stefanou, a native of Melbourne, Australia, has been the Buff?s primary kicker for the past three seasons. He?s been pretty solid for the Pac-12 program, too. However, his days booting field goals and extra points are over.
The 33-year-old kicker ? the oldest player in the FBS ? has officially announced his retirement.
James Stefanou Retires from Football
RELATED: Alabama Reclaims No. 1 Ranking for Record 13th Straight Season
Before arriving in Boulder, Colorado place kicker James Stefanou was a professional soccer player. He played at an elite level before training with ProKick Australia to transition to American football. Everything came pretty naturally, and the rest is history.
For three seasons, Stefanou was the primary kicker for CU. He made 34 field goals and 92 PATs over the stretch. Unfortunately, he missed time over the last two seasons due to a hip injury and even had surgery over the offseason. His first game back during the coronavirus pandemic and COVID-19 outbreak didn?t go as well as he hoped.
Stefanou made all five of his extra point attempts and handled the kickoff duties in Colorado?s win over the UCLA Bruins. He missed both of his field goal attempts, however, including one that was blocked in the first half on ESPN 2.
After the game, he informed head coach Karl Dorrell his NCAA football career was over.
?James feels that he can no longer physically perform as well as he would like and has decided to end his career,? Dorrell said in a press release. ?He has been a valuable member of the team for three years, and we understand why he has made this choice. We certainly wish him nothing but the best.?
Stafanou also released a statement on social media.
"Where do I begin… I wish I could finish what I started here at CU although unfortunately during the game on the weekend my body faced another setback that told me it might be time to call this,? he said. ?After many tough discussions and plenty of thinking I've decided to end my playing career as a kicker and a Buff! What an honour it was to wear the CU colours and represent this amazing program.?

?From the moment I entered the doors in 2017 absolutely everybody was supportive and welcoming to me and my wife and we will never forget that, CU is my family and will always hold a place right at the front of my heart. I hope I could repay our awesome fans and everyone involved with this school by providing some moments that brought joy and happiness.

?To all my teammates that I've played with here you guys are absolute warriors and have become great mates and I can't wait to watch this group finish what they started on Saturday night, something special is brewing here. To all my coaches you have helped me to grow and make me a better man and thanks for all of the opportunities. It's bitter sweet but it's the right decision. Love you all buff nation, forever a BUFF. 48 out!?
Stefanou finishes his CFB days with 199 career points, which is eighth all-time for the CU Buffs. His extra point percentage (.990) and field goal percentage (.694) ranks first and fourth in CU history, respectively.
The 33-year-old kicker was the Pac-12 Special Teams Player of the Week against Arizona and Arizona State in 2019. He made big kicks against Nebraska, Oregon, USC, and Stanford, too.
Evan Price will take over Colorado?s kicking duties moving forward, according to The Denver Post.
Stefanou is married with one daughter, who was born in February 2020. He can now spend game days with him after a successful career.