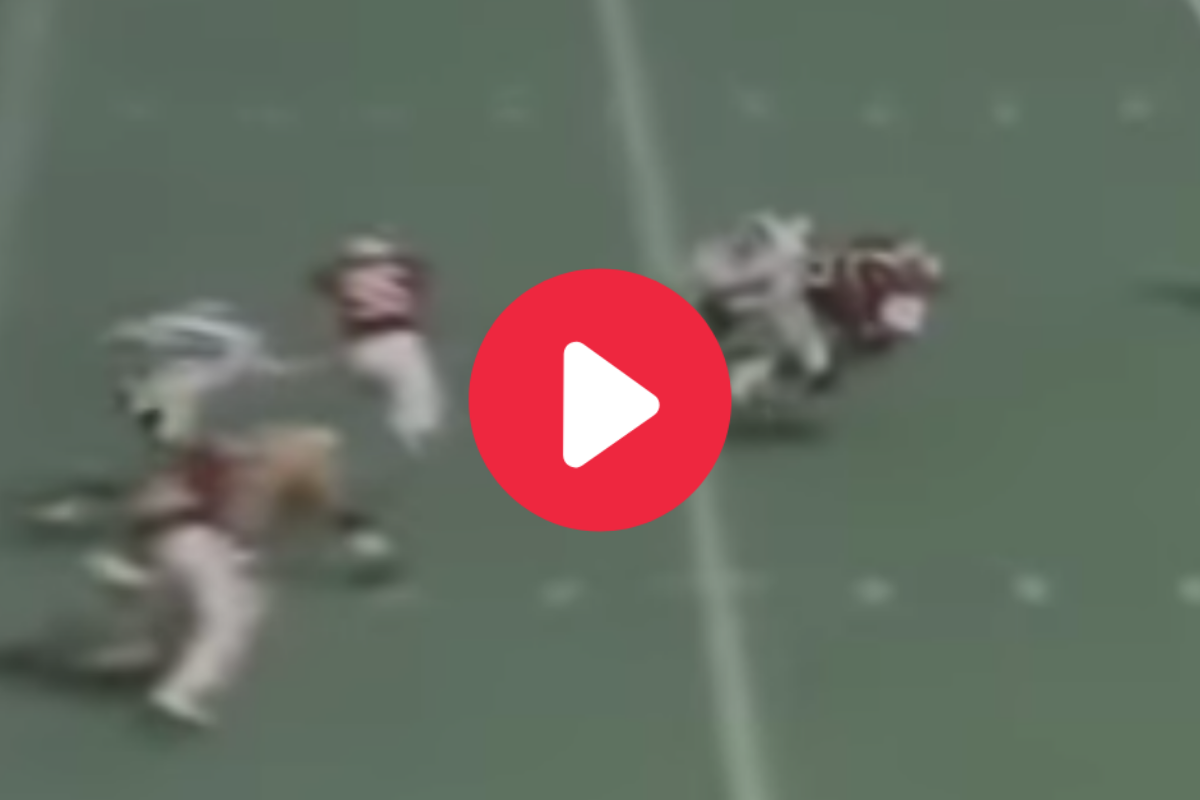 Screenshot from YouTube
Few plays in Alabama Crimson Tide history stack up to "The Sack." One could argue for George Teague's "The Strip" that led to UA's national championship win over Miami in 1992, but that play didn't technically count. The "Good Ol' Rocky Block" from Alabama-Tennessee 2009 and Tua Tagovailoa's 2017 national championship-winning touchdown are close seconds.
It was 1986, and unranked Notre Dame traveled into Birmingham to take on No. 2 Alabama at Legion Field on October 4. This was the year Alabama would finally take down the Fighting Irish, a team that had beat them each of the first four meetings. After a win over Florida, the undefeated Crimson Tide rose to No. 2 in the rankings and needed to stay perfect.
While not as significant as the Alabama-Auburn rivalry, the Alabama-Notre Dame series was important because it was a clash of historical titans. The Notre Dame entered this year with 12 national titles under its belt, while Alabama had nine.
One play set the tone for the rest of the game.
Cornelius Bennett's "The Sack" vs. Notre Dame
Notre Dame quarterback Steve Beuerlein never even saw it coming.
When the unsuspecting passer faked a handoff and rolled right in a scoreless game in the first quarter, Alabama linebacker Cornelius Bennett raced around the edge untouched and plowed him into the grass.
It was the hit heard around college football that year, and Beuerlein hardly remembers it. That's because Bennett hit him so hard he suffered a mild concussion. He later told the Chicago Tribune, "I saw mouths moving, but I heard no voices."
RELATED: "The Strip" is Alabama's Greatest Play That Never Counted
The portrait of "The Sack" by artist Daniel Moore became an important piece of culture in Tuscaloosa. It's the first thing visitors see in the Paul W. Bryant Museum. It belongs in every single Crimson Tide fan's house.
"I see it right now," former Alabama head coach Ray Perkins told AL.com. "It's on my wall in my home today."
Even Beuerlein has a copy of it. The former Notre Dame passer who went on to play in the NFL for more than a decade barely remembers the hit, though.
"Fortunately for me I don't remember much about it. It was one of those hits where it happened, and everybody that I've ever met from the state of Alabama knows me as the guy from 'The Sack,'" he told Tide 100.9.
Alabama went on to win the game, 28-10, behind Mike Shula's three touchdowns. But it was Bennett who set the tone for the game.
Alabama football's national title hopes that year quickly dissipated. It started 7-0 following an important SEC victory against Tennessee but dropped games to Penn State, LSU and the Auburn Tigers and finished 10-3.
As for Cornelius Bennett, who would go on to be selected second overall in the 1987 NFL Draft, he established himself as one of the great pass rushers in his last season in Tuscaloosa and was later inducted into the College Football Hall of Fame. He finished the 1986 season with 10 sacks, the ninth-most in school history behind names like Derrick Thomas and Jonathan Allen.
None, however, were more important in University of Alabama Crimson Tide football lore than "The Sack."
This post was originally published on May 5, 2020.