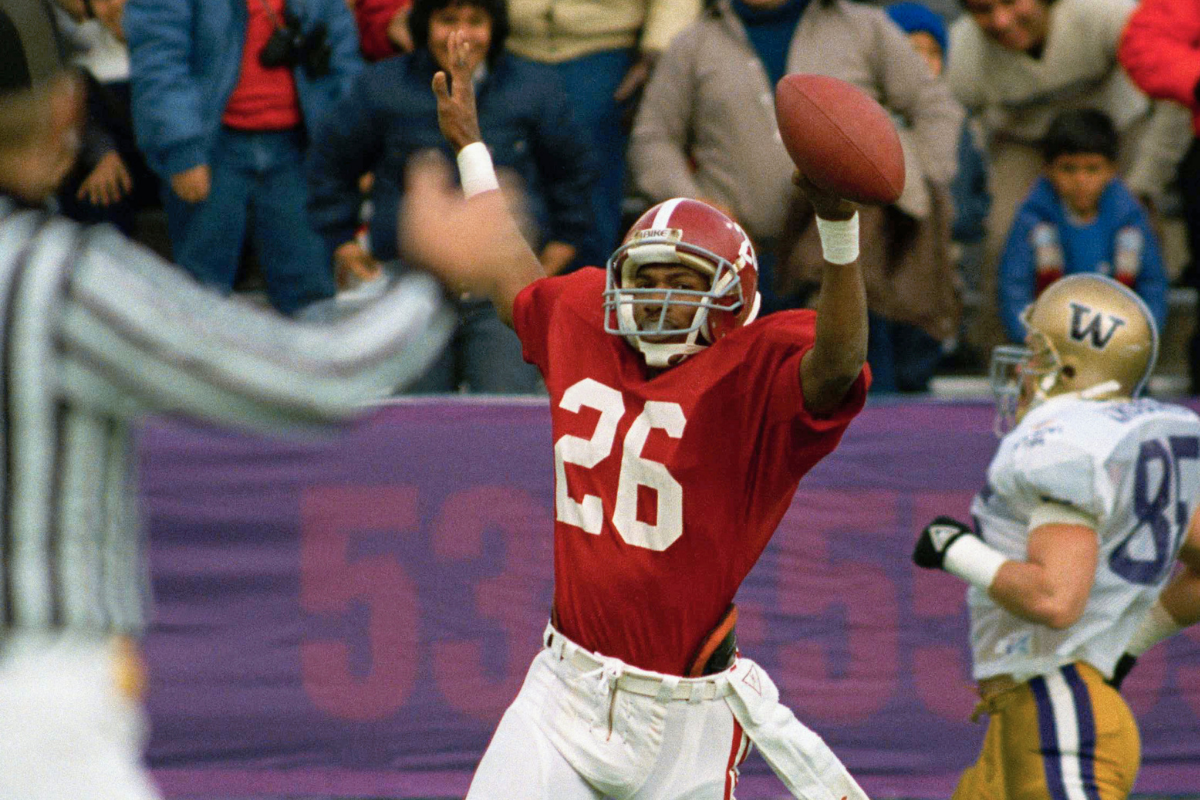 AP Photo/David Breslauer
The Alabama Crimson Tide football program has had its fair share of stud running backs.
Hell, remember when Alvin Kamara, Derrick Henry, T.J. Yeldon and Kenyan Drake were on the same team? Lord have mercy on the linebackers who played against that backfield.
You can't mention Bama running back greats without including Bobby Humphrey. The homegrown kid from Birmingham, Alabama made Tide fans proud during his four seasons in Tuscaloosa during the 1980s.
What is the Alabama legend up to these days?
Bobby Humphrey at Alabama
Humphrey came to the University of Alabama from Birmingham's Glenn High School. The halfback split time with Gene Jelks and Kerry Goode as a freshman.
He was the bell cow for the remainder of his college football career. He particularly shined in his sophomore year, rushing for a school record 1,471 yards and 15 touchdowns while being named an All-American. He would have another All-American season as a junior and finished in 10th place in the 1987 Heisman Trophy voting.
The football player's senior year was cut short due to a sustained foot injury, however.
He finished his college career as Alabama's all-time leading rusher with 3,420 yards. Shaun Alexander, Henry and Najee Harris?the program's current leading rusher?later surpassed the mark. Had Humphrey been healthy his senior year the record may have been insurmountable.
Bobby Humphrey NFL
RELATED: Eddie Lacy?s NFL Career Was Short-Lived, But Where is He Now?
Humphrey was selected in the first round of the 1989 NFL Supplemental Draft by the Denver Broncos. The former Alabama rusher hit the ground running, rushing for 2,353 yards and 14 touchdowns in his first two seasons.
His stats weren't the only thing that stood out. Humphrey's Broncos reached Super Bowl XXIV during his rookie season and he made the Pro Bowl in his second.
Things started to go south when he sat out until Week 14 of his third year, resulting in a falling out with the coaching staff and a trade to the Miami Dolphins. Humphrey wasn't the same in South Florida. After a bizarre shooting incident in the 1993 offseason, his career never fully recovered.
The running back attempted a comeback with the AFC's Buffalo Bills in 1995 but didn't make the roster.
Bobby Humphrey Now
After his football career, Humphrey returned to Alabama and earned a degree in social work. He then took over for the Birmingham Steeldogs of the AF2, a developmental arena football league. He coached the Steeldogs until 2005.
Since, the 54-year-old Pro Bowler became a member of the City of Hoover's Park and Recreation Board and works as the vice president of business development for Birmingham's Bryant Bank. He was inducted into the Alabama Sports Hall of Fame in 2004.
In his family life, Humphrey and his wife Barbara have five children. His son Marlon Humphrey played defensive back at Alabama under Nick Saban and starts at cornerback for the Baltimore Ravens. He signed a five-year, $98.75 million contract extension in October 2020.
View this post on Instagram
Bobby Humphrey proved his talent on the football field. Now that he's off it, he's proving his dedication to family and community.