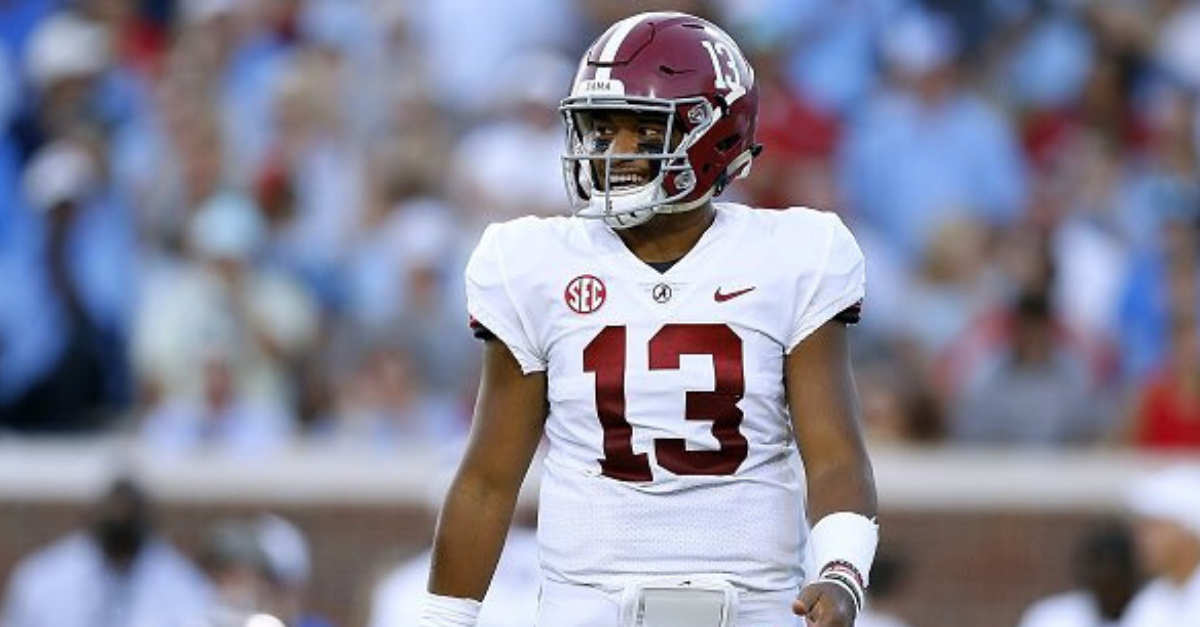 The number 13 has always been a symbol of superstition and fear, especially near Halloween. In the SEC, however, the No. 13 carries a new meaning of fear and it will until this powerhouse quarterback graduates. For SEC fans, the number 13 means that Alabama is coming, and their quarterback Tua Tagovailoa is leading the charge.
Just the name Tua, strikes fear in the hearts of most SEC fans because of the damage they know he can do. Why do fans fear him? Just read these numbers: 25 touchdowns, 0 interceptions, over 2000 yards passing and over 70 percent completion rate.
Want more proof SEC fans fear Tagovalioa? The recent anti-Alabama call into Paul Finebaum's show from a disgruntled LSU fan over the suspension of defensive player Devin White before the big game this weekend was proof positive.
White was called for targeting Saturday night against Mississippi State quarterback Nick Fitzgerald. The call drew outrage from LSU fans that the SEC is somehow, some way in cahoots with Alabama since White has to sit out the first half of the Alabama game next week. Famous LSU alum and Democratic strategist James Carville is so outraged, that he wants the FBI to investigate the SEC for collusion.
Carville wrote in his outraged op-ed for The Advocate,
"If there was any doubt, the SEC crew in zebra stripes made it clear Saturday night. The league is in cahoots with the Crimson Tide. Yes, it appears there is collusion…
After the botched targeting call on LSU linebacker Devin White, the SEC is presented with a rare moment to atone for past sins and put to rest its prior affairs. It has an opportunity to take a stand for fairness and democracy."
Was it the subconscious fear of No. 13 that led Carville to submit this op-ed? Some people fear Jason on Friday the 13th; SEC fans fear the arm of Alabama?s No. 13.
There hasn?t been this kind of fear about a quarterback since Cam Newton was at Auburn. ESPN?s own Kirk Herbstreit said during the pre-season that if Alabama started the sophomore at quarterback, it was all over for everyone else.
His prediction came true and Alabama is averaging over 50 points a game. They're the only team in the FBS to average 20 points a game in the first quarter.
So, where does that leave SEC fans? Well, the fear of No. 13 is warranted, but is there a Jamie Lee Curtis among the teams who can slay this monster?