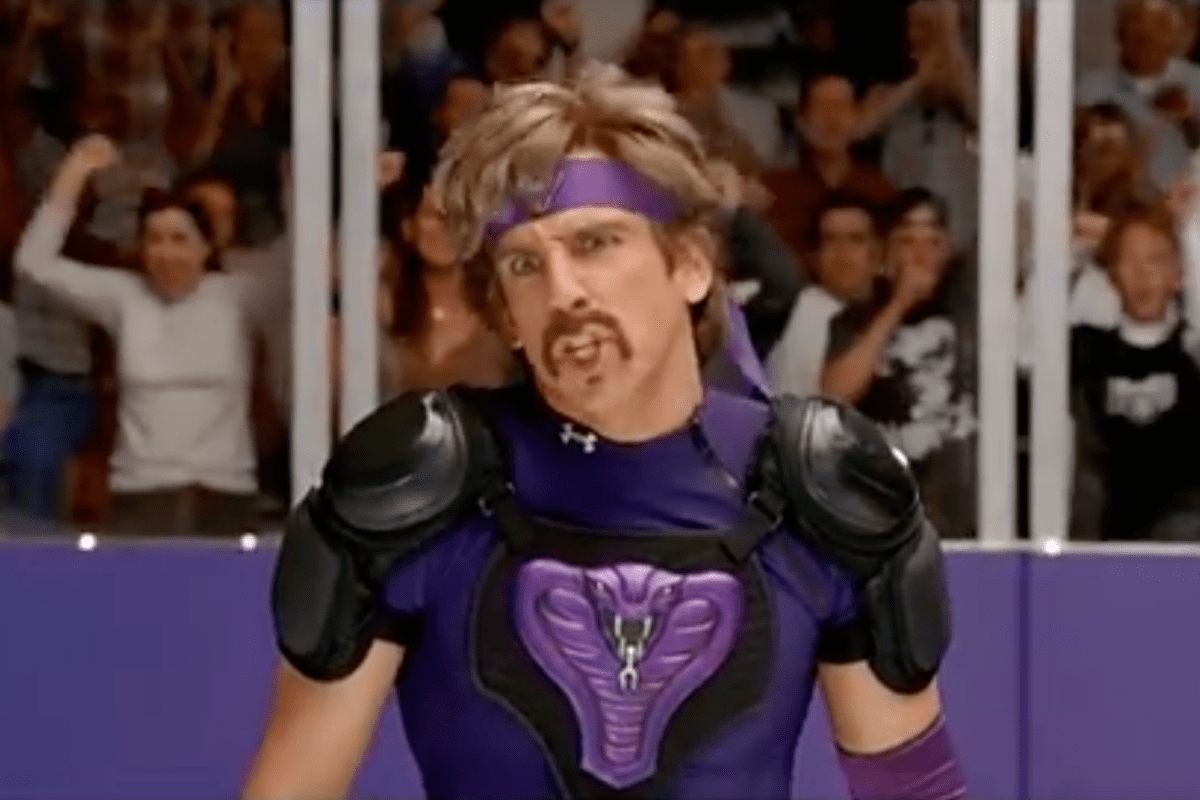 YouTube: Movieclips
YouTube: Movieclips
If you're like me, you refuse to put a single thought into your Halloween costume until at least two days before the annual Halloween festivities kick off. Now, if you've been planning your costume since March, then kudos to you, but the rest of us will be searching for ideas for something that'll absolutely kill on Halloween.
When it comes to sports and Halloween colliding, there are a few key boxes that need to be checked. First, your costume has to stand out from the rest, so get creative! Second, sports have wild personalities who do insane things for the sake of the camera, so it's important to remember what kind of personality you'll embody, too. Without further adieu, here are 13 Halloween costumes that'll keep your sports attitude alive, and absolutely kill if they're pulled off.
13. Kenny Powers
What You Need: A great mullet, a full baseball uniform (bonus points if it's a Charros jersey), an American Flag cape (optional if you're staunchly opposed to disrespected the flag), and an attitude that keeps pace with Kenny Powers.
12. Troy Polamalu 
What You Need: A Steelers jersey and football pads, an obnoxiously large set of hair, a bottle of Head and Shoulders shampoo that you're going to try to force on everyone the entire night and the kindest sounding voice you can possibly imagine.
11. Bill Belichick
What You Need: A cutoff Patriots sweatshirt, headset/laminated card for plays, a permanent look like you just ate a two week old bologna sandwich, and short answers that elude to the idea that you're incapable of regular human emotions.
10. Mike Ditka
What You Need: A great mustache/comb-back hairstyle, Bears sweater, a giant cigar, the ability to never be satisfied and occasionally burst out in fits of screaming about Chicago's offensive line.
9. White Goodman
What You Need: Perfect fitness, excellent hair, Globo Gym Purple Cobra shoulder pads complete with full-body purple spandex, and the inability to spell 'White' the entire night.
8. Bobby Petrino
What You Need: An Arkansas Razorbacks sweatshirt, some face makeup, a neck brace, and a story about how you WEREN'T with somebody on your motorcycle but really it was your mistress and you got busted.
7. Happy Gilmore
What You Need: A Boston Bruins hockey jersey, one golf club, the ability to drive a golf ball 400 yards, and the penchant for fighting everybody you come in contact with.
BONUS: Get somebody to tag-team this with you dressing like the legend Chubbs Peterson, complete with a wooden hand.
6. Dennis Rodman
What You Need: A Chicago Bulls jersey, the ability to grab every rebound but never score, ridiculous antics the entire night, some facial jewelry, and any one of these INSANE hairstyles
5. Forrest Gump
What You Need: A hair/beard combo, one Bubba Gump Shrimp hat, short-shorts, a TON of catch phrases, and some stretching bands because you have to just run around the entire night.
4. Joey Chestnut
What You Need: A Nathan's Famous Hot Dog t-shirt, a championship belt or American flag, and a giant plate of hot dogs that you're not allowed to share with anybody the entire night.
3. Ray Finkle/Lois Einhorn
What You Need: A cross section either vertically or horizontally to be one half woman and one half man, a No. 5 Ray Finkle Miami Dolphins jersey (yes, they're available), mustache, a woman's suit, and a complete and utter hatred for Dan Marino. This one is tricky, but could be the ultimate success if done.
2. Stone Cold Steve Austin
What You Need: Either a Stone Cold vest or a black "WHAT?" t-shirt, blue jeans, a reckless attitude like you've never had before, and the ability to slam two beers together several times throughout the night and drink them.
1. The Jamaican Bobsled Team
What You Need: Jamaican flag outfits, yellow helmets, and a cardboard cutout of a bobsled that you and three friends can walk around wearing in unison the entire night.