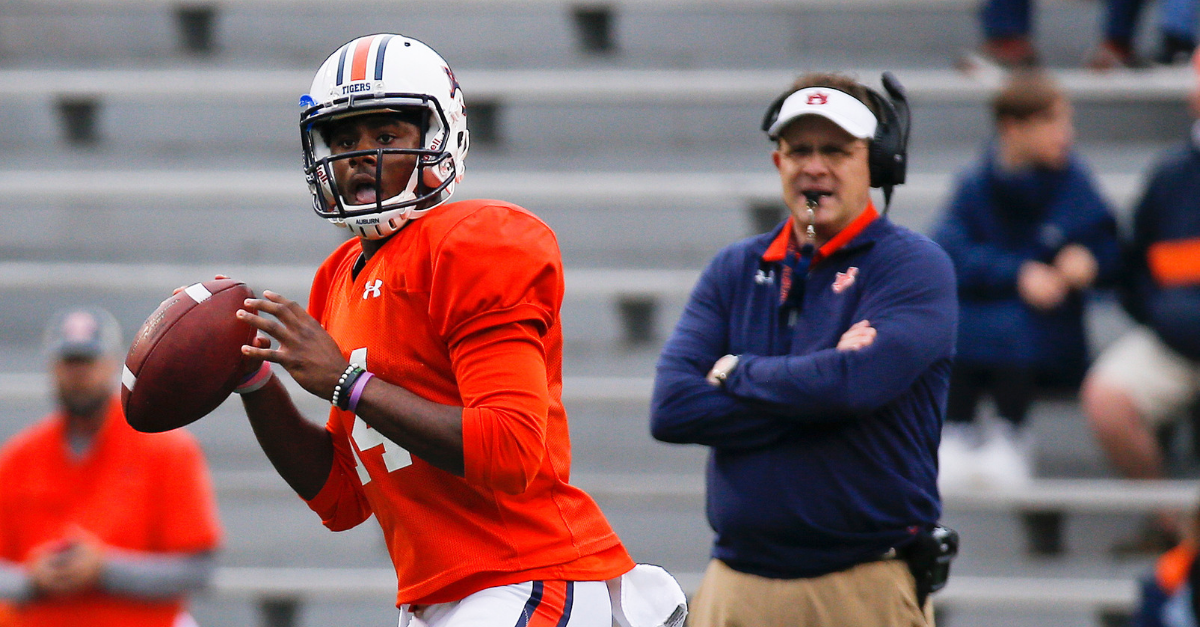 AP Photo/Brynn Anderson
Leading up to Auburn football's annual A-Day Game at Jordan-Hare Stadium on Saturday, April 13, we still have no clue who is leading the quarterback race.
So much focus has been on the Auburn basketball's historic season that hardly any news has come out of the Plains about who will be taking over Jarrett Stidham?s starting quarterback job when the 2019 college football season begins.
At this point, it's really anyone?s guess. Logic says that it likely will be Stidham?s backup from last year, Malik Willis, who attempted only seven passes in limited action.
Unlike the other quarterbacks on roster, Willis has had the most playing time and probably knows the system better than anyone. The question is, will that help him win this quarterback battle through the spring football game and into training camp this summer?
The name that seems to have Auburn Tigers fans buzzing the most is former Auburn quarterback Patrick Nix?s son, five-star quarterback recruit Bo Nix. Nix was Alabama's Mr. Football last year and is coming off a high school state championship with Pinson Valley, too.
Nix seems like the complete package. He can run and throw the football at a high level, and his football IQ is obviously high because of his background and where he comes from.
The dark horse in all of this is redshirt freshman quarterback Joey Gatewood. Gatewood has made some noise recently in spring practice and raised several eyebrows in the process.
RELATED: Auburn Opens as Huge Underdog Against Alabama for 2019 Iron Bowl
Auburn wide receiver Marquis McClain indicated that at least two of the four quarterbacks seem to have impressed him the most during spring practices.
McClain said this after Auburn's most recent scrimmage to AL.com:
"The quarterbacks have actually been pretty consistent. They're getting better and better every day. They're watching film. They're making correct reads and stuff. They've just got to keep doing it and keep getting better every day."
"Probably Joey [Gatewood]," McClain added on who stood out the most. "Joey made some pretty good plays running the ball. He ran the ball pretty well and Bo ran the ball pretty well today, too."
The last quarterback that many don?t know much about is 24-year-old Cord Sandberg, who was a former minor league baseball player with the Philadelphia Phillies until last summer. But he likely won't be anywhere close to prepared to face SEC competition next season.
For the most part, head coach Gus Malzahn has been mum on which quarterback he's leaning towards, so don't expect to get an answer from him until the fall, but at least in Saturday?s upcoming A-Day spring game, fans can see for themselves who maybe leading the pack.