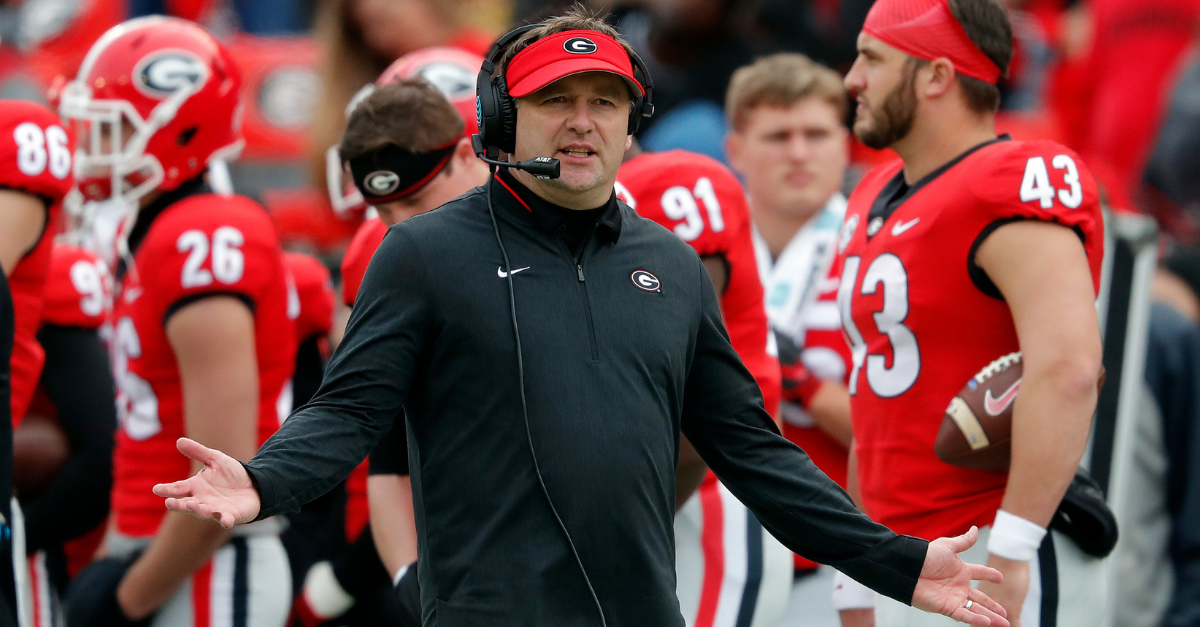 AP Photo/John Bazemore
If you live in Florida, you know the name Mike Bianchi. The man is all about the hot takes and he makes sure that his points get shared across the country, very much like this. However, his latest claim is going to make some Georgia fans rather angry.
Everyone knows the Georgia Bulldogs got smacked by the Texas Longhorns in the 2019 Sugar Bowl. Uga the Bulldog likely put up a better fight against Bevo than the Dawgs did on the football field. Everyone also knows the Florida-Georgia rivalry is a real one, and the coaches are certainly having fun with it right now.
With an entire summer still to go before the next college football season, topics can get kind of stale. That?s got to be a reason why Orlando Sentinel columnist Mike Bianchi thought it would be a good idea to write a story calling Georgia the ?most overrated program in college football.?
Seriously, this is a thing.
READ MORE: Dan Mullen Trolls Georgia?s National Title Drought
Here?s the gist of the story: It?s been over 14,000 days since Georgia last won a national championship in 1981. Indiana Jones and the Raiders of the Lost Ark was in theaters. Florida fans everywhere are having a blast and adding more fuel to the fire of the already rowdy World?s Largest Outdoor Cocktail Party at TIAA Bank Field in Jacksonville, Florida each year.
Bianchi isn?t the only person who feels this way, certainly, but he has no problem sharing the opinion that Georgia is the most overrated college football program in the land. It?s no surprise, really. After all, he lives in Central Florida and some football lovers down there are just? different.
Here?s what doesn?t make sense: Georgia is, in fact, one of the best programs in college football right now. The data proves it. Not to mention, Georgia actually leads Florida in the all-time series 52-43-2, and the Bulldogs have thumped the Gators each of the last two years.
Everything is fair game with rivalry smack talk, but this opinion seems a bit misguided. Georgia isn?t the greatest program in the country (Hey, Clemson and Alabama), but it certainly deserves more praise than hate with the way head coach Kirby Smart has elevated the program in the SEC and churned out NFL talent.
Georgia has been to the College Football Playoff and played in the big game. There?s no major hardware to prove excellence down in Athens, but the Bulldogs stomped the likes of Florida, Kentucky and Auburn in back-to-back-to-back games last season after getting beat by LSU.
Bianchi, who also has his own radio show 96.9 The Game, doesn?t care, though. He even doubled down on his scorching take on the Paul Finebaum Show:
?I?ve thought Georgia was overrated for the last 10 years or so because I just think Georgia and its fan base has this opinion of itself like they?re Alabama … and they?re not,? Bianchi said. ?Look at Georgia?s history. It really hit home last week when Gator fans were trolling Georgia on social media with the 14K day ? 14,000 days since Georgia won a national title. That one single national title that Georgia won in 1980 was by, all accounts, a fluke when you think about.

?They had the one fluky play vs. Florida, a 93-yard touchdown pass with like a minute left. They were lucky enough that Herschel Walker, maybe the greatest player in college football history, grew up right down the road from their campus and they were able to recruit Herschel Walker. It?s not like Georgia was a dominant team when they won their only national title.?
Do you want to know what makes the point about Herschel Walker actually insane? TIM TEBOW GREW UP CLOSER TO GAINESVILLE THAN WALKER DID TO ATHENS!!!
Paul Finebaum just lost it, and understandably so.
The SEC East isn?t as good as the SEC West right now. You can thank head coach Nick Saban and the Crimson Tide for that. However, Georgia is still a damn good football team.
The Bulldogs don?t have an easy 2019 schedule with a home game against Notre Dame and road games at Vanderbilt, Tennessee, Auburn, and Georgia Tech this season. However, everyone should just go ahead and circle your calendars for November 2. That?s when Florida and Georgia meet once again.
Until then, the hot takes like this will keep coming.