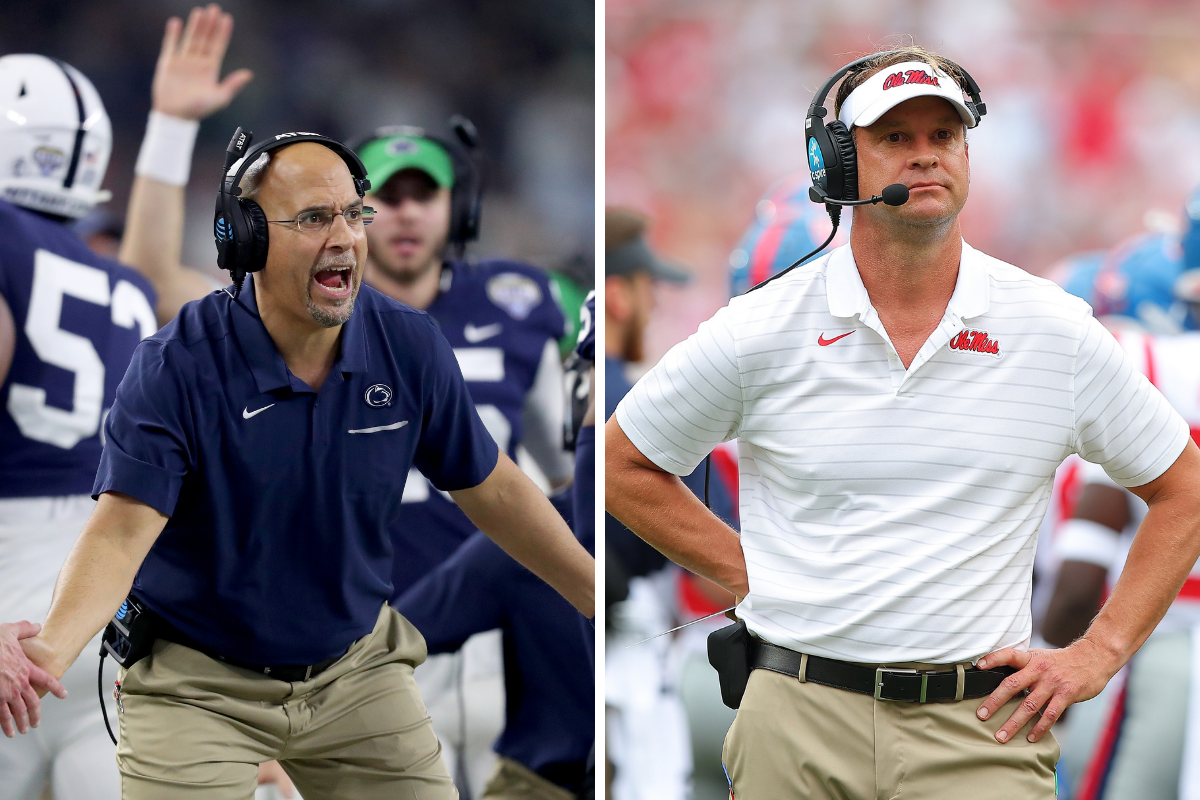 Tom Pennington/Getty Images (left), Kevin C. Cox/Getty Images (right)
The Ed Orgeron era at LSU is over 643 days after winning a national championship. A new coach will head the Tigers in 2022. That's college football for you.
Orgeron will always be remembered for catching lighting in a bottle in 2019. His smartest move was bringing in wiz kid Joe Brady as his passing game coordinator. Brady's scheme saw quarterback Joe Burrow produce one of the best seasons in college football history and a Heisman Trophy to go along with it. Throwing to future NFL stud wide receivers Justin Jefferson and Ja'Marr Chase certainly didn't hurt. Neither did having running back Clyde Edwards-Helaire in the backfield. It was the perfect system for the perfect players at the perfect time.
Looking back at the rest of Coach O's head coaching career, it's evident he feels the most comfortable as an interim coach. He beat No. 5 Stanford at USC after taking over for Lane Kiffin four games into the 2013 season. He beat three top-25 times in relief of former LSU Tigers head coach Les Miles in 2016.
It's when the program is truly his that the football coach has trouble. He never won more than four games in a season at Ole Miss. He seemed to be changing his history in Baton Rouge by bringing in top recruiting classes and putting together competitive teams.
He succeeded, then reverted back to his old ways the past two seasons. Combine the inconsistent on-field performance with the off-field reports, and I'm not shocked the school decided to part ways after the season. Even if it means a $16.9 million buyout.
The question now is who will be leading the LSU football program in 2022?
I can't read Athletic Director Scott Woodward's mind, but I can confidently say the LSU job is one of the most attractive in all of college football, and coaches — whether big names or small names — would be remiss not to at least take a call during the LSU coaching search.
Before I get to who should and shouldn't be considered to replace head coach Ed Orgeron, I want to address Texas A&M head coach Jimbo Fisher. Fisher is the perfect candidate on paper. He was the offensive coordinator for LSU's 2003 national title team and won another as the head coach of Florida State. He's hit the ground running in College Station by reeling in top talent and establishing the Aggies as a contender in the SEC. It all makes sense.
Fisher put the rumors to rest in his weekly press conference on October 18 by reaffirming his commitment to Texas A&M. We've seen coaches shut down rumors and go back on their word before, so who knows what could happen. I just don't see him leaving with the amount of money he's making.
That being said, here are five candidates LSU should and shouldn't consider to replace Coach O and give LSU an edge over SEC West teams like the Auburn Tigers, Arkansas Razorbacks, Ole Miss Rebels, Mississippi State Bulldogs and Texas A&M Aggies.
5 LSU Coaching Candidates
Mel Tucker, Michigan State
Tucker was the defensive backs coach on Nick Saban's first LSU staff. He's been around the block in the NFL and college football, rejoining Saban at Alabama in 2015 and serving as Georgia's defensive coordinator for three years before landing the head coaching job at Colorado. He left Boulder after one season to take over Michigan State in 2020.
MSU went 2-5 last year during the coronavirus pandemic. This year, he has the Spartans rolling with a 7-0 record so far. His LSU ties make him an enticing option, but it would be his third new job in four years.
Luke Fickell, Cincinnati
Fickell is the hottest coaching candidate on the market. His work as the Cincinnati head coach is remarkable. He holds a 37-6 record since 2017 and has the Bearcats positioned near the top of the rankings and ready to make the College Football Playoff.
Fickell will get a look for every major job. It's rightfully deserved.
James Franklin, Penn State
James Franklin was able to win nine games in consecutive seasons at Vanderbilt. He should have a statue built in Nashville on that alone.
In his eight years at Penn State, Franklin's teams play with discipline and toughness. He's also the only coach not named Urban Meyer or Ryan Day to win a Big Ten championship the past five seasons.
Franklin has SEC experience and has proven he can succeed at a big-time program.
Dave Aranda, Baylor
Aranda is LSU's most logical option. He was the defensive coordinator on the 2019 national championship team and earned a head coaching gig at Baylor from his success.
Aranda has the Bears lined up to threaten Oklahoma for a Big 12 title in his second year at the helm. Showing the ability to kickstart a program as a young head coach should put Aranda on Woodward's shortlist.
Billy Napier, Louisiana
In four years as the Louisiana Ragin' Cajuns head coach, Napier has turned the football team into a Sun Belt powerhouse and sports a 33-12 record.
Napier grew up in the south, played in the south and now coaches in south. It would make sense to promote him to the biggest football job in the state. The culture fit would be seamless.
5 Coaching Candidates Who Shouldn't Be Considered
Lane Kiffin, Ole Miss
RELATED: Lane Kiffin's Ex-Wife is the Daughter of an SEC Quarterback Legend
LSU would be Kiffin's third SEC job in an 11-year span and that screams bad juju. Plus, Tennessee fans think he's a hot dog. Not a fit.
Matt Campbell, Iowa Sate
Campbell has been in the mix for a lot of major openings the past few years and should be considered based on merit. However, he's a midwest guy at heart and I only see him leaving Ames for Ohio State or a job in the NFL.
Jon Gruden
Would be the worst PR move of all time. Avoid at all costs.
Mark Stoops, Kentucky
Stoops has a 55-51 record in nine seasons at Kentucky. Not bad considering how football is viewed in Lexington. Stoops' team is having a great year. I just don't see him succeeding under the lights at Death Valley with all of Louisiana watching.
He's built for a place like Kentucky where the pressure is low and the ceiling is eight wins most years. There are better options out there.
Urban Meyer, Jacksonville Jaguars
Lol.
Other Options to Consider:
Joe Brady, Carolina Panthers, Offensive Coordinator
Jeff Brohm, Purdue
Mario Cristobal, Oregon
Bill O'Brien, Alabama, Offensive Coordinator
Dabo Swinney, Clemson
Who else did we leave off as a likely candidate to become LSU's next head coach?
Related Videos