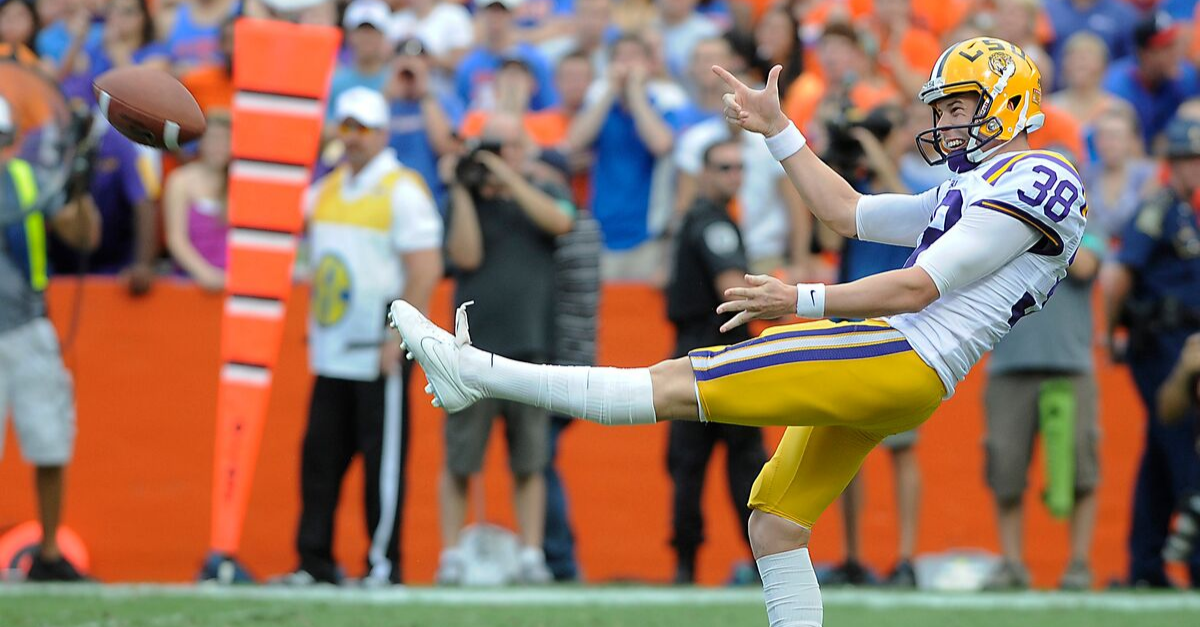 AP Photo/Phil Sandlin
There have been serious trends for LSU football, but one of the most notable is the use of Australian punters since 2011.
Beginning with two-time All-American Brad Wing, head coach Les Miles and the LSU Tigers built a pipeline for college football punting out of Australian rules football, using their pinpoint accuracy and incredible leg strength to have one of the country's best special teams units.
LSU Punter

Australia
Over the last decade, the Tigers have made good use of punters with experience playing rugby. It began in 2009 when Les Miles recruited Brad Wing to LSU. Wing was a high school punter playing in Baton Rouge, but was originally from Melbourne, Australia.
Miles was always vocal about his feelings towards Australian punters and the experience they had kicking the ball.
"What I?ve always liked about them is they play Australian football, where their passing is their punt."

? Les Miles, via Shreveport Times
Wing was one of the best punters in the country and had multiple memorable moments in his two seasons as the primary punter for the Tigers. Some were kicking the ball while the most memorable was actually using his legs.
LSU Fake Punt
As a redshirt freshman, Wing was the first player to have a touchdown called back due to celebrating. In a 2011 game against the SEC rival Florida Gators, Wing put his arms out wide after rumbling 52 yards into the end zone of an erupting Tiger Stadium. That was the first year of the taunting penalty.
That season, Wing was a Ray Guy Award semifinalist, losing to two-time winner Ryan Allen of Louisiana Tech.
One of the biggest perks of having a punter who grew up playing rugby is their ability to run the ball. Wing showed that on his long touchdown run that wouldn't count.
After his redshirt sophomore season, Wing decided to leave for the NFL, but left with a 44.6 career average that ranked first all-time for LSU punters in a career.
RELATED: The Rock and Miami?s Badass New Punter Need to Workout Together
Head coach Les Miles had brought in a fellow-Aussie punter in 2012, so he was ready with another player with the same style. Jamie Keehn didn't have any high school experience in American football coming was from down under, but he was known for track and field and rowing.
Keehn got some experience as a true freshman when Wing wasn't available for two games. He then went on to become the starting punter for the team over three seasons, finishing third in school history in total punts, punt yards, and fifth in punt average.
The tradition continued in 2016 when Josh Growden took over as the full-time punter. During the 2016 season that saw Miles lose his job as the LSU head coach, Growden averaged 41.4 yards per punt. But apparently, coach Ed Orgeron isn't as much of a fan of Australian punters.
In Coach O's first season as the full-time head coach in 2017, it was former walk-on Zach Von Rosenberg who took over as the top punter for the Tigers. Von Rosenberg kicked the ball 36 times while Growden had 23 attempts. Von Rosenberg, who hails from Zachary, La., averaged 43 yards while the Australian averaged just 37 yards.
Last year in 2018, Growden was used even less when he punted just 16 times and averaged more than 10 yards less per punt than Von Rosenberg (51 punts, 45.7 average).
Before the 2019 season, Growden entered the NCAA transfer portal and eventually left LSU as a graduate transfer and is now punting for the West Virginia Mountaineers. The former LSU punter Josh Growden is back in the starting punter role for his new team.
LSU may not have an Aussie punting footballs for now, but the influx of players coming out of ProKick Australia these days can't be ignored.
Jordan Sandy (TCU), Tom Hutton (Oklahoma State), Jack Bouwmeester (Michigan State), Ben Lennon (Utah), and Lucas Dean (UT-San Antonio) were all punters of the 2019 recruiting class and hailed from Australia. There figures to be a ton of Australian rules kickers coming to the NCAA in the future, but it was LSU who was early to the tradition.