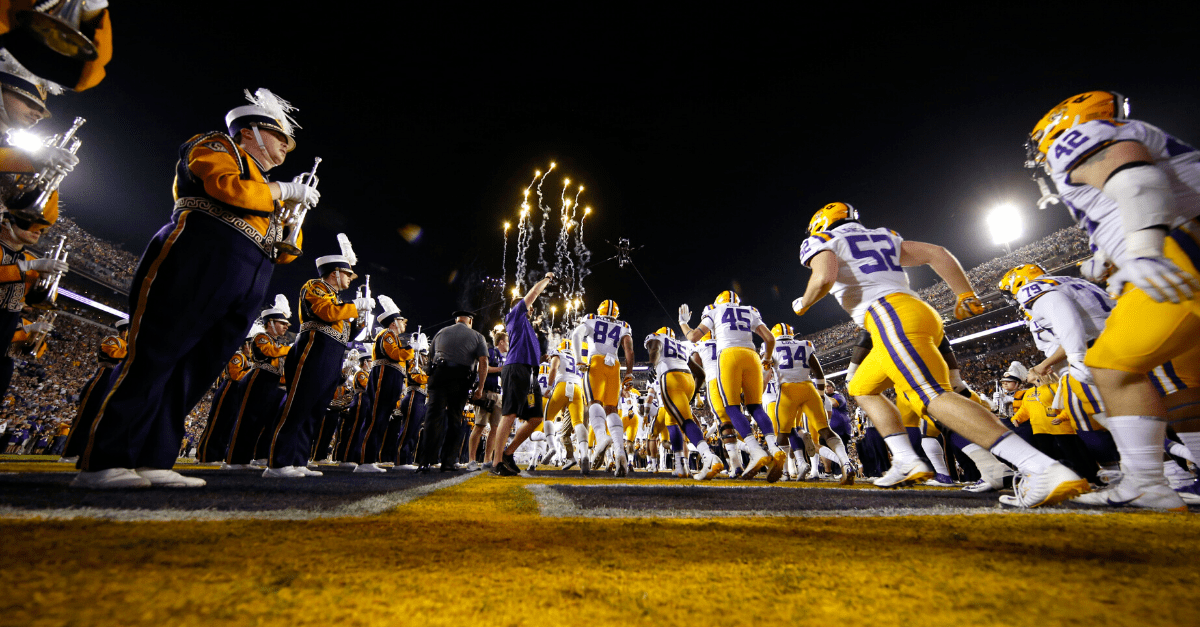 AP Photo/Gerald Herbert
It's been a season to remember for the Louisiana State University Tigers, and the celebration in Baton Rouge may just be getting started. Joe Burrow is all but a lock to win the Heisman Trophy and is the leader for sickest jersey of the year for the one he rocked on senior night against Texas A&M.
Head coach Ed Orgeron has got to be the NCAA's top coach, partly because he says things like, "Roll Tide What? F*** You!" after beating Alabama and partly because he has been hauling in top recruits left and right since taking over the program in 2016. Oh, and LSU will play Georgia in the SEC Championship Game and has a pretty darn good shot at making the College Football Playoff regardless of that outcome.
Now that the LSU Tigers have played their final home game of the season at Tiger Stadium — where they crushed Texas A&M Saturday night and finished a perfect 7-0 as part of its unblemished 12-0 regular season record — the school is offering fans a piece of game day history, one that you can literally put in your backyard.
LSU fans are invited to pick up free slabs of sod from LSU's Tiger Stadium football field late Monday afternoon at the Bullpen lot at Alex Box stadium, LSU athletics wrote in a release and posted on social media. The field is being removed to improve drainage in the stadium.
LSU Offers Tiger Stadium Grass
More than 3,300 slabs from one of the most iconic football stadiums in the NCAA will be given away free of cost on a first-come, first-serve basis. Fans are asked to selected no more than four slabs each, and they measure 18 inches by 24 inches.
That means fans can take home part of Death Valley where Burrow torched the Florida Gators for three touchdowns this season. Maybe you want a piece of the end zone that running back Clyde Edwards-Helaire found against Auburn en route to 140 rushing yards. Or maybe you want the field turf where wide receiver Ja'Marr Chase caught two touchdown passes against Arkansas.
If you live in Louisiana near Bayou Country or New Orleans and can make the drive to Alex Box Stadium, I'd suggest heading over and picking up a slab or two. LSU football is brewing up a special football season, and this could be the cheapest (and in my opinion, coolest) option to remember it by.
---
UPDATE (Dec. 5, 2019): Not surprisingly, all 3,500 square feet of Tiger Stadium's hollowed turf was gone in minutes. One family, however, did something with the sod that will live forever.
Catherine Glueck planted two squares of grass over her father's grave. Greg Glueck passed away in 2015, but not before a purple and gold-filled life in which he was a trainer for the LSU wrestling team and LSU Tigers superfan.
"It is really special to have that on his grave. Every time I come out here now I'm going to remember that," Catherine told WBRZ News.
This post was originally published December 2, 2019.