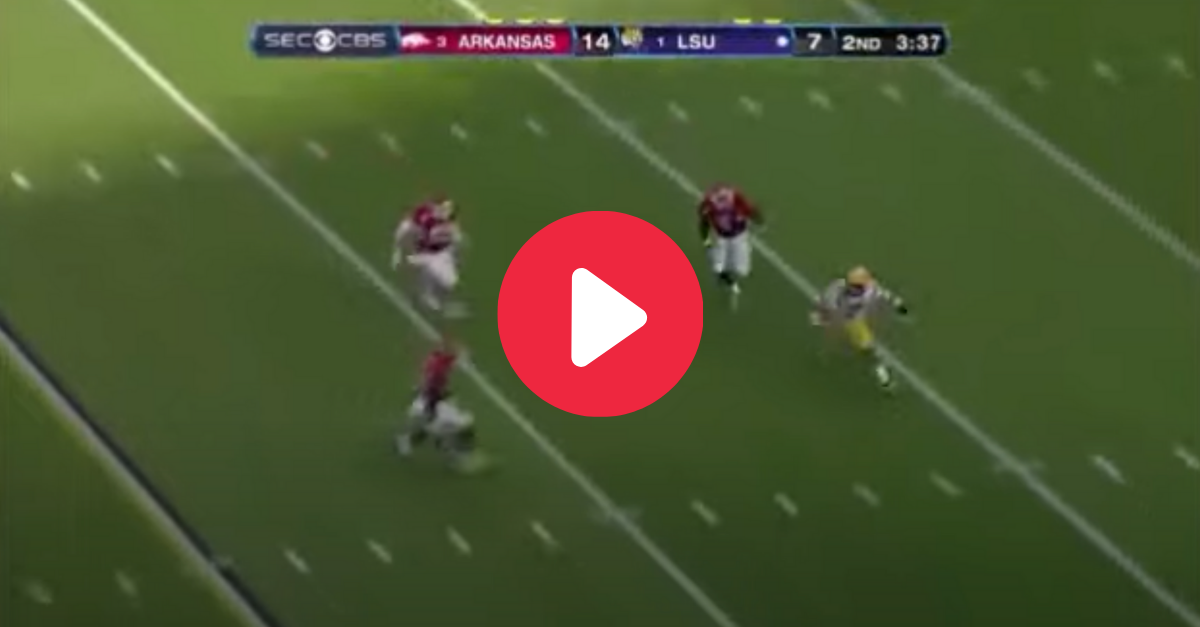 Screenshot from YouTube
Whenever Tyrann Mathieu steps on a football field, greatness follows. He?s proved that time and time again for the LSU Tigers and in the NFL. The Honey Badger makes plays all over the field and his sophomore season in Baton Rouge showed how dangerous he can be.
Mathieu and LSU football had a pretty magical 2011 season. The Tigers went through the regular season undefeated, won the SEC Championship Game, and played for the BCS National Championship, while Mathieu was the best defensive back in college football.
The 2011 Heisman Trophy finalist was also a phenomenal punt returner, too.
Tyrann Mathieu?s 92-Yard Punt Return TD vs. Arkansas
RELATED: LSU?s Fake Field Goals Made Les Miles ?The Mad Hatter?
In the 2011 regular-season finale at Tiger Stadium, No. 1 LSU found itself in an early deficit against the third-ranked Arkansas Razorbacks on CBS. The Tigers needed a spark. Then, cornerback Tyrann Mathieu delivered an all-time moment in the second quarter.
Mathieu caught Dylan Breeding?s punt at the 8-yard line. He ran past three defenders, juked a few more, cut back to the sideline and sprinted his way to the end zone for a 92-yard punt return touchdown.
Not only did that touchdown shift the momentum in the game, it also gave us a classic call from play-by-play announcer Jim Hawthorne.
Kenny Hilliard, Jordan Jefferson, Russell Shepard, and Spencer Ware all scored touchdowns against the Hogs that afternoon, but none were as electric as Mathieu?s return in the 41-17 victory.
LSU, under head coach Les Miles, beat eight ranked NCAA football teams that season, including Oregon, Mississippi State, West Virginia, Florida, Auburn, Alabama, Arkansas, and Georgia in the SEC title game in Atlanta.
Mathieu, who recorded 76 tackles, two interceptions and six forced fumbles that season, was a big part of that success and that punt return against Arkansas definitely added to his legacy.