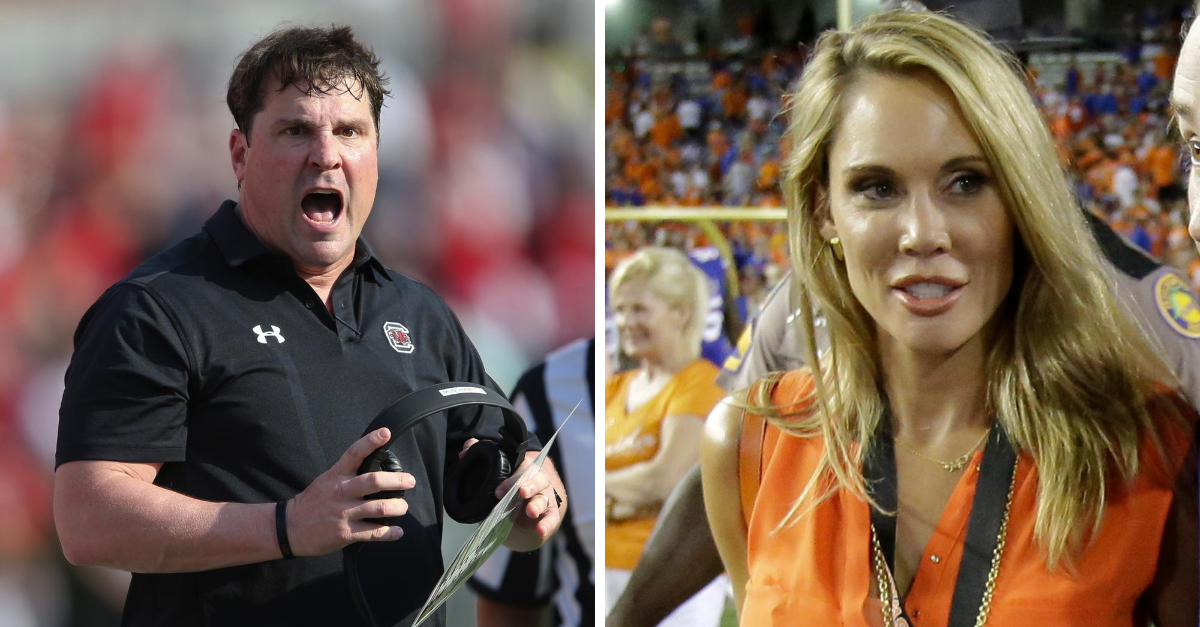 AP Photo/John Bazemore (left), AP Photo/John Raoux (right)
Let's play a word association game. I'll say a name and blurt out the first word that comes to mind. Ready? Here it goes: Will Muschamp. The first words that pop into my noggin: angry, mad, hothead, yelling and angry (again).
SEC fans and those who've watched the college football coach know exactly what I'm talking about. South Carolina Gamecocks head coach Will Muschamp took over for Steve Spurrier after serving as Auburn's defensive coordinator and may as well be synonymous with the word "tirade." Over the course of his coaching career, the 49-year-old has ripped his own players, yelled alongside Nick Saban and even punched a whiteboard because he seemingly can't help it.
Born in Rome, Georgia, Muschamp actually grew up in Gainesville, Florida, where he became a massive Florida Gators fan. He'd go on to play defensive back for the rival University of Georgia Bulldogs but later became head football coach at the University of Florida in 2011, the same place he developed top NFL Draft picks like Dante Fowler Jr. and Jordan Reed.
The coach who has even bled from his nose during a game has probably popped more blood vessels than we realize. The woman behind Muschamp, his wife, is more than a human stress ball and the mother of two boys. In fact, Carol Muschamp seems to be Will's soulmate considering she's previously taught anger management classes.
Who is Will Muschamp's Wife Carol Muschamp?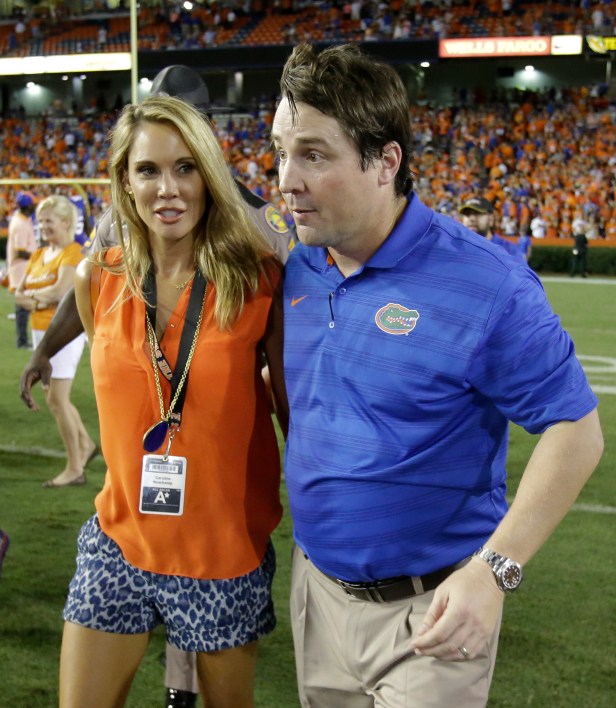 RELATED: Lane Kiffin?s Ex-Wife Is the Daughter of an SEC Quarterback Legend
The first lady of South Carolina football is Carol Muschamp.
Carol grew up in Thomaston, Georgia. She has a background in education and graduated from the University of Mississippi. Will considers his wife his most impressive recruit, and he even echoed that sentiment in his opening press conference in Columbia.
"Gamecock Nation if you don?t think I can recruit, look at her and look at me. I can sell ice to an Eskimo," he told reporters.
Carol and Will have been together since the 1990s. They tied the knot in 1999 while Will was working as Eastern Kentucky's defensive backs coach. Carol was teaching kindergarten in Atlanta at the time, according to the Columbia Metropolitan.
Since then, life has been hectic for the two of them.
Will's coaching career has included stops at West Georgia (1998), Eastern Kentucky (1999), Valdosta State (2000), LSU Tigers (2001-04), Miami Dolphins (2005), Auburn (2006-07, 2015), Texas (2008-10), Florida (2011-14) and South Carolina (2016-present).
Carol knew she'd be on the move a lot when she decided to marry coach Muschamp. It didn't really hit her until they began switching cities almost every year.
"The best advice my dad ever gave me when I married a coach, he said, 'You better put your furniture on wheels because you are going to be moving a lot.' I had no idea what I was getting myself into," she told FloridaGators.com in 2012.
She Taught Anger Management Classes
As stated before, Carol graduated from Ole Miss with a degree in education. She put it to good use, telling the Columbia Metropolitan that she counseled abused children and taught anger management classes in Oxford, Mississippi and Richmond, Kentucky.
Seriously? The wife of the blood vessel-popping, fiery college football coach taught anger management classes then married someone who probably needs them. You can't make this stuff up.
Hey, at least she probably knows how to handle her husband after a loss.
If you ask Will, his wife isn't a fan of losers.
"It?s been a shi**y fall. I?ve got more gray hair than I?ve ever had," he told reporters during South Carolina's abysmal 4-8 season in 2019. "My wife doesn?t like hanging around losers. I've been losing so it hasn?t been good."
Will and Carol Muschamp's Children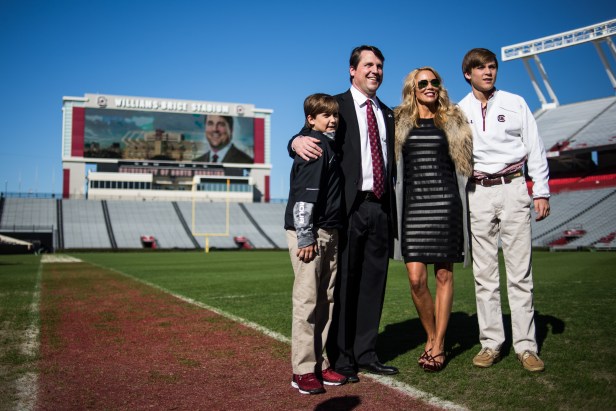 The Muschamps have two sons.
Jackson Muschamp, a class of 2020 three-star quarterback recruit, will suit up for his dad's alma mater in Athens. Their other son, Whit Muschamp, is four years younger and still a ways away from high school graduation. Both sons attended Hammond School in Columbia.
?I don?t love taking them to sports,? Carol told the Columbia Metropolitan, ?but I love watching them compete in games.?
Barring any COVID-19-related NCAA cancellations, Carol Muschamp will be able to do just that. But it's safe to say she might feel conflicted when the Gamecocks and Bulldogs meet this season.