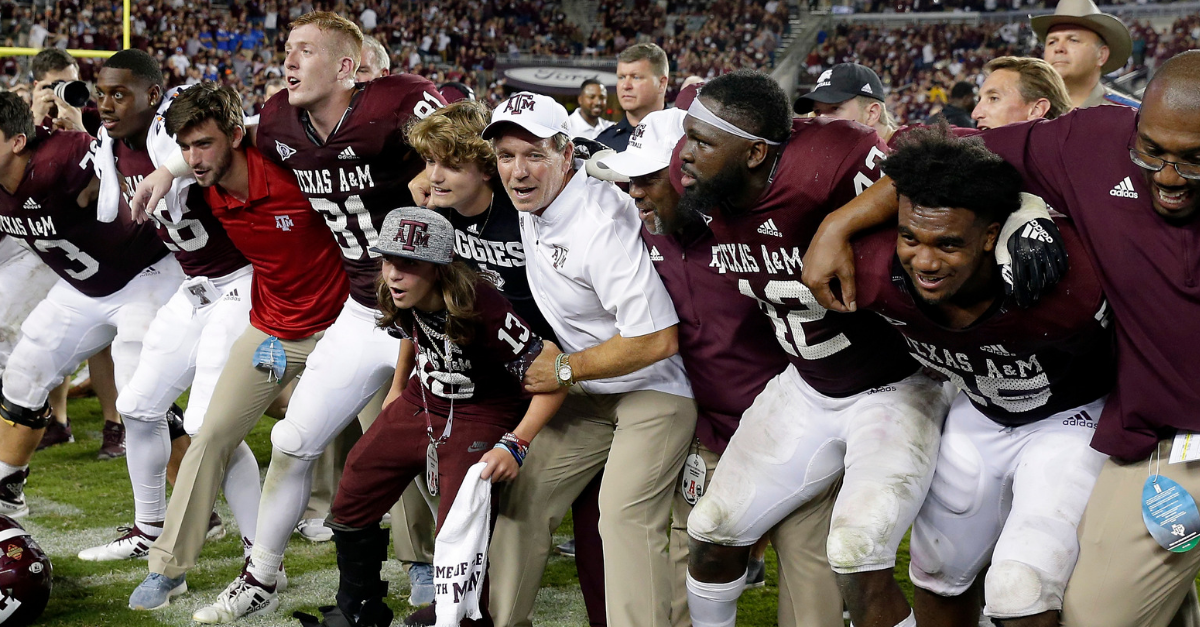 AP Photo/Michael Wyke
At Texas A&M University, it?s all about tradition. Not only is historic Kyle Field the oldest college football stadium in the country, but the famous Midnight Yell and some amazing landmarks in College Station also make the entire game day experience truly one of a kind. There?s another one that will continue this season, and it?s going to be bigger than ever.
Since 1998, the Texas A&M Aggies have had one ?Maroon Out? game each season. It?s oftentimes reserved for the biggest showdowns, but it?s getting a massive upgrade this year. In addition to revealing the new 2019 T-shirt design, the student-led organization is expanding the tradition to every home football game.
That?s right, a full football season of Maroon Out is in store for the 12th Man with home games against Texas State, Lamar, Auburn, Alabama, Mississippi State, UTSA and South Carolina at Kyle Field this year.
RELATED: Texas A&M Opens Alcohol Sales to General Public at Football Games
According to Maroon Out Head Director Colleen Russell, the switch to this year-round celebration is to ?help build comradely within the Aggie community and raise more money for scholarships and Class Councils.?
?Maroon Out is excited to expand the Maroon Out tradition to every home game,? Maroon Out Director of Logistics Harrison Buenger added. ?Join us this football season as we celebrate Aggie Tradition and Yell like it?s 1998.?
Of course, the tradition to form a ?Sea of Maroon? started that season, but it was also when Texas A&M won the Big 12 Championship, the Aggies? last league title before switching to the SEC.
How to Get Your Texas A&M Maroon Out T-Shirt
The goal is to sell as many shirts as possible. All of the proceeds go to benefit Class Councils, Class Gift Funds, Aggie Rings for Veterans Fun, and the Maroon Out Scholarship. They also support the Elephant Walk and Ring Dance, according to their official website. However, the shirts cannot be found everywhere.
Only the organizations retail partners C.C. Creations, the Texas A&M campus Barnes & Noble Bookstore and Aggieland Outfitters have the 2019 Maroon Out shirt.
The maroon t-shirts can also be purchased online at The Warehouse at C.C. Creations.
The cost is $12.
Texas A&M Maroon Out Game History
The Texas A&M football team has won a lot of big home games over the years, but there?s something special about a Maroon Out Game victory. The Aggies have defeated Nebraska (1998), Texas (1999, 2010), Kansas State (2000), Notre Dame (2001), Oklahoma (2002), Texas Tech (2004), Texas (2007), Tennessee (2016), and Ole Miss (2018)
Aggie Football is 10-11 in Maroon Out Games since 1998.
You better believe the Aggie family, especially the student body, will be wearing their maroon shirts and waiving their 12th Man towel, for opening kickoff and all season long.