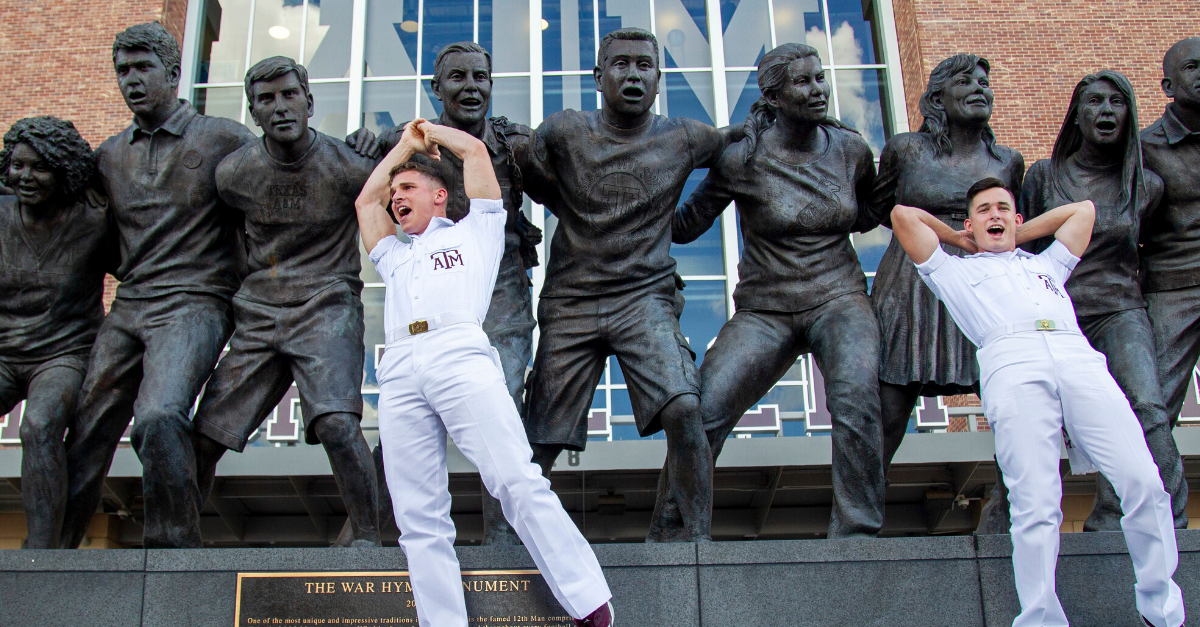 AP Photo/Sam Craft
College football is built on tradition. The earliest college football rivalries were first played at the tail-end of the 1800s when matchups like Army-Navy, Ohio State-Michigan, and Lafayette-Lehigh — the most-played rivalry in college football history — all started their century-long traditions of facing each other every fall on the gridiron.
As the world turned its collective calendar to the 1900s, the Texas A&M Aggies began to find their groove in College Station. The Aggie football team posted a losing record just four times between 1900 and 1930 and twice finished as the No. 1 team in America under head coach D.X. Bible. That tradition of excellence provided the spark that created one of college football's most awe-inspiring traditions in 1931, and it still remains one of Texas' coolest attractions to this day.
What is Texas A&M's Midnight Yell?
Texas A&M's Midnight Yell tradition was born when a group of freshmen cadets wanted to meet on the steps of the YMCA Building at midnight to practice yells. "Yell Practice" had been held in the evenings prior to every home football game since 1913, but it wasn't more than just an after-dinner social gathering.
As word spread, tons of students showed up to that first Midnight Yell, and the tradition was officially born.
Senior Yell Leaders, which today are chosen in a student-run election, lead the Fightin' Texas Aggie Band into Kyle Field along with around 25,000 students on Friday night before a Texas A&M football home game. Yell Leaders orchestrate thousands of Aggies — both current and former students — in practicing Aggie traditions like The Aggie War Hymn and The Spirit of Aggieland that are belted on Texas A&M game days. Even during away games, the Midnight Yell finds its way to a location in the city the Aggies will be playing in.
When you have the second-largest undergraduate enrollment in the United States, it certainly helps to organize Texas A&M's 12th Man before the big show.
RELATED: These 100-Year-Old College Football Meccas House Generations of Memories
Kyle Field was first built in 1904 but took its permanent concrete form in 1927. The "Home of the 12th Man" holds over 100,000 fans, and the football stadium once hosted a record 110,633 fans to watch the Aggies take on the Ole Miss Rebels back in 2014.
Seeing the entire Texas A&M University student body and alumni singing is awe-inspiring. My first Aggie game was in 2019 against Alabama, and the sheer magnitude of the entire stadium swaying in unison left me speechless.
When Wayne Drehs, a staff writer for ESPN.com, first visited Kyle Field for a football game, he was warned not to worry when the press box started to sway during The Aggie War Hymn. Naturally, he didn't think much of it.
Then, The 12th Man came to life.
"[A] few minutes later, it happened. While my nose was buried in game notes, my entire world started to sway from left to right like a tripped out scene from "Fear and Loathing." I looked up, saw a sea of maroon rocking below me, and freaked. The writer to my left, from some tiny, tough-as-nails Texas town, chuckled.

"'First time, huh?" he said with a wide grin and a dragging drawl.

"'Uhhhhh … yeah,' I responded, shaking.

"'Happens every game," he said. 'Nuttin' da wury 'bout.'"

— Wayne Drehs, via ESPN.com
For the fourth-year in a row for the 2019 season, a group of students known as '5 for Yell' will jointly held the roll as Yell Leaders for the Midnight Yell. The program is trending toward being one of college football's elite programs once again, just like they were back when D.X. Bible led the program at the turn of the 20th century.
Jimbo Fisher may be head coach, Kellen Mond might be the team's starting quarterback, and Braden Mann could be college football's best punter ever, but the Texas A&M Aggies traditions never change.
The Midnight Yell practice is a testament to Texas A&M University's deeply-rooted past, and it will forever be a part of the country's best atmosphere for college football.
This article was originally published March 1, 2019.